Democratic debate: Hillary Clinton and Bernie Sanders clash as first debate sizzles
The two candidates often disagreed, but also shared a laugh together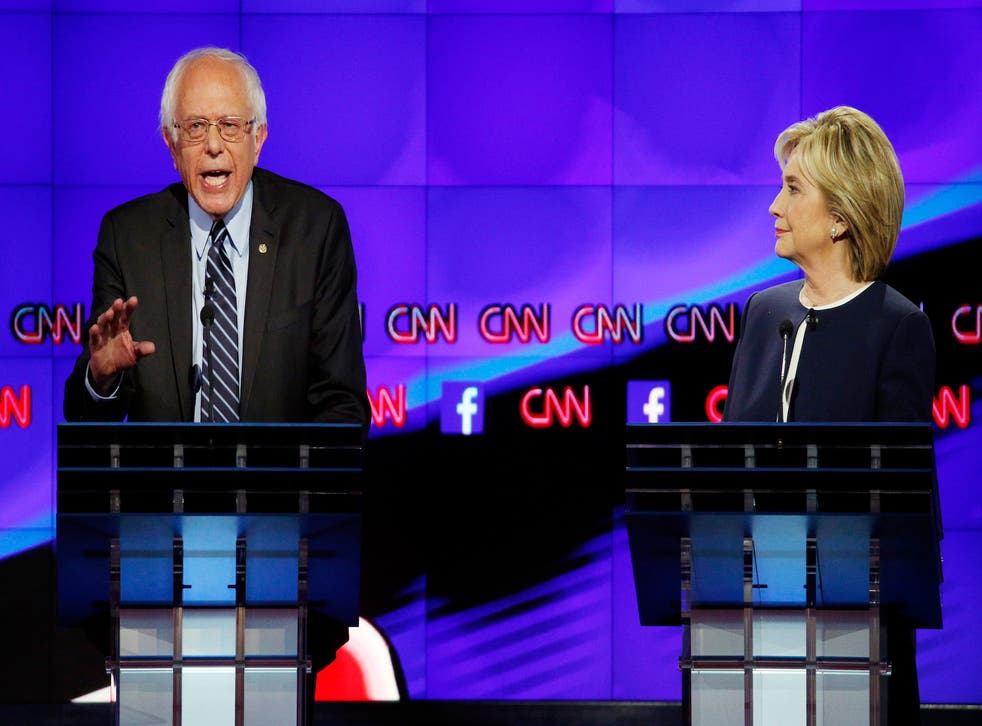 Billed in advance as a likely snooze compared with the two Republican ones that had come before, last night's Democratic debate in Las Vegas instead sizzled, not least in exchanges between frontrunners Hillary Clinton and Bernie Sanders, who were frequently at odds, sometimes not so much.
It was a moment of union between the two that bought the audience to its feet here in the Wynn Resort on the Las Vegas strip. After Ms Clinton faced inevitable questions about her use of a private email server as Secretary of State, he rushed to her rescue, saying: "Enough with her emails".
But the night also gave Mrs Clinton an opportunity to separate herself from Mr Sanders, the self-declared Democratic Socialist, who is threatening her at least in early nominating states, Iowa and New Hampshire, and she made the most of it, accusing him variously of failing on gun control and suggesting that his oratory on breaking up the big banks and making Wall Street accountable had gone too far.
"The greed and reckless behaviour of Wall Street, where fraud is a business model, helped to destroy this economy and the lives of millions of people," Mr Sanders said, reprising the message that has drawn him huge crowds on the campaign trail. On the banks: "We have got to break them up." Mr Sanders gave a performance that will have satisfied those already in his camp but may not have done what was more important, broadening his appeal to more moderate Democrats and independents.
He delivered one of the night's stand-out lines when asked about his statement last weekend that he was not a capitalist. Do I consider myself part of the casino capitalist process by which so few have so much and so many have so little, by which Wall Street's greed and recklessness wrecked this economy? No, I don't," he said. He drew loud applause when he coined: "Congress does not regulate Wall Street, Wall Street regulates Congess."
But Mrs Clinton, who amply showed her skill as a debater, honed in 2008, asserted it would be a "big mistake" for the US to turn its back on the system that built the American middle class. And she denied that she had been soft on Wall Street in the past. "I represented Wall Street as a senator from New York, and I went to Wall Street in December of 2007, before the big crash that we had, and I basically said, cut it out." And she called out Mr Sanders when he said the US needed to be more like Denmark.
"We are not Denmark," she said sharply. "We are the United States of America."
And Mr Sanders was less nimble than Mrs Clinton in dealing with challenges, notably on his greatest vulnerability, his record on gun control. Pressed on a vote he cast in the Senate against legislation that would have made gun manufacturers more accountable for gun violence, he said the bill was "complicated".
"I was in the Senate at the same time," Mrs Clinton shot back. "It wasn't that complicated to me. It was pretty straightforward". She showed she was well attuned to the sensitivity of the issue to many voters at a time of repeated mass shootings. "I think that we have to look at the fact that we lose 90 people a day to gun violence. This has gone on too long, and its time the entire country stood up against the NRA," meaning the powerful National Rifle Association.
Ms Clinton, after running what has seemed a tepid campaign on the trail, seemed to enjoy herself in Las Vegas, whether attacking Mr Sanders or drawing fire from him or from the others on the stage - Jim Webb a former Virginia Senator, Martin O'Malley the former Governor of Maryland and Lincoln Chafee, formner Governor of Rhode Island. Of the three underdogs, only Mr O'Malley will have made much impression, reminding voters of his progressive record, including on gun control and making an impassioned appeal for a more compassionate approach to immigration.
He alone sought to exploit a perception that Mrs Clinton represents more of the same. "I respect what Secretary Clinton and her husband have done for our country, but our country needs new leadership to move forward".
But she was ready for that too. "I would not ask anyone to vote for me based on my last name, I would ask them look at what I have accomplished… I think I have the right combination of what this country needs at this point," she offered.
Mrs Clinton even made a joke after only just making it back to the podium in time after taking advantage of a commercial break to relieve herself. "It does take me a little longer" she said.
"She was in her zone," Jesse Jackson, a one time presidential candidate for the Democratic Party himself once, said of Mrs Clinton, saying she had been "masterful" at deflecting those arrows that did come her way. "When she was under attack, she carried through tonight".
Issues of discord between Mrs Clinton and Senator Sanders ranged across foreign policy, where he questioned her support for a no-fly zone in Syria, and privacy issues on which Mr Sanders said he would scrap the telephone-data collecting activities of the National Security Agency.
Mr Sanders called the Iraq war, which Ms Clinton voted for in the Senate and he opposed "the worst foreign policy blunder in the history of our country" and added he would not support sending American troops back to the Middle East to fight terrorism. "Nobody does, Senator Sanders," she interjected.
Both surely endeared themselves to voters with the email entente. "Let me say something that may not be great politics, but I think the secretary is right," Mr Sanders said. "The American people are sick and tired of hearing about your damn emails." She reached out to take his hand saying "thank you!"
Perhaps more importantly than the performances of any of the five on stage, was the contrast that could be drawn with the two Republican debates so far and the contrasting visions of the two parties. Compassion and a desire to use the government to help struggling Americans was the shared theme.
Ms Clinton expressed it when asked by a CNN moderator if a plan she backed to pay for paid parental leave after having a child was not another case of a big and expensive government programme. She ripped Republicans who in the meantime want to defund Planned Parenthood. They want to "take down Planned Parenthood. They are fine for big government to do that and I am sick of it," she declared.
Join our new commenting forum
Join thought-provoking conversations, follow other Independent readers and see their replies