Democrats warned they will be 'replaced' if they don't stand up to Trump
'Do everything you can to resist trump, or we will replace you with someone who will' Democrats told
Rachel Roberts
Monday 20 February 2017 01:21 Comments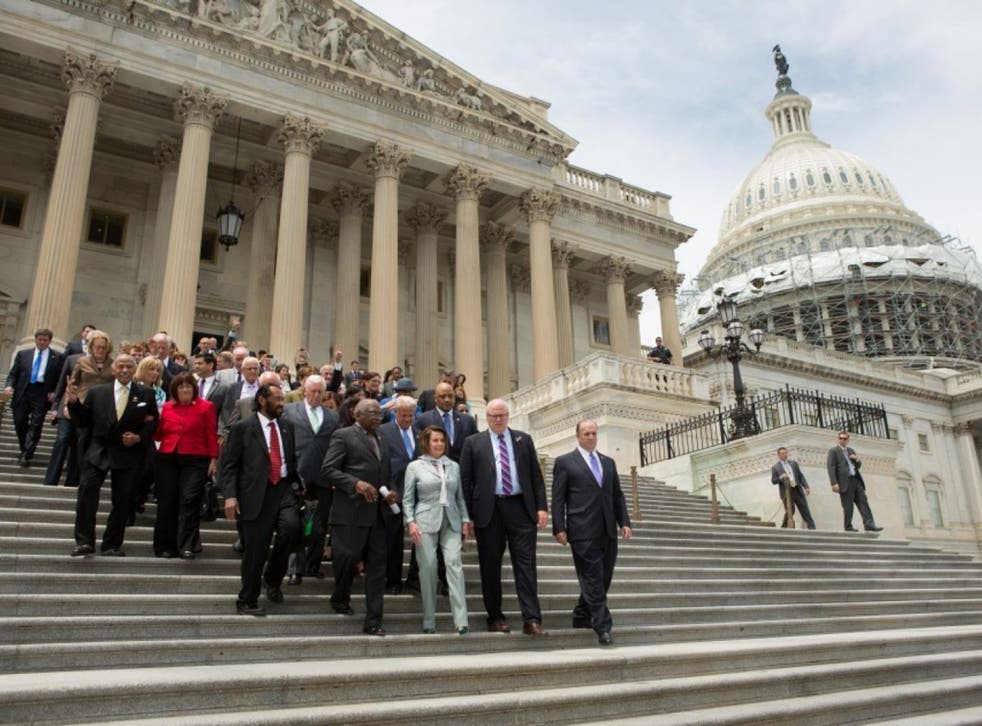 Left-leaning voters in the US are warning Democrats in Congress they will be "replaced" if they do not form a more effective opposition to President Donald Trump.
There has been a groundswell of liberal activism and street protests since Mr Trump won the election, intensifying with his controversial travel ban.
A grassroots campaign group We Will Replace You, sprung up last week, claiming Democrats in the Senate and in the House of Representatives have so far been "enabling and collaborating" with the new President instead of properly holding him to account.
It urges people to sign a "primary pledge" telling Democrats to, "do everything you can to resist Trump, or we will replace you with someone who will."
The website adds that elected officials "tend to take the path of least resistance" once they have made it into Congress, unless they fear a real consequence, such as losing office.
Although Republicans have a majority in both houses, some liberal critics believe Democrats have rolled over and allowed Mr Trump to have his own way too often over the selection of his cabinet.
The website is calling out Democrats who fail to oppose the President's cabinet picks – including three Senators who voted in favour of Mr Trump's controversial choice for Secretary of State, Rex Tillerson, an oil baron with ties to President Putin of Russia.
It also points to the 14 Senate Democrats who joined with Republicans to confirm Mike Pompeo as CIA director in spite of his alleged past "Islamophobic" comments and his reported ties to far-right conspiracy theorists.
The group claims this apparent acquiescence could be disastrous in the current climate with Mr Trump seemingly determined to ride roughshod over the judiciary and Congress, who are supposed to provide checks and balances in the system of government.
It has a list of demands, including that Democrats vote against all Trump appointees, fight all of his legislative priorities, oppose his Supreme Court nomination which the group says is an "unconstitutional Republican theft", and bring business in Congress to a snail's pace.
It also wants Democrats to call for the sacking of Mr Trump's advisor Steve Bannon and to publicly support the impeachment of the President if he is found to have broken the law or violated the constitution.
On the evening Mr Trump announced his pick for Supreme Court nominee, Neil Gorsuch, thousands of protesters gathered outside the home of the Democrat leader in the Senate, Chuck Schumer, urging him to "just vote no", "obstruct" and "get a spine".
Democrats in the Senate have the power to block the appointment of Mr Gorsuch through filibustering, but some have said they want to hear more about his views before they decide to do this.
Although Mr Schumer has significantly slowed the progress of Mr Trump's cabinet confirmations and seen off some of his nominees, this hasn't been enough to satisfy those who feel the Democrats have become too much a part of the establishment.
For many left-of-centre voters in the US, their disaffection with the Democrats grew when Hillary Clinton was chosen as their Presidential nominee over Bernie Sanders, who they believe could have beaten Mr Trump.
Register for free to continue reading
Registration is a free and easy way to support our truly independent journalism
By registering, you will also enjoy limited access to Premium articles, exclusive newsletters, commenting, and virtual events with our leading journalists
Already have an account? sign in
Join our new commenting forum
Join thought-provoking conversations, follow other Independent readers and see their replies