Stranded airplane passengers ski to safety after being forced to land on Alaska glacier
After abandoning their three airplanes on the top of a glacier, the group of five trudged through the deep Alaskan snow to safety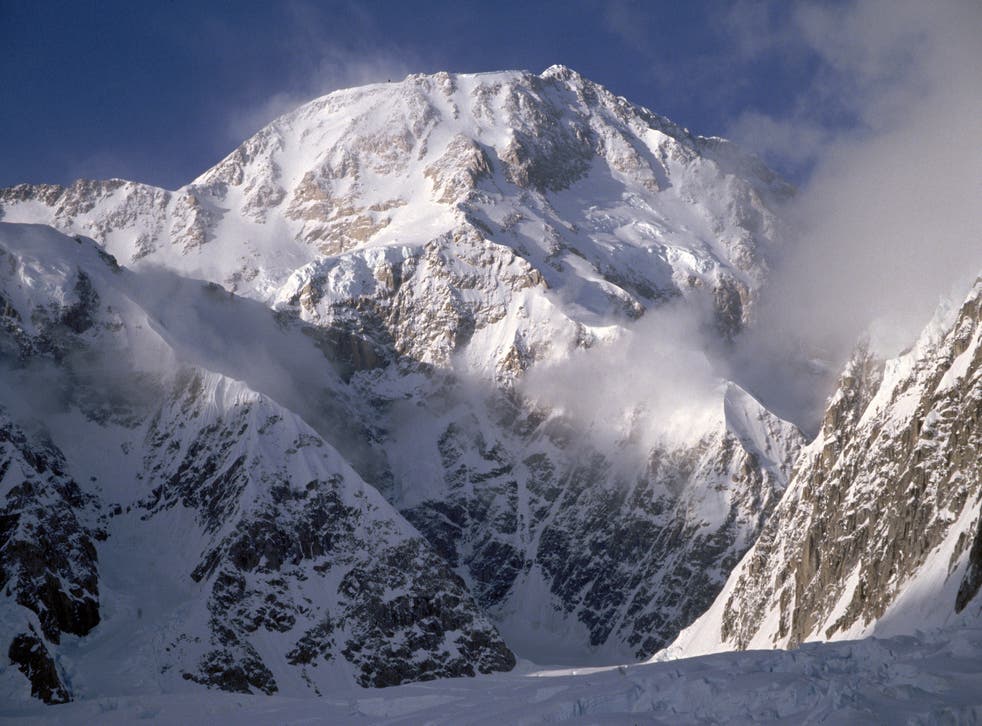 Five people whose aircraft were forced to make emergency landings on an Alaskan glacier during a snowstorm at the weekend were able to reach safety by skiing through the blizzard, authorities say.
The dramatic turn of events took place on Ruth Glacier in Denali National Park, home to North America's tallest peak, during a period of heavy sustained snowfall that saw the group of five spend a night sheltering in their airplanes.
Alaska State Troopers said the group arrived at the glacier, which has an altitude of about 4,500 feet, on Friday in a Cessna 180 and two Piper PA18 planes, when they landed amid the bad weather conditions.
Maureen Gualtieri, spokesperson for Denali National Park, said that the group requested help on Saturday after they spent Friday night stuck in the aircraft.
Ms Gualtieri said that the group had called their friends and family via phones and had learnt that the weather conditions on the glacier were not going to improve on Saturday, at which point they realised their "limited survival resources" would not see them through another night and called for help.
The authorities sought the assistance of guides based at the Sheldon Chalet, a shelter about 5.5km away from where the group was stranded, and commissioned two National Park Service employees there to embark on a rescue operation.
Ms Gualtieri said that the group had the requisite gear and so "brought them skis and harnesses and roped up with them and guided them back" to the shelter. With the snow still too deep and no improvement in the weather, the group stayed two nights at the chalet.
The group was expected to travel back to their airplanes on Monday using air taxis when the weather was expected to improve a bit.
Ms Gualtieri meanwhile was quoted by Associated Press saying: "It'll probably be a larger effort than just getting back in the aircraft and flying out." She added that the team of five will need more people to help with their airplanes. The idea would be to "maybe go in with some more people and snowshoes and make a runway out there in the glacier", she suggested.
The National Weather Service said the interiors of Alaska witnessed record snowfall during the last few days.
Denali was established in 1917 "to conserve wildlife," says the national park's Twitter bio. "Today it is six million acres of wild, Alaskan land." According to the National Park Service, the summit elevation of Denali is 20,320 feet and is the highest mountain peak in North America.
Ruth Glacier is one of the largest glaciers in the Denali park and state troopers said that it sees a lot of so-called "flightseeing" tours.
Ms Gualtieri said that this wasn't the first time that planes were stranded on the glacier due to bad weather. "But these pilots made the right call to not attempt to fly out when the weather was coming in, so we're just grateful that everyone's safe and in good spirits."
Register for free to continue reading
Registration is a free and easy way to support our truly independent journalism
By registering, you will also enjoy limited access to Premium articles, exclusive newsletters, commenting, and virtual events with our leading journalists
Already have an account? sign in
Register for free to continue reading
Registration is a free and easy way to support our truly independent journalism
By registering, you will also enjoy limited access to Premium articles, exclusive newsletters, commenting, and virtual events with our leading journalists
Already have an account? sign in
Join our new commenting forum
Join thought-provoking conversations, follow other Independent readers and see their replies