Dennis Rodman requests US-North Korea envoy role to 'have a glass of wine' with Kim Jong un
He calls Kim Jong-un 'The Marshal'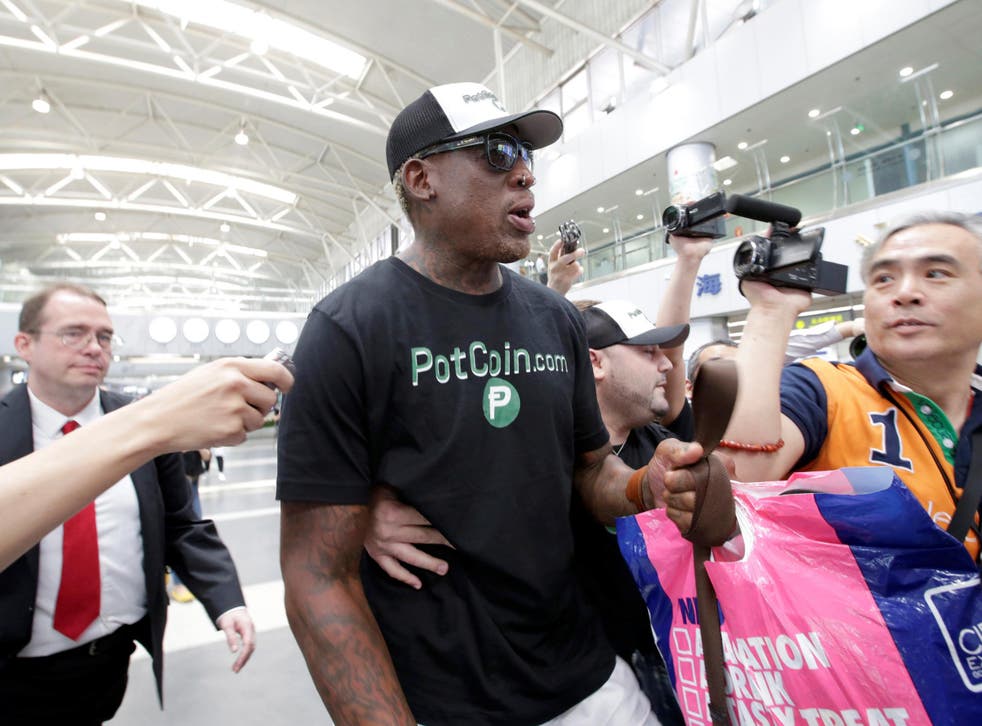 Former basketball star Dennis Rodman has suggested Donald Trump should appoint him as an envoy to North Korea.
Rodman told reporters in Beijing, from where he had been hoping to fly to Pyongyang for his sixth trip there, that he would have a glass of wine with Kim Jong-un, "laughing and doing my thing".
"I guess things will settle down a bit and everybody can rest at ease," he said, as reported by the Guardian.
Mr Rodman calls the dictator "The Marshal" and reportedly insisted that he knew what Mr Kim wants, and has been attempting to reach Trump to talk about North Korea.
"I've been trying to tell Donald since day one: 'Come talk to me, man … I'll tell you what the Marshal wants more than anything … It's not even that much,'" Rodman said.
The pair have formed an unlikely friendship through skiing trips and karaoke sessions, where they do not challenge each other on politics or human rights.
Mr Rodman also revealed Mr Kim asked him to write a book about his life.
The former NBA star tweeted on Sunday: "Great week of humanitarian work in Guam and Tokyo, Japan now just got to Beijing..Guess what's next? #Peace #Love #NotWar"
In the tweet, he was wearing a T-shirt with the word "unite" above a picture of him, Mr Trump and Mr Kim.
Dennis Rodman meets North Korea's sports minister
He failed to make it as far as North Korea due to the ban on US passport holders entering the country since 1 September after the death of American student Otto Warmbier who was detained in Pyongyang.
Earlier this year Rodman said on Good Morning Britain that he was "hoping for a happy medium" with the dictator, who he claimed might not be as bad as his father or grandfather.
"We ride horses, we hang out, we go skiing, we hardly ever talk politics and that's the good thing," he said.
North Korea announces intercontinental missile launch

Show all 13
Mr Trump has not commented on Mr Rodman's interactions with Mr Kim, who he has publicly called "Little Rocket Man" several times.
In 2013, he said Rodman, who was a contestant on Celebrity Apprentice, was "smart" for making the trip.
"The world is blowing up around us. Maybe Dennis is a lot better than what we have," he said.
Mr Trump added at the time that Mr Kim's request to Rodman for former President Barack Obama to call him might not be the worst thing, "instead of going through this whole charade we do every year."
Rodman's most recent interview in Beijing comes after a series of North Korean ballistic missile tests which has again increased concern in Washington.
The US and South Korea have intensified joint military drills and bomb target practice near the border, which North Korea said was a "rehearsal for invasion".
Mr Trump declared at the recent UN summit in New York that the US was prepared to "totally destroy North Korea", adding that any hostility from across the water would be met with "fire and fury".
Join our new commenting forum
Join thought-provoking conversations, follow other Independent readers and see their replies