DeploraBall: Donald Trump supporters banned from making Nazi salutes at event celebrating his inauguration
Organiser Mike Cernovich urged guests not to perform Adolf Hitler's Sieg Heil gesture or shout out racist innuendo
Peter Walker
Friday 20 January 2017 13:53 Comments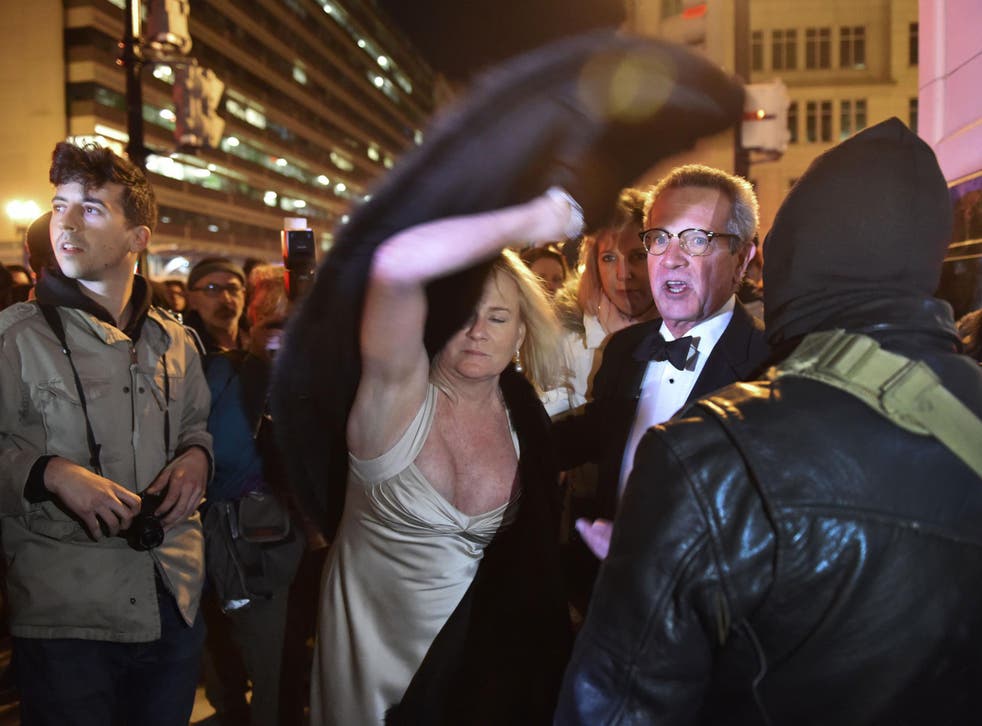 Nazi salutes were banned at a party celebrating Donald Trump's inauguration.
Organisers reportedly outlawed the Sieg Heil gesture at the DeploraBall in Washington DC - which prompted protests and clashes immediately outside the venue - in an effort to distance themselves from extreme 'alt-right' groups.
It comes after around a dozen or so people were seen giving the salute in a now-infamous video in which white supremacist Richard Spencer is seen shouting "Hail Trump! Hail our people! Hail victory!"
Mike Cernovich, a member of the ultra-conservative group MAGA3X, told The Independent: "A few trolls wanted to make a scene at the event.
"I wanted to send a message. The DeploraBall went off spectacularly and we could not be happier."
The author and filmmaker also said racist innuendo and images of Pepe the Frog, were banned from the National Press Club festivities.
Images of the fictional green character have become an internet meme favoured by members of white nationalist, so-called 'alt-right' groups.
Tim Treadstone, better known as Twitter alias Baked Alaska, was also barred from the event after writing that the media was "run in majority by Jewish people".
Mr Trump was not at the DeploraBall, which plays on Hillary Clinton's labelling of Trump supporters as "deplorable", and Mr Cernovich said CNN's credentials were denied for the ball.
Police used chemical spray on some of the hundreds of protesters outside the entrance in a effort to control the crowd.
Demonstrators booed every time a presumed ball-goer in suits, tuxedos or dresses came in or out of the spectacle.
WARNING: The video below contains language some readers may find offensive
One man waving a pro-Trump flag had debris thrown at him and was chased to the nearby Warner Theater, where Fox News Channel personalities Sean Hannity and Geraldo Rivera happened to be waiting to go inside.
Mr Hannity reportedly raised his fist at hecklers while Mr Rivera laughed and smiled before entering the theatre.
One person was charged with conspiracy to commit assault.
James Allsup, who like Mr Cernovich, is a prominent Twitter supporter of Mr Trump, suffered a cut to the head after he claimed he was attacked with a flagpole by a protester.
The 21-year-old has posted pictures of blood streaming from his head, a video in which he appears to jump at a demonstrator after they steal his hat, and his prescription details from hospital.
The Independent has contacted Mr Cernovich for comment.
Register for free to continue reading
Registration is a free and easy way to support our truly independent journalism
By registering, you will also enjoy limited access to Premium articles, exclusive newsletters, commenting, and virtual events with our leading journalists
Already have an account? sign in
Join our new commenting forum
Join thought-provoking conversations, follow other Independent readers and see their replies