Depths of despair: Freediver Nicholas Mevoli was the most promising athlete in the US – but an unhealthy obsession led him to his death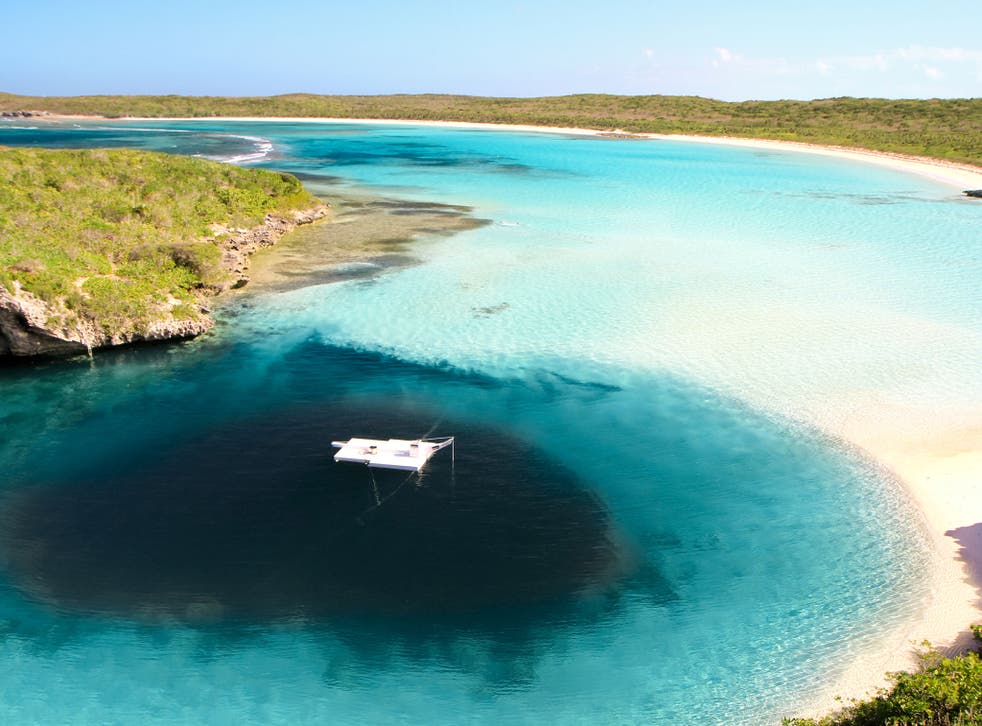 A few years ago, I sat on the consulting sofa of one of London's top psychotherapists, waiting to uncover more about what drives me in my chosen sport and my personal life. Her notes were scribbled on the questionnaire I had spent almost an entire night answering, and I was filled with dread at the impending verdict.
"Well, I'm extremely surprised," she said, raising her eyebrows. "I had you down as a reckless risk-taker, someone with an extremely low regard for her own wellbeing and safety. But according to this, you're very conservative. I really didn't expect that."
I am a former competitive freediver with four world records in deep freediving – descending to more than 100 metres on one breath. I now coach. To an outsider, freediving seems irresponsible, dangerous and, quite frankly, stupid. This wasn't far from my own perception when I joined a beginners' course in 2005.
Since then, freediving has shown me that it is anything but. It is about relaxation. It is an expression of spirituality, a form of meditation, a way of living in complete harmony with nature. Freediving is an exploration of our potential beyond the confines of our mind. It has taught me a better, healthier, more joyful way of living.
One of the paradoxes of competitive freediving is learning how to relax and switch off the urge to win and yet still walk away with that medal or title. It is the most delicate balance between the drive to succeed, and a letting go of all desire for titles, goals and recognition. We walk a highwire between wanting to reach a new depth, and releasing all wanting. To perform the perfect dive, we have to let go of the need to succeed.
When we relax, our muscles soften and it is this softness that enables us to dive so deep and return unharmed. From the surface to just 10 metres depth, the pressure on our bodies – and the airspaces within it – doubles. As the pressure increases, so the air spaces must compress. When I am 100 metres below the surface of the ocean, this pressure squashes my lungs to one eleventh of the size they were when I took my final breath in.
If I am not relaxed, compression cannot take place, and the soft tissues of the lungs are what will have to give, causing an injury we call a "lung squeeze". This means under-pressure in the lungs draws fluids from the capillaries into the air spaces, allowing them to compress. A lung squeeze can present as mildly as a tickly cough or minuscule spots of blood within the saliva, to more severe blobs of blood the size of 20 pence or even 50 pence coins being coughed up, once or many times. All divers know to take at least several days' full rest after a very mild squeeze, much more for severe injuries.
Unfortunately, the competitive sport of freediving suffered its greatest tragedy last week, with the death – the first in its history – of Nicholas Mevoli, a 32-year-old US freediver, in an attempt at a national record in the discipline of No Fins (adapted breaststroke) to 72 metres.
I met Nick last year at the Team World Championships in France, where I was coaching athletes in meditation techniques and he was part of the American team. He approached me for advice one morning; his team members were accusing him of pushing too hard, diving for personal glory and not being a team player. He was frustrated at being held back. I knew his teammates were not just worried about Nick damaging their chances, they were genuinely worried about him damaging his own health. I had watched his progress – he was the most promising athlete in the US, had great potential and natural talent, but also a worrying tendency to squeezes and even shallow-water blackouts.
I remember listening to his approach to the sport, and feeling that his gentle, spiritual relationship with diving was not carrying through into his competitive approach. He talked the talk, often referring to God and meditation in relation to his dives, but didn't seem to be able to walk it quite so convincingly. It is haunting to read his blog from this year's World Championships in Kalamata, a year after our chat: "I was donating blood to the sidewalk with each spit… wondering what the hell was wrong with me. I knew the external problem that was affecting my dives, I just didn't know how to correct it."
Nick's goal was to hold all US national records by the end of this year. Vertical Blue in the Bahamas, where he made last week's tragic dive, was the final event of 2013, and Nick was facing his last chance to fulfil his goal with his CNF dive to 72 metres.
Back in France, I remember advising him that, if he truly loved freediving and wanted to be in the sport for the long-run, he needed to soften his approach, calm his hunger for records and big numbers, and allow time for his body to adapt. But it seemed he was not able to take this advice. His September blog now feels like a premonition: "Numbers infected my head like a virus and the need to achieve became an obsession. Obsessions can kill."
Despite his promise to be more loving to himself, to "choose life", his friends say that he was deeply troubled in the Bahamas. He was physically and mentally exhausted from a gruelling year of training and competing.
We will never know his thoughts as he went into his final dive. Seventy-two metres was not a challenging depth for Nick – he holds the US Record in Constant Weight (diving with a monofin) at 100 metres. However, in this dive the surface sonar and bottom camera showed that he hesitated and turned at around 63 metres and again at 68 metres, before deciding to continue his journey down, in a slow horizontal position, to 72 metres. Nick sensed that he should stop at 63 metres; he listened for a moment, but decided not to heed the warning. This doubt, the tension it caused in his body, this decision cost him his life.
In more than 20 years of competitive freediving not a single athlete had lost his or her life. There was good cause for Nick to believe that his decision was a balanced one, if not necessarily the wholesome one. He weighed up the risks of turning early and attempting the record another day, against returning with a squeeze but sending out a press release that evening about his new national record. He had returned from dives on many other occasions with a lung squeeze and had continued to dive deep. Why should this dive be any different?
Of course, all of this is conjecture. The post-mortem examination will uncover some of the physical mysteries behind Nick's untimely death, but not the mental or emotional ones. They are Nick's and Nick's alone.
Those of us who go on living are faced with how to integrate this new information. The tendency for divers to cover up their injuries has been causing increasing concern among athletes and within the governing body, Aida. In 2011, a similar accident resulted in the near-death of a British diver at the World Championships in Greece, and this year the event limited the amount divers can increase the depth of announced competition performance on top of their final training dive. There is also growing concern about "packing" a technique used to increase the volume of the lungs and the amount of air that divers can take down with them; a handful of serious injuries are showing that this technique does not come without some considerable risks.
Despite this, freediving has an enviably safe record in comparison with most other sports. It can only be hoped that the phenomenon of lung squeezing and over-packing will now be taken seriously by all athletes, so that it will be unnecessary for Aida to have to ban squeezed athletes from training and competing. Regulation has a habit of pushing "illegal" behaviour into the shadows, rather than really preventing it. Athletes are already hiding their squeezes. We need to encourage openness through education and sharing in order to ensure safety.
Maybe the light, generosity, passion and joy that Nick expressed and shared with all of his fellow freedivers will continue to live on in us all through a heightened, more healthy awareness and respect for our own wellbeing, and a realisation that the records, as nice as they are, are not the ultimate reason we freedive.
Nicholas Mevoli's family is setting up a foundation to renovate a church on Long Island, Bahamas, where he helped rebuild the roof in exchange for accommodation to pay the way for his diving
Sara Campbell is a British freediver and four-time world record holder. She now coaches in Dahab, Egypt, where she lives, and around the world. discoveryourdepths.com / sara@discoveryourdepths.com
Register for free to continue reading
Registration is a free and easy way to support our truly independent journalism
By registering, you will also enjoy limited access to Premium articles, exclusive newsletters, commenting, and virtual events with our leading journalists
Already have an account? sign in
Register for free to continue reading
Registration is a free and easy way to support our truly independent journalism
By registering, you will also enjoy limited access to Premium articles, exclusive newsletters, commenting, and virtual events with our leading journalists
Already have an account? sign in
Join our new commenting forum
Join thought-provoking conversations, follow other Independent readers and see their replies