Man who became legal expert while falsely imprisoned for 23 years awarded £5 million
Conviction thrown out after witness claims she was pressured into making false statements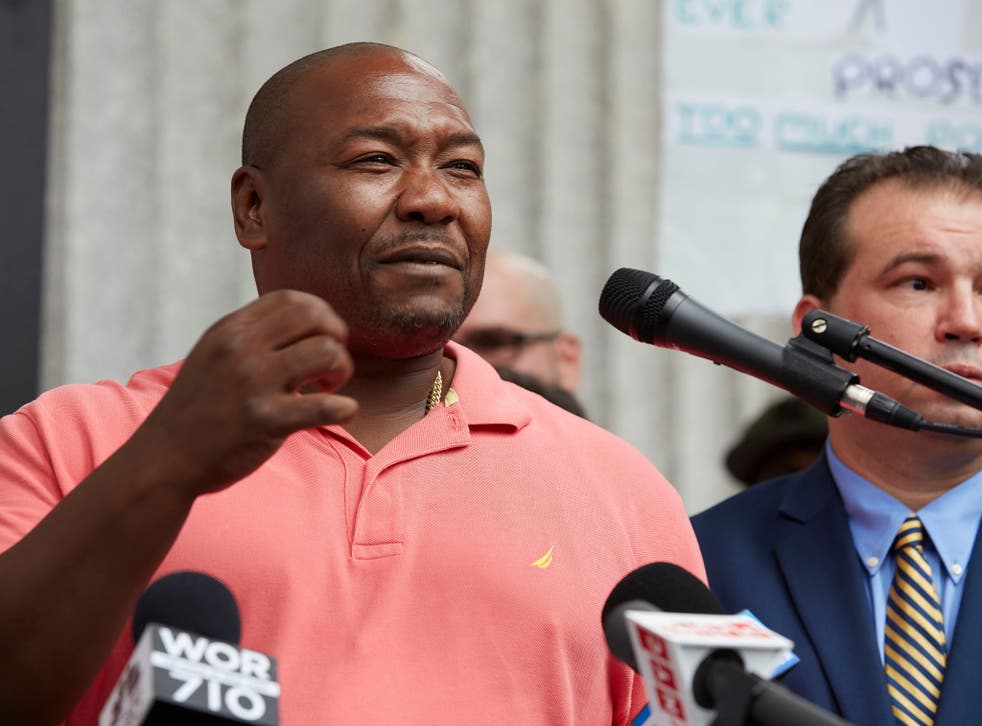 Twenty years ago, Derrick Hamilton was at his lowest point: locked in solitary confinement for a murder he insisted he did not commit. Over the next two decades, he slowly crawled his way out.
He became a jailhouse lawyer, helping his fellow inmates appeal their convictions.
Twenty-three years later, he finally persuaded prosecutors to throw out his own conviction, after an eyewitness recanted her testimony. Once free, he became an activist, toiling to get others he believed were wrongfully convicted out of jail.
Late last week, Mr Hamilton took on a new role in the long drama of his fight against injustice: a successful plaintiff. City officials in New York and New Haven, Connecticut, agreed Friday to pay him a total of $7m (£5.5m) to settle a lawsuit he had filed against three police officers, accusing them of fabricating evidence against him.
One of those officers, Louis Scarcella, a retired New York detective, has emerged in recent years as symbol of wrongful convictions, as numerous cases he handled have fallen apart. Under the terms of the agreement, reached on the eve of what would have been a trial in US District Court in Brooklyn, Mr Scarcella admitted no wrongdoing. He had been scheduled, like Mr Hamilton, to testify at the trial.
World news in pictures

Show all 50
For Mr Hamilton, the payout, while substantial, was not the point. "It'll help my family out financially," he said. "It doesn't settle what I went through."
Mr Hamilton added: "Everyone's life went on for 20 years. Mine stopped."
In 1991, when he was 28 and living in New Haven, Mr Hamilton was arrested by Mr Scarcella and the local police, accused of having murdered a Brooklyn man, Nathaniel Cash, whom he had known when he lived in the borough.
The only eyewitness against him at his trial in state Supreme Court was Cash's girlfriend, Jewel Smith, who had given conflicting accounts to police about Mr Hamilton's role in the killing.
Still, the jury convicted him, and Mr Hamilton was sent away in 1992 to what soon became a series of upstate prisons.
He spent much of the next 23 years performing jailhouse legal work. He pored over trial transcripts, filing motions on behalf of other inmates and occasionally winning their appeals. At one point – in Attica Correctional Facility – he filed papers challenging his long stint in solitary confinement, claiming it was "cruel and unusual punishment".
In 2007, Ms Smith went to authorities and asserted that Mr Hamilton was innocent. Mr Scarcella, she said, had coerced her into testifying against him. Eight years later, the Conviction Review Unit of the Brooklyn district attorney's office asked a judge to toss out Mr Hamilton's guilty verdict.
Prosecutors noted that Ms Smith had been "unreliable, untruthful and incredible in her testimony."
By that point, the district attorney's office was two years into an expansive investigation of dozens of Mr Scarcella's former murder cases, looking into allegations that he had coerced other witnesses and had threatened people to get them to confess. That investigation, which is ongoing, has led to the release of 14 inmates and has resulted in the city and state paying tens of millions of dollars to settle lawsuits against Mr Scarcella.
The district attorney's office has, however, maintained that Mr Scarcella has not committed any punishable conduct or broken the law.
Support free-thinking journalism and attend Independent events
Since becoming a free man, Mr Hamilton has laboured to overturn many convictions linked to Mr​ Scarcella. Mr Hamilton has worked with lawyers as a paralegal to investigate facts and has helped draft lawsuits and motions in support of new trials.
A few years ago, he founded a support group called Friends and Family of the Wrongfully Convicted with another former inmate, Sundhe Moses, who was also arrested by Mr Scarcella and was ultimately freed.
The group met for a while at the Brownstone Bar & Restaurant on Tillary Street in downtown Brooklyn, which Hamilton operated with Shabaka Shakur, a third man arrested by Mr Scarcella and later exonerated. (The bar eventually closed down.)
The three former prisoners would sometimes appear at hearings where Mr Scarcella was on the stand defending his work. They wore hats that said "Wrongfully Convicted".
More recently, Mr Hamilton has partnered with the Innocence Project in an effort to persuade the New York Police Department to change the way in which its officers conduct interrogations. He has also undertaken a project to organise former prison inmates to work together as a voting bloc for criminal justice reform.
On Tuesday, he was in court when a Brooklyn judge threw out the conviction of Eliseo Deleon in what was the 15th exoneration linked to Mr Scarcella's detective work. Mr Deleon spent 25 years in prison for a 1996 murder committed during a botched robbery in Clinton Hill. He has long maintained that Mr Scarcella fabricated his confession.
"I know what it's like to come home and have nothing – that's why I'm going," Mr Hamilton said before the hearing. "The guy who's coming home, he needs to know he's got a friend."
The New York Times
Join our new commenting forum
Join thought-provoking conversations, follow other Independent readers and see their replies