Detroit man James Robertson who walked 20 miles to work every day for nine years is gifted new car after story captures world
James Robertson is said to have perfect attendance at work
Lamiat Sabin
Saturday 07 February 2015 16:25 Comments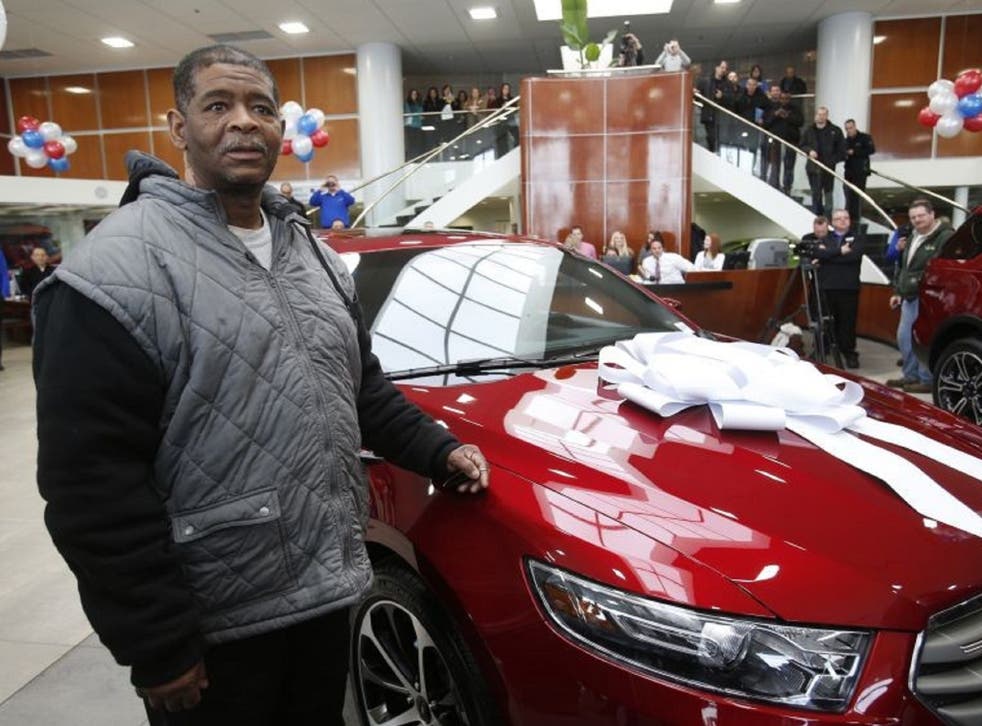 A factory worker who walked more than 20 miles a day to travel to his $10.55-per-hour job for nearly a decade was treated to a brand new car on Friday.
James Robertson – who told the Sunday Detroit Free Press that he was unable to afford a new car after his last one broke down nine years ago – was also recently awarded more than $310,000 in donations by kind strangers who learned of his daily difficulties.
Even though the money raised was meant for a new vehicle, a car dealership decided to give him a new one worth around $37,000 (around £24,000) for free in his preferred colour, red.
"I don't like it, I love it," said Mr Robertson, 56, who appeared confused yet happy as he sat behind the wheel of his 2015 red Ford Taurus.
"If only my parents could see me now," he added.
Mr Robertson touched people's hearts around the world after it was reported that he starts his commute at 8am for his shift at 2pm that finishes eight hours later.
This means that he gets home at 4am and, based on his hourly wage, only gets paid around $84 (approximately £55) per day before taxes. He also has perfect attendance at his job, the Sunday Detroit Free Press reported.
Mr Robertson thought he was only going to the car dealership to look at which ones to buy and to pick up brochures with Evan Leedy and Blake Pollock, who both helped coordinate the generous gift.
Instead he was greeted by reporters and a team of supporters who first learned of his marathon commute this week in a story that ran in the newspaper.
Mr Robertson takes buses into work but has to walk more than 20 miles during the round trip because public transport does not cover the whole route.
The publicity from print and broadcast reports has prompted a renewed discussion about reforming Metro Detroit's troubled public transportation system.
Mr Leedy, 19, a student at Wayne State University, launched an online GoFundMe.com fundraiser after he read about the daily commute between Mr Robertson's home in Detroit and the Schain Mold & Engineering factory in the suburb of Rochester Hills.
He spent part of the week negotiating a reasonable insurance rate for the factory worker, who has not driven since his car broke down. Leedy told Reuters he was initially quoted a $15,000-a-year premium, a quote that highlights the notoriously high insurance rates in Detroit.
Mr Pollock, a banker, learnt of Mr Robertson's story when he befriended him two years ago while the latter was walking by his office on his way to work.
Register for free to continue reading
Registration is a free and easy way to support our truly independent journalism
By registering, you will also enjoy limited access to Premium articles, exclusive newsletters, commenting, and virtual events with our leading journalists
Already have an account? sign in
Join our new commenting forum
Join thought-provoking conversations, follow other Independent readers and see their replies