Devin Kelley: Texas shooter 'preached atheism' and was an outcast, say former classmates
The shooting left at least 26 people dead 
Alexandra Wilts
Washington DC
Monday 06 November 2017 22:58 Comments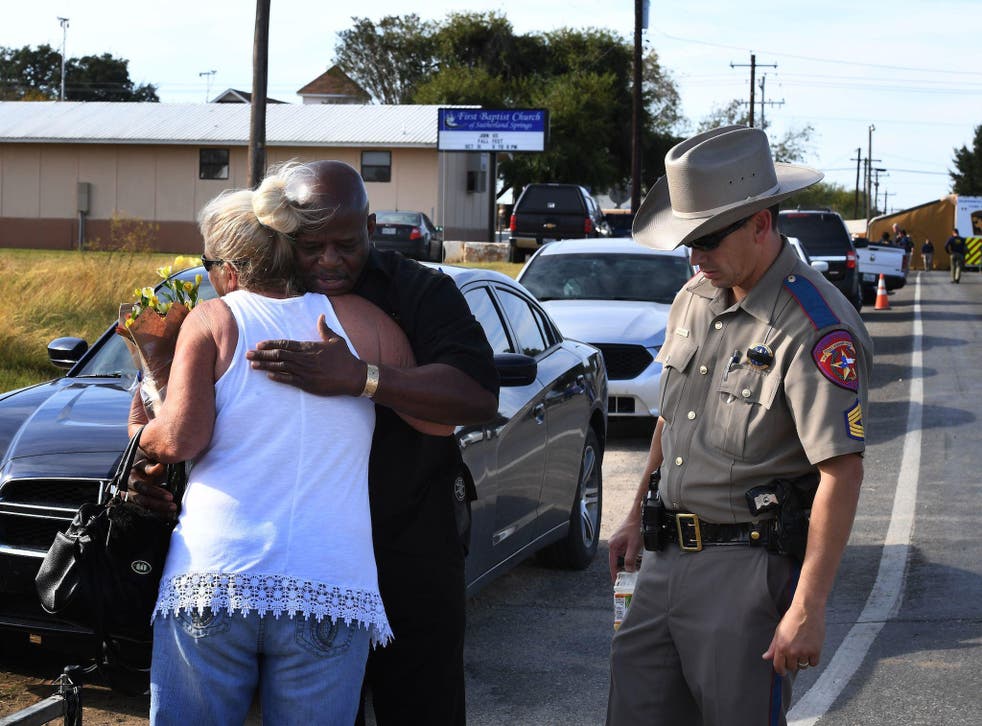 Former classmates of Devin Kelley have described the gunman responsible for the worst shooting in Texas history as "twisted" and "strange".
"He was always twisted in high school," said Kayla Marie Shearer, one of Mr Kelley's former classmate at New Braunfels High School.
She wrote on Facebook: "I always thought if someone in our class would be able to do something like this it would be him."
Mr Kelley was originally from New Braunfels, located near San Antonio. On Sunday, he walked into a church in Sutherland Springs, a small rural town where he had relatives, and left at least 26 people dead and several others wounded.
"He was the first atheist I met. He went Air Force after high school, got discharged but I don't know why," Patrick Boyce, who attended New Braunfels High School with Mr Kelley, told the Daily Mail.
But Courtney Kleiber, who was close with Mr Kelley from middle school through high school, said "he was heavily involved in the church at one point and did believe in God earlier on in his life."
"I had always known there was something off about him," she wrote on Facebook. "But he wasn't always a 'psychopath' though. He use to be happy at one point, normal, your average kid. We had a lot of good times together. Over the years we all saw him change into something that he wasn't. To be completely honest, I'm really not surprised this happened, and I don't think anyone who knew him is very surprised either. My heart goes out to all of the victims that should've never been."
Former classmate Nina Rose Vaca told the Dallas Morning News: "He was a little strange but it was high school. Everyone was strange in their own way,"
Texas church shooting

Show all 9
In an interview with DailyMail.com, Ms Vaca said she and Mr Kelley "had a few conversations here and there. It's not something I expected from him."
"He was an outcast but not a loner," she added. "He was popular among other outcasts. I haven't spoke to him since high school."
Claudia Varjabedian told the Associated Press that Mr Kelley "seemed like a nice guy". Ms Varjabedian is a manager at Summit Vacation Rentals, where Mr Kelley worked as a security guard for the past month.
The small town of Sutherland Springs has been left wondering what Mr Kelley's motive was for the massacre.
Police have confirmed that Mr Kelley killed his grandmother-in-law in the church.
Lula Woicinski White, a 71-year-old member and volunteer at the First Baptist Church in Sutherland Springs, Texas, was Mr Kelley's wife's grandmother.
Mr Kelley's in-laws and second wife Danielle were also members of the church, but none were present during the day of the shooting, according to police.
Freeman Martin, the regional director of the Texas Department of Public Safety, said "there was a domestic situation going on within this family." He said the shooting "was not racially motivated; it wasn't over religious beliefs."
Mr Kelley's mother-in-law "had received threatening texts from him," Mr Martin said.
Texas Governor Greg Abbott called Mr Kelley "a very deranged individual" on ABC's Good Morning America.
Register for free to continue reading
Registration is a free and easy way to support our truly independent journalism
By registering, you will also enjoy limited access to Premium articles, exclusive newsletters, commenting, and virtual events with our leading journalists
Already have an account? sign in
Join our new commenting forum
Join thought-provoking conversations, follow other Independent readers and see their replies