'He had a Columbine feel to him': Former classmates recall Texas shooting suspect Devin Kelley
'You know that kid that wears a trench coat to school? He was kinda like that,' a former classmate says
Emily Shugerman
New Braunfels
Tuesday 07 November 2017 16:07 Comments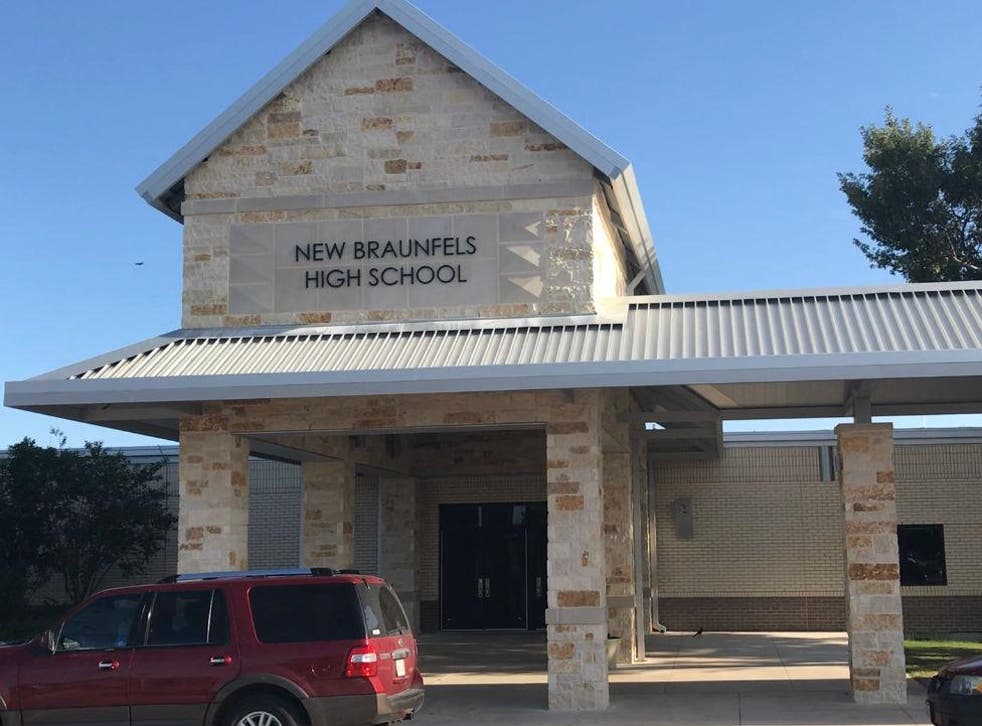 As authorities piece together a profile of the suspect in the mass shooting that killed 26 people in Sutherland Springs, Texas this week, former classmates have recalled him as a drifter, a loner, and – in some cases – a source of fear.
Neighbours at suspect Devin Patrick Kelley's home – a 28-acre property where he lived with his parents – said they had barely seen him. Co-workers at the Summit Vacation Resort, where he worked as a security guard, described him as hardworking, if a bit unfriendly.
But one former classmate at New Braunfels High School said Kelley stood out for having "a Columbine feel to him" – a reference to the 1999 school shooting that killed 13.
"You know that kid that wears a trench coat to school? He was kinda like that," the classmate, who asked to be identified only by his first name, Ryan, told The Independent.
"I️ would acknowledge him and say, 'Sup?'," he added. "Cause if he were to bring a gun to school, I️ didn't want to be on the list."
Texas church shooting

Show all 9
Another former classmate, who spoke on the condition of anonymity, said Kelley drifted between friends in high school, adding that he "never really identified with a certain group".
The classmate said he had spent time with Kelley in middle and high school, but never got to know him well. When he ran into Kelley at a local bar nine or 10 months ago, he said, the 26-year-old seemed "fine". But he noted that Kelley would sometimes post "depressing things" to Facebook.
The small-town high school where Kelley graduated in 2009 would not allow reporters inside on Monday. A placard on the wall of the main office warned in bold letters against bringing firearms onto campus.
Officials are still searching for what drove Kelley to open fire on a church located some 35 miles from his hometown. Authorities say the incident may have involved a "domestic situation" within his his extended family.
Kelley had sent "threatening text messages" to his mother-in-law, who occasionally attended the Sutherland Springs church, according to Texas Department of Public Safety spokesman Freeman Martin. CNN reported that Kelley's grandmother-in-law was among those killed.
Kelley's wife, Danielle Shields, told friends in 2014 that she was being abused, according to records reviewed by the New York Times. Deputies who responded to the reports dismissed the incident between Kelley and his then-girlfriend as a "misunderstanding and teenage drama." The pair were married two months later.
Texas official says Texas gunman had private security gun license despite domestic violence background
Kelley has been married once before, during his time as a logistical readiness airman for the US Air Force. The marriage ended after he was court martialled and convicted of assaulting his then-wife and her child in 2012.
Air Force records reviewed by the Times said Kelley repeatedly struck, kicked, and choked his then-wife, and hit his stepson's head with what the Air Force described as "a force likely to produce death or grievous bodily harm".
Kelley was sentenced to 12 months' confinement and reduction to the lowest possible rank.
The Department of Defence is investigating whether information about Kelley's conviction was properly entered into the National Criminal Information Center database, which would have prevented him from purchasing a gun.
The same year Kelley was released, he was charged with a misdemeanour count of mistreatment, neglect or cruelty to animals, according to court documents reviewed by the Washington Post. Sheriff's deputies in El Paso County, Colorado, where Kelley lived at the time, responded to reports of a man punching a dog in August of 2014.
According to the incident report, witnesses said they saw Kelley "beating on the dog with both fists, punching it in the head and chest,"
"He could hear the suspect yelling at the dog and while he was striking it, the dog was yelping and whining," the incident reports reads. "The suspect then picked up the dog by the neck into the air and threw it onto the ground and then drug him away to lot 60."
Kelley was charged with cruelty to animals, pleaded guilty, and was given a deferred sentence.
Register for free to continue reading
Registration is a free and easy way to support our truly independent journalism
By registering, you will also enjoy limited access to Premium articles, exclusive newsletters, commenting, and virtual events with our leading journalists
Already have an account? sign in
Join our new commenting forum
Join thought-provoking conversations, follow other Independent readers and see their replies