Devin Kelley: Texas shooter escaped from mental hospital in 2012, say officials
The shooter had a long history of abuse and violence before killing 26 people in a rural Texas church Sunday
Clark Mindock
New York
Tuesday 07 November 2017 20:36 Comments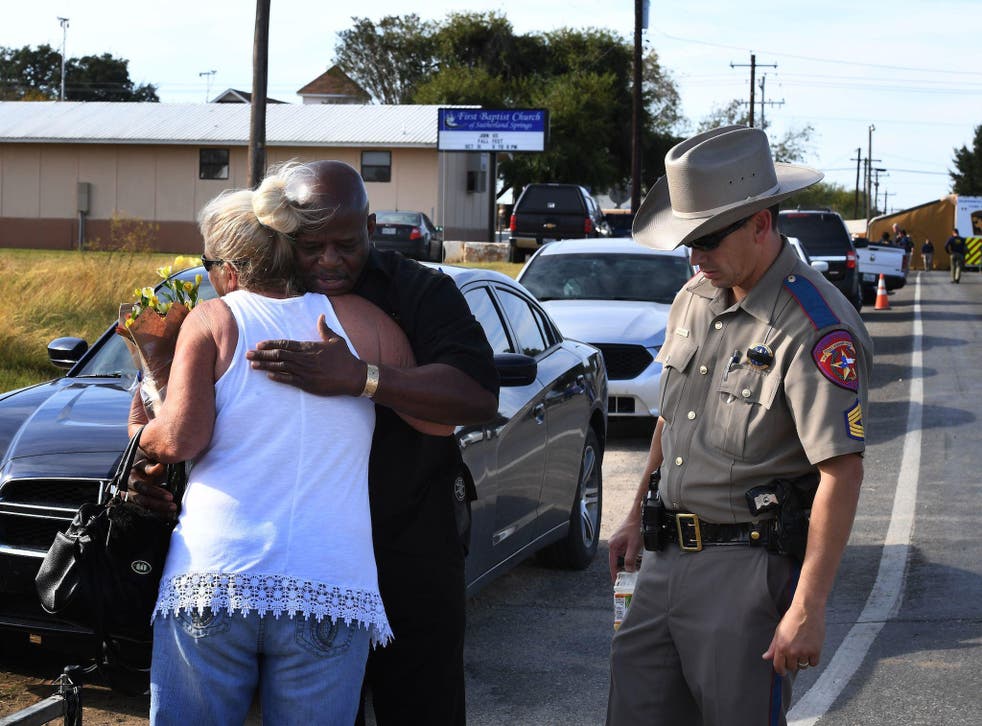 The man who went on a shooting spree at a church in Texas this weekend had previously escaped from a mental hospital in New Mexico, reports show.
He had been institutionalized after beating his then-wife and her child in 2012 while stationed at Holloman Air Force Base, but was able to escape and flee the state to Texas in 2012, documents obtained by local media.
In a missing person report filed after his escape, the shooter was described as "a danger to himself and others as he had already been caught sneaking fire arms onto Hollomon Air Force Base" where he was "attempting to carry out death threats" he had made to his chain of command. The US Air Force refused to confirm that the shooter had escaped from a mental institution in 2012, citing privacy rules under the Health Insurance Portability and Accountability Act of 1996.
Devin Kelley, 26, killed 26 people Sunday and wounded at least 20 more in at the First Baptist Church in Sutherland Springs, Texas. In the days that have followed that attack, reports have emerged describing him as a deeply disturbed man with a history of domestic violence and animal abuse who stalked former girlfriends and attempted to force them to spend time with him. The youngest victim of the attack was an 18-month-old child, while the oldest was a 77-year-old. Virtually nobody in the church emerged unscathed from the attack.
The shooter was convicted in a military court in 2012 of beating his then-wife and child, and sentenced to a years' prison sentence before he was discharged on bad behaviour. During the beatings, he had fractured the skull of the child, who was born in 2010. The beatings began roughly one year after the child was born, according to officials.
The abused wife filed for divorce while her ex husband was in jail.
Texas shooting in pictures

Show all 21
After his release from military prison, the future shooter moved into a barn on his parents' property in New Braunfels, Texas. Over the next couple of years, he was investigated twice for abusing women. Records show that he was investigated in 2013 for sexual assault and rape.
Military officials have indicated that Kelley should not have been able to purchase a firearm because of his prior domestic violence conviction, but he was able to slip through the cracks because the military failed to pass along information related to the case to the FBI, which processes federal background checks. That lack of communication between the military is not an isolated incident, and the military has reportedly known for decades that the military records were often not sent over to the federal agency tasked with ensuring guns don't make it into the hands of criminals.
Kelley reportedly bought an assault-style rifle in April of last year from a gun store in San Antonio. He said on that form that he did not have a criminal background that would preclude him from gun ownership, and listed a Colorado Springs, Colorado address as his primary place of residence. Police reports indicate that he had been questioned by police for beating a dog in Colorado, after neighbours reported him for repeatedly punching a dog before body slamming it to the ground.
Past girlfriends have described the shooter as a troubled individual who refused to leave them alone. One said that he had essentially attempted to bribe her into spending time with him years after they broke off their relationship. One said that she was 13-years-old when she dated Kelley, who was 18 at the time.
Officials refrained from assigning a motive for the shooting in its immediate aftermath, but these details and others have provided clues to why Kelley may have decided to don tactical gear and shoot up a church. One of the casualties of the attack was his wife's grandmother, it was later learned. Kelley had reportedly threatened his mother-in-law, who had attended the church previously, in the past. The mother-in-law was not present at the time of the shooting.
More than a dozen children were killed during the attack, including the 14-year-old daughter of the church's pastor, who was out of town at the time.
Kelley was found dead in his crashed truck after an 11-mile chase with a neighbour of the church, who had shot at him when he exited the building. The neighbour had reportedly injured Kelley, but it appeared as though the mass shooter's fatal shot came from his own gun.
Register for free to continue reading
Registration is a free and easy way to support our truly independent journalism
By registering, you will also enjoy limited access to Premium articles, exclusive newsletters, commenting, and virtual events with our leading journalists
Already have an account? sign in
Join our new commenting forum
Join thought-provoking conversations, follow other Independent readers and see their replies