Devin Nunes should recuse himelf from House Russia investigation, says committee member Adam Schiff
Calls echoed by Nancy Pelosi and Chuck Schumer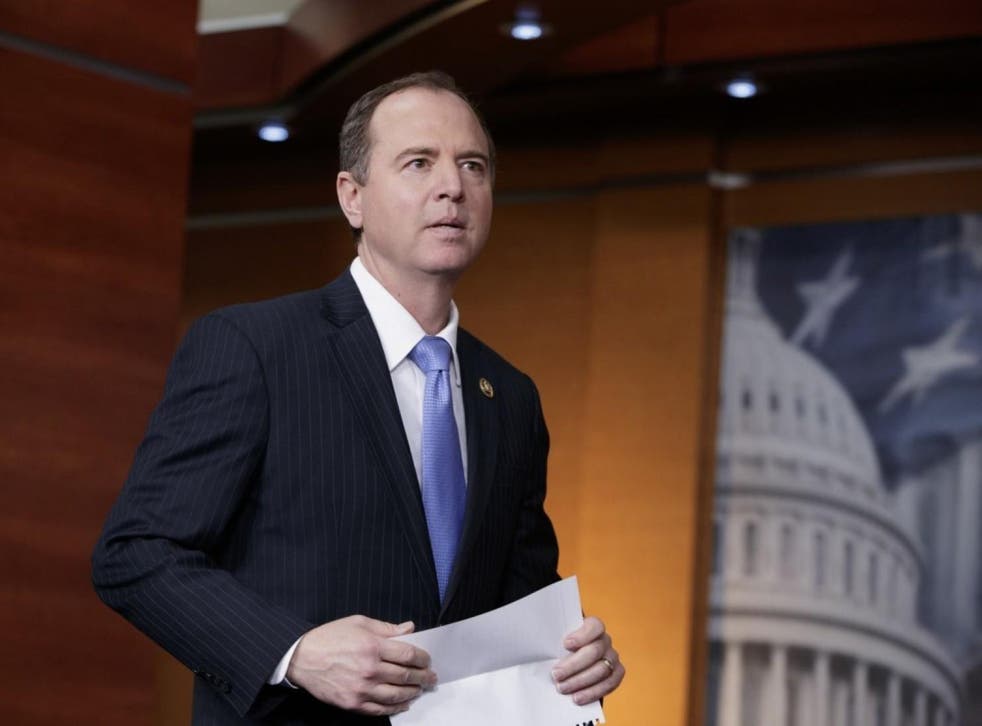 The chairman of the house committee that is looking into Trump aides' ties to Russia should recuse himself from the investigation due to his "concerning" behaviour, according to his counterpart.
Adam Schiff, the top ranking Democrat in the House Intelligence Committee, said in a statement that Devin Nunes should step down.
"After much consideration I believe Chairman should recuse himself from involvement in investigation/oversight of Trump campaign & transition," he wrote on twitter alongside a longer statement.
Mr Nunes, a member of the Trump transition team, admitted to holding a secret meeting with an unnamed White House source this week.
He then held an impromptu conference to reveal he had obtained "dozens" of documents which allegedly proved the President's aides were not the deliberate target of any US intelligence investigation; rather they had been caught in the cross-hairs during US surveillance of Russian operatives.
The claim was in contrast to FBI Director James Comey who said last week at a senate hearing that US agencies were investigating the aides' ties to Russia before and after the election.
FBI chief confirms Russia election interference probe
Yet Mr Nunes did not show these documents to the committee and instead went to brief the President.
"Whether the documents support the argument that names were improperly unmasked or distributed, it is impossible to judge, but one thing is very clear: There was no legitimate justification for bringing that information to the White House instead of the committee," Mr Schiff wrote on Monday.
"That it was also obtained at the White House makes this departure all the more concerning."
Mr Nunes' spokesman Jack Langer said in a statement that the Chairman "met with his source at the White House grounds in order to have proximity to a secure location where he could view the information provided by the source."
Mr Schiff said he did not take the decision "lightly" to call for his counterpart's recusal and had worked "well" with his Republican counterpart for several years.
Despite saying earlier this week that he would "solider on" with the committee after it was revealed Mr Nunes met with the White House, the target of their bipartisan investigation, Mr Schiff insisted on Monday that the chairman should recuse himself.
It follows similar calls from Senate Minority Leader Chuck Schumer and his predecessor, Nancy Pelosi.
"Chairman Nunes is falling down on the job and seems to be more interested in protecting the president than in seeking the truth," Mr Schumer said in a Senate speech.
Trump Inauguration protests around the World

Show all 14
The House Intelligence Committee has stalled its investigation following an unusual series of events. Mr Nunes' twitter feed has gone quiet since 19 March.
Following Mr Comey's hearing, Mr Schiff and Mr Nunes were given a classified briefing which gave them, according to the Democrat, "more than circumstantial" evidence of US-Russia collusion.
Republican says there is 'more than circumstantial evidence' of Trump-Russia collusion
They both put in a joint request to Mr Comey to share with their committee the information given to them in the classified briefing. Mr Nunes cancelled a second scheduled hearing for 28 March, where intelligence chiefs were expected to speak, to have what he described as more time to confer with Mr Comey and the National Security Agency director Michael Rogers.
Mr Trump's Attorney General Jeff Sessions recently recused himself from the investigation as it was revealed he had also met with Russian ambassador Sergei Kislyak before the election and had allegedly misled Congress about it. A similar series of events led to the resignation of Mr Trump's former National Security Advisor Michael Flynn in February.
"Let me be clear: I never had meetings with Russian operatives or Russian intermediaries about the Trump campaign," Mr Sessions said earlier this month at the Justice Department. "I should not be involved in investigating a campaign I had a role in."
Mr Trump's son-in-law and Senior Adviser, Jared Kushner, is also expected to be questioned on his meeting with Mr Kislyak and the head of a state-owned Russian bank.
Mr Trump sent a series of angry tweets around 2.30am on Tuesday morning, accusing the media and authorities of bias over their favourable treatment of Hillary Clinton and her husband's alleged ties to Russia.
He and the Kremlin have strongly denied any collusion to boot Ms Clinton out of the race.
Join our new commenting forum
Join thought-provoking conversations, follow other Independent readers and see their replies