Republican apologises for taking new surveillance information straight to Trump instead of the intel committee he chairs
'It was a judgment call on my part,' says Devin Nunes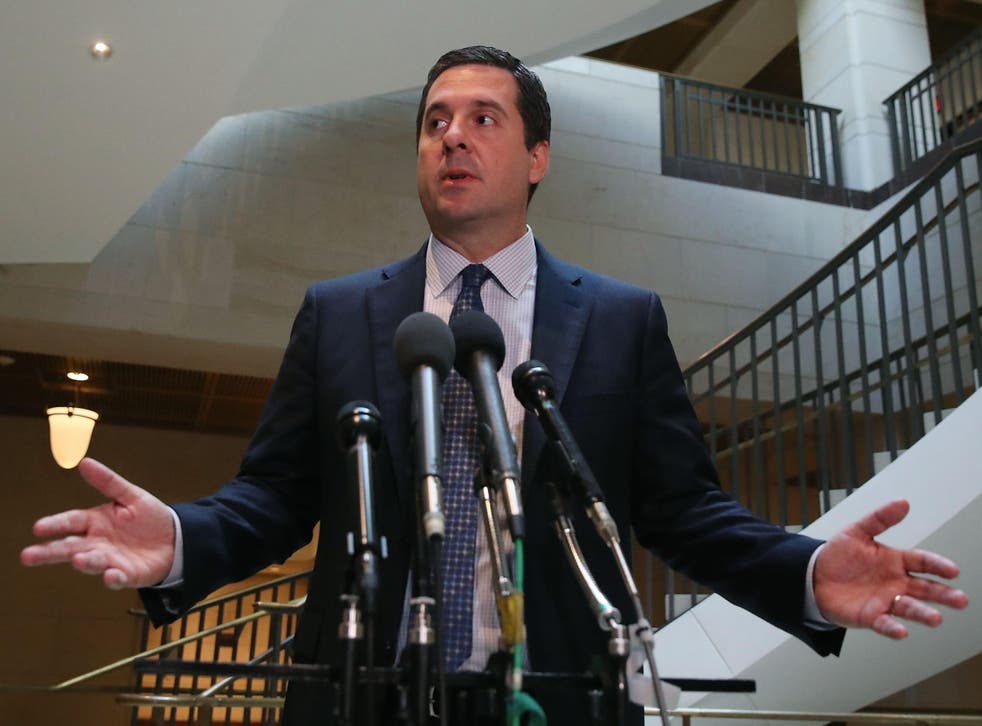 The chairman of the House Intelligence Committee has apologised to his colleagues for briefing Donald Trump about potential surveillance without consulting them.
"It was a judgment call on my part," said Devin Nunes. "Sometimes you make the right decision, sometimes you make wrong decision."
The senior Republican's decision to disclose the information before talking to committee members outraged Democrats and raised questions about the independence of the panel's investigation into Russian interference into the 2016 election and possible contacts between the President's associates and the Kremlin.
Devin Nunes: We picked up 'incidental' intelligence on Trump
Mr Nunes' claims were quickly embraced by the White House and Mr Trump said they "somewhat" validated his allegations that Barack Obama had ordered wiretaps on Trump Tower in the run up to the presidential election.
The President's surveillance claims have been dismissed by US security services and FBI director James Comey told the House Intelligence Committee he had "no evidence" to support the allegation earlier this week,
Mr Nunes' critics also questioned whether the California congressman was coordinating with the White House in order to give the President cover for the wiretap claims.
But the senator, who served on Mr Trump's transition team, ducked questions about whether he was parroting information given to him by the White House, saying only that he was "not going to ever reveal sources."
He maintained that the President's explosive wiretapping allegations against Mr Obama were false.
Democratic senator Jackie Speier said Mr Nunes had also apologised to Intelligence Committee members in their closed-door meeting earlier.
Prior to his apology, she had criticised him for failing to come to them with his revelations first.
Her colleague Adam Schiff, the ranking Democrat on the committee, also called Mr Nunes actions a "profound irregularity", while Elijah Cummings, the ranking member of the House Oversight Committee, suggested Mr Nunes had compromised the integrity of his committee's investigation.
"What he did was basically to go to the president, who is being investigated by the FBI and others and by the intelligence committee, to give them information," Mr Cummings told CNN, adding: "Basically what he has done is he has scuttled and put a cloud over his own investigation."
Register for free to continue reading
Registration is a free and easy way to support our truly independent journalism
By registering, you will also enjoy limited access to Premium articles, exclusive newsletters, commenting, and virtual events with our leading journalists
Already have an account? sign in
Register for free to continue reading
Registration is a free and easy way to support our truly independent journalism
By registering, you will also enjoy limited access to Premium articles, exclusive newsletters, commenting, and virtual events with our leading journalists
Already have an account? sign in
Join our new commenting forum
Join thought-provoking conversations, follow other Independent readers and see their replies