Turning Point USA: How one student in a diaper caused an eruption in the conservative youth organization
What one chapter thought would be a great stunt turned them into a mockery. This is what happened next.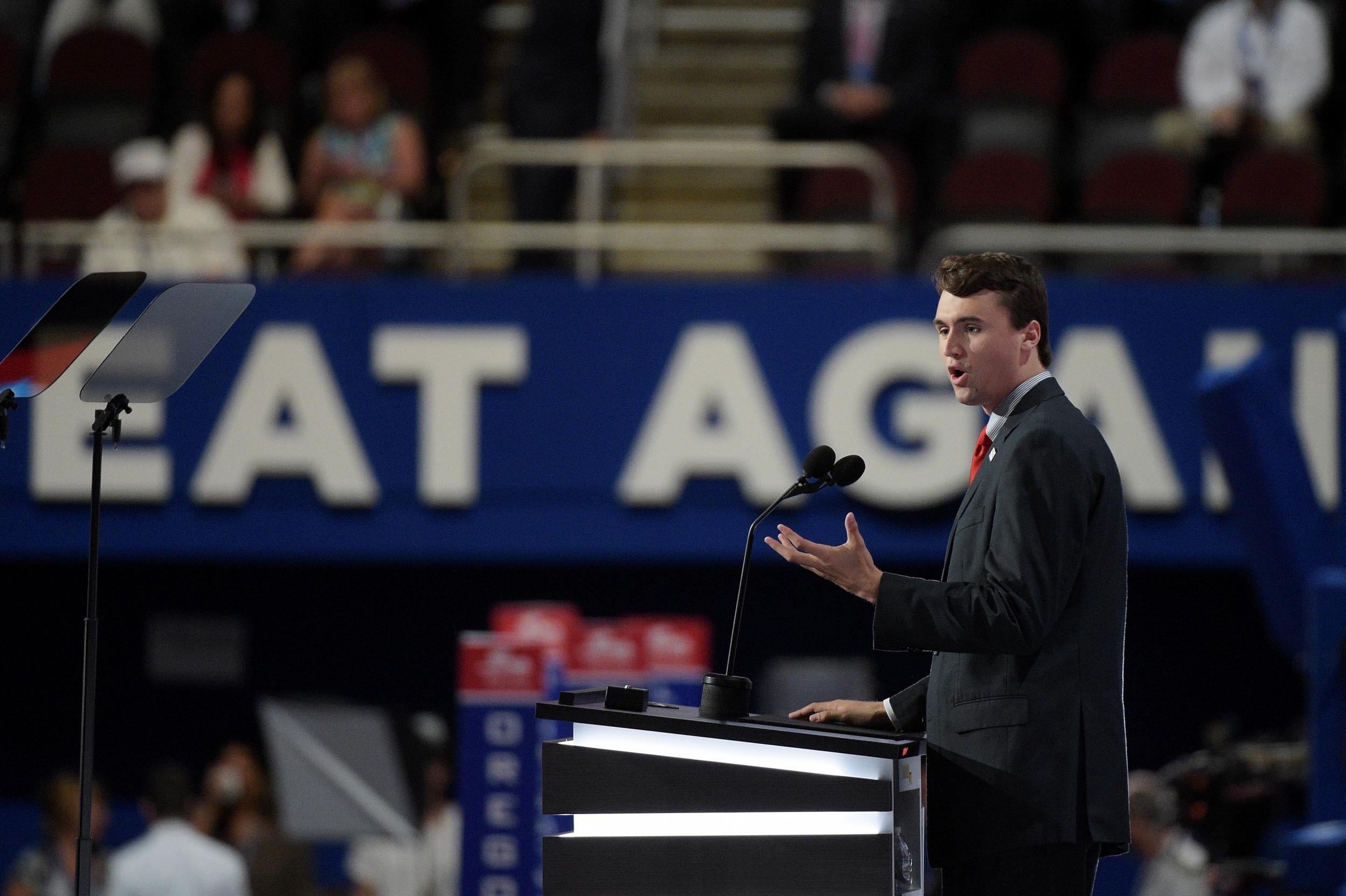 One of America's most prominent conservative youth organisations has been engaged for months in a bitter internal fight over a university student wearing a baby's diaper.
Turning Point USA, the non-profit founded by conservative activist Charlie Kirk and funded by a roster of Republican mega-donors, is known for the performative stunts it uses to recruit new members on campus. Among other things, they have created a "Professor Watch List" for teachers who they claim discriminate against conservatives, and invited right-wing provocateur Milo Yiannopoulos to speak on college campuses.
However it was "Free Speech Week" at Kent State University last October – which featured one student dressed in a diaper, sucking on a pacifier in a playpen – that brought the group mass attention.
The stunt was meant to mock the idea of "safe spaces," or protected areas on campus for marginalised groups, by symbolising that only a baby would need one. Photos of the incident spread like wildfire online, where liberals and conservatives alike wondered why any adult would put themselves up for such a stunt.
What those poking fun online didn't know was just how much turmoil the incident caused inside Turning Point itself.
Just this month, the president and campus coordinator for Turning Point USA at Kent State University announced her resignation, claiming the national organisation had lied about the incident to the press and left her to clean up the fallout on her own.
"As of right now, I am in disbelief at how I went from being so upbeat, enthusiastic, and passionate about this organisation to being disgusted, frustrated, and embarrassed to have invested my entire senior year into an organisation founded by a college dropout who hires some of the most incompetent, lazy, and downright dishonest people I have ever encountered," wrote former president Kaitlin Bennett in her scathing letter of resignation.
Turning Point declined to comment on Ms Bennett's resignation, saying they do not comment on human resources matters.
In a statement regarding the student's allegations, communications director Jake Hoffman said: "Turning Point USA is the nation's largest campus-based conservative student organisation with chapters on more than 1,000 campuses, tens of thousands of activists and having recently hosted the largest ever gathering of conservative students."
He added: "The quality of our organisation speaks for itself and we look forward to empowering more young people all across the country in the coming years. With regards to Ms. Bennett's decision to resign her part-time position, we do not comment on Human Resources matters."
Turning Point was founded by Mr Kirk in 2012, with the purpose of "enlightening" young people on "true free market values". With the help of wealthy conservative donors like the Richard and Helen DeVos Foundation – named after current Education Secretary Betsy DeVos's in-laws – it has grown to cover more than 1,000 campuses, and employs more than 100 full-time staff. Mr Kirk has been heralded in various profiles as a "boy wonder" who is "challenging the left on its home turf".
But Mr Kirk has also come in for criticism, having argued that the concept of white privilege is "racist," while Turning Point advisory board member Foster Friess urged students to "be more intolerant" in a commencement speech.
Ms Bennett said she was inspired to start a Turning Point chapter on campus after attending one of the organisation's conferences. She appreciated the group's focus on empowering young conservatives, and the funding they offered for campus activism.
Plus, she agreed with the group's strong stance against "safe spaces". Asked why she disagreed with the concept, Ms Bennett claimed safe spaces were "discriminatory" and even "insulting" to college students.
"I don't think public universities should have safe spaces on the public land and on campus because excluding certain dialogue is not only discriminatory, but it basically promotes this idea that college kids can't handle differing opinions," she said. "It fosters this environment that you're a kid, and that's not how things work in the real world."
That's why the Kent State chapter decided to ridicule the concept of safe spaces as part of the "Free Speech Week" they organised. During one planning session, Ms Bennett said, a member of a fellow conservative organisation suggested dressing up as a baby, to show that safe spaces were meant for children.
According to Ms Bennett, the event itself went swimmingly. Other students thought the person wearing the diaper was "so funny," she said, that they even stopped to point and laugh. At a speaking engagement the next day, Mr Kirk even congratulated her personally on the chapter's activism.
"Keep up the triggering, good job," she says he told her.
Over the next several days, however, it became clear that many, many more people found the stunt funny – for all the wrong reasons. Commentators on the left passed around photos from the event online, ridiculing the student who donned a diaper for the event.
Turning Point released a statement condemning the incident, which read, in part: "While we support all our chapters to do innovative and creative activism events, this event clearly crossed the line and delved into the very obscure and inappropriate."
The statement also claimed that the event was not approved by their regional director or field staff – despite the fact that, according to Ms Bennett, both the regional manager and field director knew about the free speech week.
World news in pictures
Show all 50
While Turning Point tried to smooth over the controversy publicly, tensions flared on the inside. Several other members of the organisation mocked the Kent State chapter via Twitter.
Ms Bennett said she tried to defend herself, lashing out at the other groups in Facebook posts. That's when she got a call from Turning Point's chief operational officer, Tyler Bowyer.
During their conversation, Ms Bennet says Mr Bowyer told her that the diaper incident was inappropriate because it "gave the left a lot of ammo to take these pictures and make memes out of them".
"It's not funny," Ms Bennet said the COO told her. "Nothing about this is funny. Now every time Charlie [Kirk] tweets they tweet back pictures of him in a diaper."
Mr Bowyer did not respond to a request for comment.
As a result of the diaper incident, Ms Bennett said, the organisation changed its entire event process, requiring more – and more explicit – sign-offs from adult employees. Mr Kirk later confirmed as much to the New Yorker, saying the organisation had issued new guidelines to chapters in order to prevent a repeat. The Kent State chapter has not hosted a single speaker since the Free Speech Week.
Eventually, Ms Bennett decided to resign – and to blast her qualms with the organisation all over conservative media.
"Now that I have a clear conscience and have no desire to continue my employment with Turning Point, I will have the time to find a real job, something I recommend for you," she wrote in her resignation letter, which she posted on conservative outlet Liberty Hangout.
She added: "Maybe answering to business professionals rather than college dropouts, egotistic enough to put their face on stupid memes, will give you the leadership skills you desperately need for your positions."
Join our commenting forum
Join thought-provoking conversations, follow other Independent readers and see their replies