'Distressed' great white shark attacks swimmer off Californian beach
Steven Robles, 40, was one of a group of long-distance swimmers off Manhattan Beach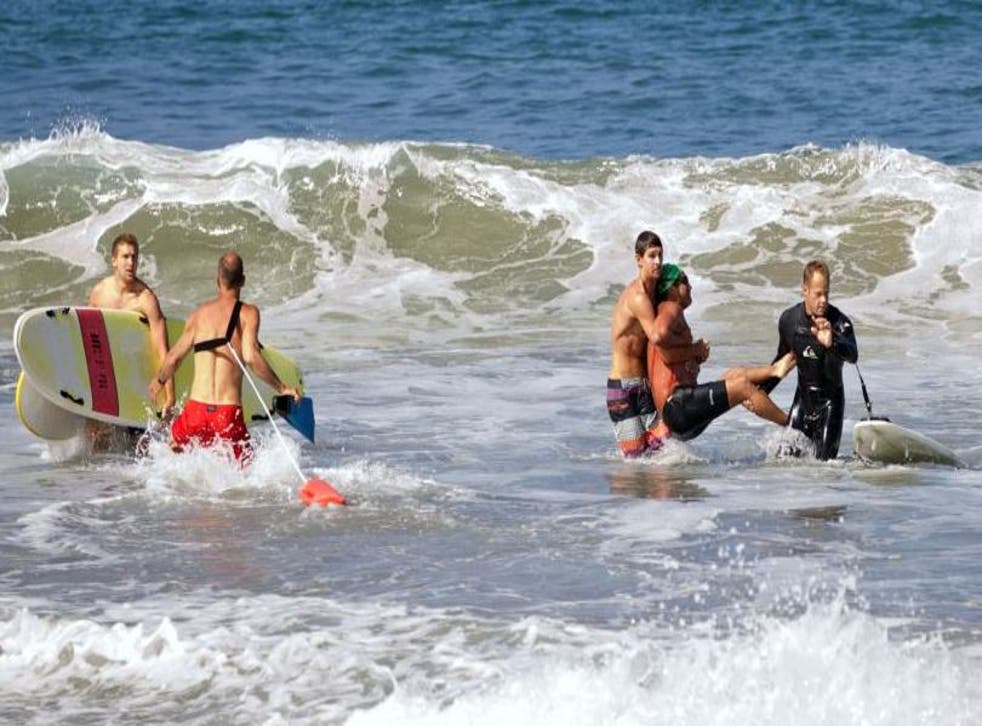 A swimmer has survived being bitten by a 7ft great white shark off the Californian coast.
The attack happened after the shark got caught in a fisherman's hook for half an hour, with the carnivore growing increasingly distressed at not being able to free itself.
Fifteen unsuspecting long-distance swimmers then neared the shark, with one man, Steven Robles, 40, getting caught in the fishing line.
He was bitten on the side of his rib cage about 270m off Manhattan Beach in southern California at 9.30am local time yesterday.
Eye witness Eric Martin said that the shark's mouth had been opening and closing as if trying to shake off the hook.
Injured Mr Robles was placed on a surfer's board after fishermen cut the line.
He was attended to by Los Angeles County lifeguards before paramedics began treating him. His injuries - lacerations and puncture wounds - were not life threatening and he was taken to hospital conscious.
A video of the incident seemingly has the swimmer's cries of pain as others shout "shark" and attempt to usher people out of the water. "It already bit someone!" somebody else is heard saying.
A lifeguard at the beach said that it's not uncommon for sharks to get as close as it did, but that this case was unique because it was agitated.
"He was trying to get off the line," Tracy Lizotte told the Los Angeles Times. "That's where they live. It's their home," he added.
Though the shark swam off back into the wild 20 minutes later, a moratorium was temporarily placed on entering the water and fishing has been halted until Tuesday as a precaution.
According to CBS LA, Mr Robles credits God for his survival as well as a fast-thinking punch on the shark's nose.
He told NBC4: "You could feel the whole body shaking with the shark, the whole thing trying to gnaw in at me.
"He surfaces to the top, I see him for two seconds and he makes a really sharp turn and comes lunging right at me on my chest. I had no time to react, it just happened so quick.
"I used my hand to grab his nose, pried him off me. I mean, I thought that was it. For just a second I thought this was it, I was really scared."
The City of Manhattan Beach has a 2.1-mile stretch of beachfront and a 928ft-long pier. While fishing is permitted all year, fishing for sharks is prohibited in California.
Shark sightings are reportedly on the rise at some Californian beaches, such as Manhattan where surfing and paddle boarding is a popular pastime.
Additional reporting by agencies
Register for free to continue reading
Registration is a free and easy way to support our truly independent journalism
By registering, you will also enjoy limited access to Premium articles, exclusive newsletters, commenting, and virtual events with our leading journalists
Already have an account? sign in
Register for free to continue reading
Registration is a free and easy way to support our truly independent journalism
By registering, you will also enjoy limited access to Premium articles, exclusive newsletters, commenting, and virtual events with our leading journalists
Already have an account? sign in
Join our new commenting forum
Join thought-provoking conversations, follow other Independent readers and see their replies