'Do not give them a reason': Baltimore man divides police and rioters in hope of avoiding violence
He created a one-man barrier between protesters and officers
Christopher Hooton
Tuesday 28 April 2015 09:55 Comments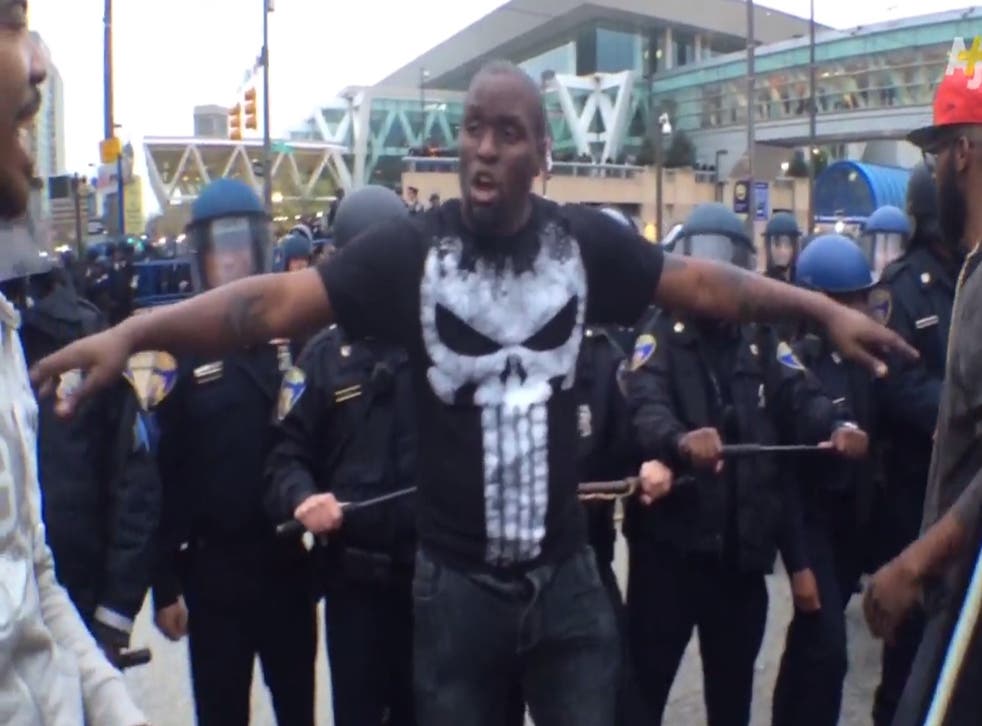 One man in Baltimore yesterday had seen enough black men die as a result of contact with the police in the US over the past year to stand by and let another tragedy unfold.
"Do not give them a reason" he repeatedly bellowed, standing, arms spread wide, between a line of officers in riot gear and a group of angry protestors approaching them.
Just as a side note – that t-shirt he's wearing bears the emblem of violent vigilante comic book antihero The Punisher, a little ironic given his message of pacifism.
Riots broke out in the city just hours after the funeral of Freddie Gray, who died of a severe spinal cord injury while in police custody.
Grey's family denounced the violence, which saw stores looted and vehicles burned.
"I don't think that's for Freddie," Gray's twin sister, Fredericka, added of the riots. "I think the violence is wrong."
Register for free to continue reading
Registration is a free and easy way to support our truly independent journalism
By registering, you will also enjoy limited access to Premium articles, exclusive newsletters, commenting, and virtual events with our leading journalists
Already have an account? sign in
Join our new commenting forum
Join thought-provoking conversations, follow other Independent readers and see their replies