Dog almost dies of severe allergic reaction after owner dyed it purple
'We initially thought – how would this little dog make it through?'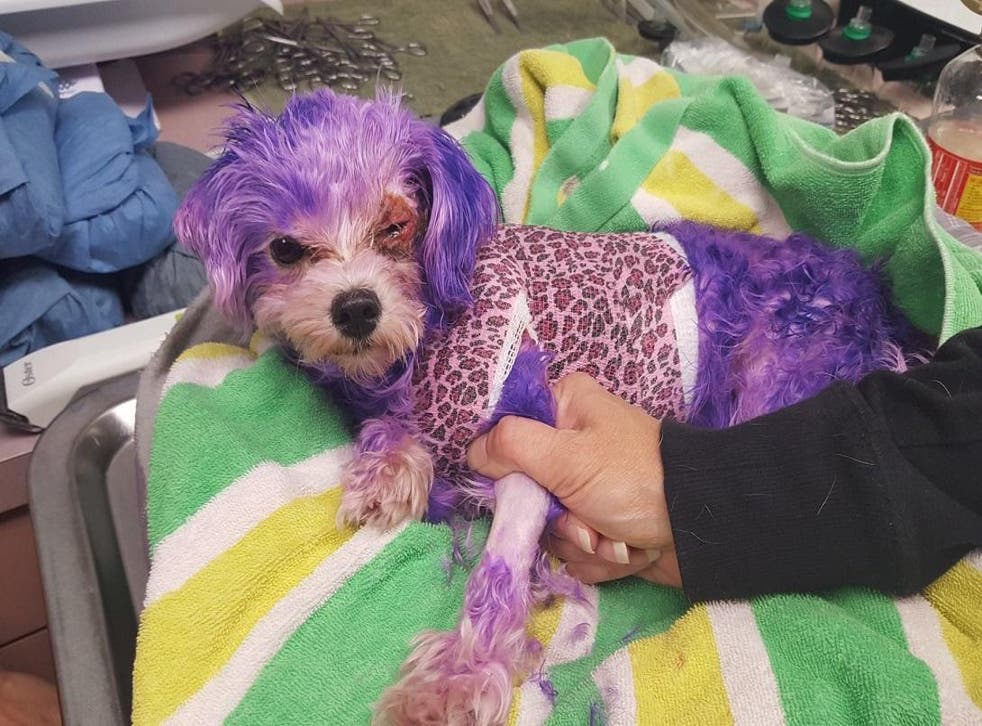 A dog almost died after its owners coloured its fur purple using a hair dye for humans.
Violet, a Maltese mix, was brought into the Pinellas County Animal Service in Florida after suffering a severe allergic reaction.
She had burns to her skin, her eyes were swollen shut and she was limp and lifeless.
After vets gave her fluids and medication to ease the pain, staff the animal centre washed off as much of the chemical dye as possible, although they were unsure whether she would survive.
"Violet went home with our veterinarian and we waited," the animal service posted on Facebook. "And she came in the next morning and we were amazed that she had made it through the night.
"We began the arduous process of shaving off her hair to really measure the damage – to our horror her skin began to slough off. Good thing Violet was peacefully anaesthetised. It was so much worse than we initially thought – how would this little dog make it through?"
Eventually, the dog began to get better, although staff worried she would be left permanently blind.
"She began to walk the halls, visiting each office requesting treats or hugs or gentle pats, always in the lead with our veterinarian in tow," the centre wrote.
World news in pictures

Show all 50
Fortunately, Violent made a full recovery after her ordeal, but the Pinellas County Animal Service has warned pet owners not to use human hair dye on animals.
"Chemicals in hair dye are toxic causing a wide array of external injury to your pet - possible burns, blindness and because an animal's first instinct is to lick, it can cause poisoning or internal burns," they posted on Facebook.
"So as you dry up those tears please take one thing away from Violet's journey - only use products specifically meant for pets or you could be putting your pet's life on the line."
Her original owner is unknown and she was brought in by a "Good Samaritan", the centre said. She has now been sent to another home, to owners who do not plan on dying her.
Join our new commenting forum
Join thought-provoking conversations, follow other Independent readers and see their replies