Donald Trump accuses former president George W Bush of 'lying' to enter Iraq War
Mr Trump called the Iraq War a 'big, fat mistake'
Alexandra Sims
Sunday 14 February 2016 18:35 Comments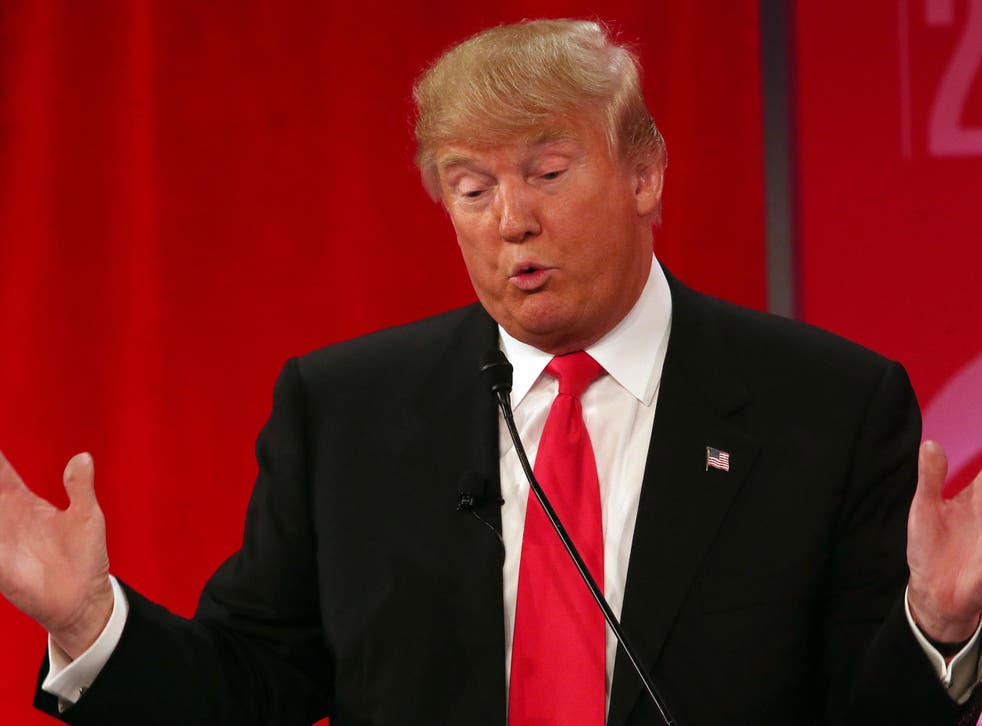 Donald Trump has accused former US president George W Bush of "lying" to get the country into the Iraq war, while speaking at a recent GOP presidential debate.
"They lied!" said the Republican front-runner at the CBS News debate in South Carolina. "They said there were weapons of mass destruction and there were none."
Mr Trump unleashed a series of biting attacks against the former president, in what has been dubbed the most abrasive GOP debate yet, calling the Iraq War a "big fat mistake".
"George Bush made a mistake," Mr Trump said. "We all make mistakes. But that one was a beauty."
"We should have never been in Iraq. We have destabilized the Middle East."
Donald Trump's most controversial quotes

Show all 14
A moment of silence, held at the beginning of the event in memory of Supreme Court Justice Antonin Scalia whose death was announced on Saturday, quickly turned into an eruption of bitter jibes and arguments as the other candidates criticised Mr Trump's comments.
Both Marco Rubio and the former president's brother, Jeb Bush, defended Mr Bush against the attacks.
"I'm sick and tired of him going after my family," Jeb Bush said. "While Donald Trump was building a reality TV show, my brother was building a security apparatus to keep us safe. And I'm proud of what he did."
Speaking of Mr Bush, Mr Rubio said: "He kept us safe and I'm forever grateful."
In response Mr Trump said: "How did he keep us safe when the World Trade Centre came down? I lost hundreds of friends.
"The World Trade Center came down during the reign of George Bush. He kept us safe? That is not safe."
He also added that Mr Bush had had the chance to kill Osama bin Laden but failed.
In response to the remarks, Mr Trump, who recently triumphed at the New Hampshire Primaries, received boos from the audience gathered in the Peace Centre in Greenville.
During his campaign trail the business mogul has repeatedly implied his opposition to the Iraq war, however his remarks on Saturday have been described as "remarkable" by political commentators.
In addition to his critique of Mr Bush, Mr Trump also promised to save Social Security without cutting benefits; and praised Planned Parenthood for "wonderful things having to do with women's health".
Mr Trump continues to be favourite in the polls for Republican leader and dominated the debate conservation on Twitter with 40 per cent of the mentions, according to data from the social media platform.
Former President Bush, who still has many admirers in the Republican establishment, will join his brother Jeb on the campaign trail in South Carolina, where a Republican Presidential Primary will take place on 20 February.
Additional reporting by Reuters
Register for free to continue reading
Registration is a free and easy way to support our truly independent journalism
By registering, you will also enjoy limited access to Premium articles, exclusive newsletters, commenting, and virtual events with our leading journalists
Already have an account? sign in
Join our new commenting forum
Join thought-provoking conversations, follow other Independent readers and see their replies