Donald Trump administration tells federal employees not to talk to Congress
The government circulated a memo, warning employees not to talk until 3 February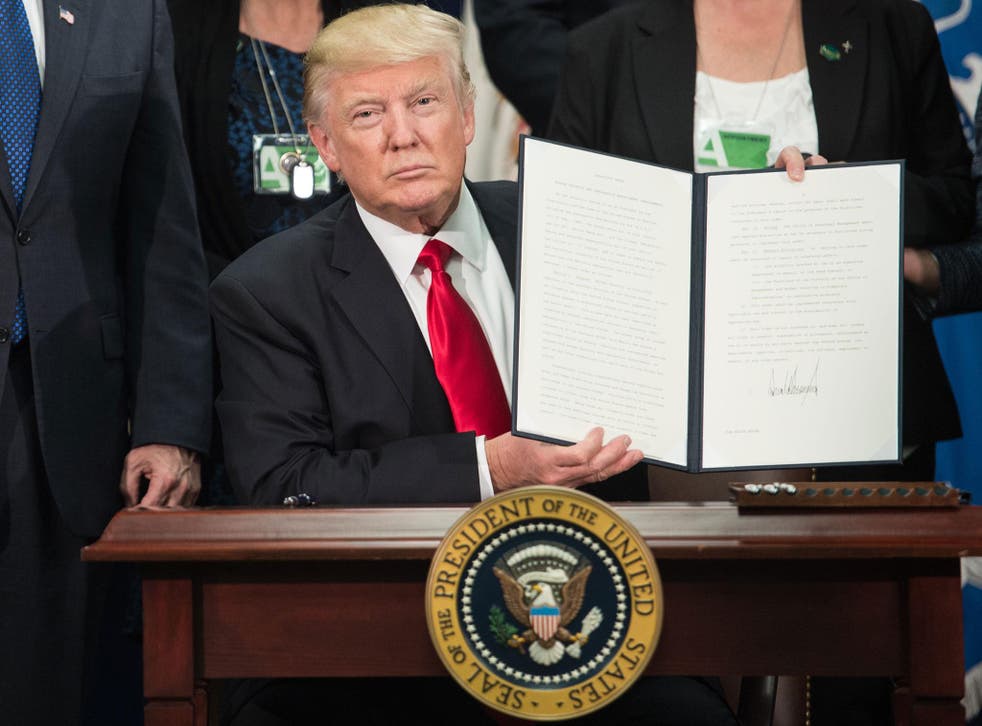 Donald Trump's government has warned federal employees not to talk to Congress, enforcing what Democrats have described as an illegal "gag order" until next week.
The memo circulating in the Department of Health and Human Services from the acting secretary warns the various agency heads that there should be "no correspondence to public officials (e.g. Members of Congress, Governors)...unless specifically authorized by me or my designee, shall be sent between now and February 3…"
Elijah Cummings, senior Democrat of the House Committee on Oversight and Government Reform, said his committee was in possession of documents that showed how federal employees were not allowed to talk.
He wrote in a letter to the new White House Counsel Donald McGahn that the administration had sent similar memos to multiple agencies and that "these directives appear to violate a host of federal laws".
The specific memo Mr Cummings referenced was sent around on 20 January and reasoned that the gag order was necessary while the new government "considers its plan for managing the Federal regulatory process" and that Mr Trump's team "have the opportunity to review and approve any new or pending regulations or guidance documents".
The Trump administration has already come under fire for shutting down twitter access for the National Park Service after it tweeted images of the relatively small crowds at Mr Trump's inauguration.
This followed with a "media blackout", telling several agencies not to post blogs, social media updates or tweets.
Press secretary Sean Spicer told the Associated Press that no such directives had come from the White House, suggesting the orders were at the discretion of the agency heads.
Mr Trump's senior adviser Steve Bannon told the New York Times this week that the media had been "humiliated" by his boss' victory and they should "keep their mouth shut".
Democrats, including Missouri senator Claire McCaskill, tweeted that any federal employees who wanted to be whistleblowers could call her office and they would be "protected".
Register for free to continue reading
Registration is a free and easy way to support our truly independent journalism
By registering, you will also enjoy limited access to Premium articles, exclusive newsletters, commenting, and virtual events with our leading journalists
Already have an account? sign in
Register for free to continue reading
Registration is a free and easy way to support our truly independent journalism
By registering, you will also enjoy limited access to Premium articles, exclusive newsletters, commenting, and virtual events with our leading journalists
Already have an account? sign in
Join our new commenting forum
Join thought-provoking conversations, follow other Independent readers and see their replies