Martin Luther King Day: Donald Trump cancels visit to African American history museum in wake of civil rights row
His team has cited scheduling issues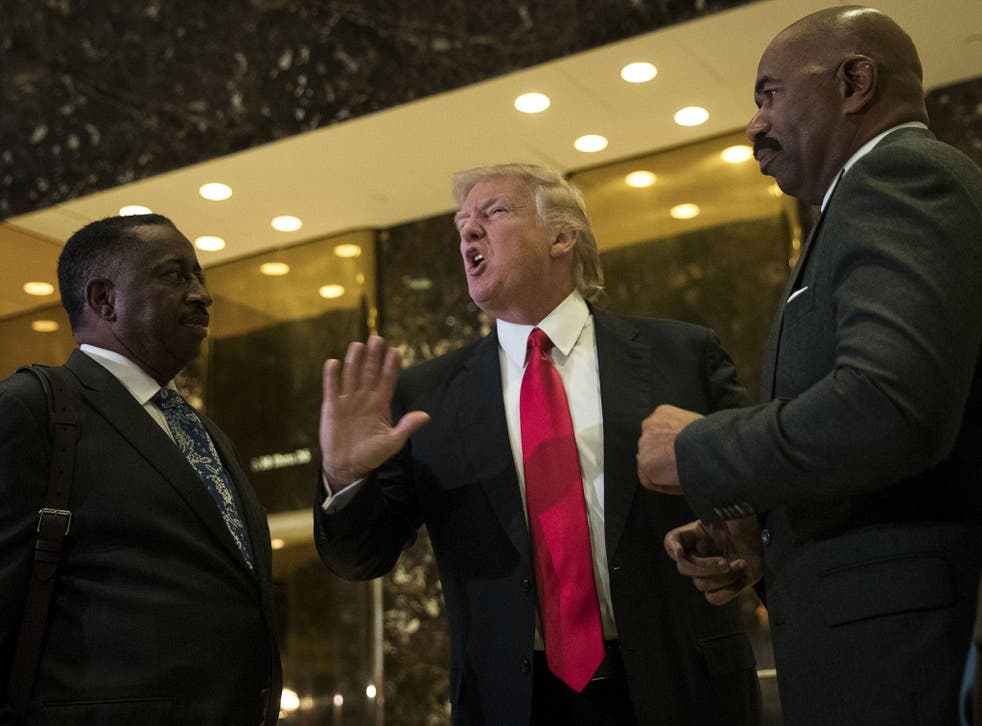 Donald Trump will no longer visit the Smithsonian Museum of African American History and Culture to mark Martin Luther King Day, according to reports.
The President-elect had been planning to visit the museum on Monday but senior transition team sources told ABC News the trip has been cancelled, citing issues with scheduling.
It was not immediately clear what Mr Trump would be doing instead of the trip, while the sources told ABC News he would be marking MLK Day in another way
It comes a day after Mr Trump attacked a prominent civil rights leader on Twitter. In a pair of tweets on Saturday morning, he said Congressman John Lewis was "all talk, no action".
Mr Lewis, who has been a member of Congress since 1987, is an elder statesman of the party and a figure of huge respect for his role in the civil rights struggle of the 1960s. He took part in the march across the Edmund Pettis Bridge in Selma, Alabama, led by Dr King. In the bloody conflict that followed when police broke up the peaceful marchers, Mr Lewis suffered serious injuries.
But Mr Lewis said he would not attend Mr Trump's inauguration on 20 January, saying: "I don't see this President-elect as a legitimate president."
In response, Mr Trump tweeted: "Congressman John Lewis should spend more time on fixing and helping his district, which is in horrible shape and falling apart.
"(Not to mention crime infested) rather than falsely complaining about the election results. All talk, talk, talk - no action or results. Sad!"
Trump's assertions that Mr Lewis' district is "falling apart" and "crime infested" are hard to back up with facts.
Georgia's 5th Congressional District, which includes the Atlanta metro region, is considered one of the nation's fastest-growing areas, although its crime and poverty rates are higher than the national average.
Alec Baldwin returns as Donald Trump to mock press conference and dossier allegations
The district has an 8.2 per cent unemployment rate and the median household income is about $48,000, according to the Census Bureau.
Republicans and Democrats alike criticised Mr Trump for how he reacted to Mr Lewis' comments.
"The tweet is unnecessary, it's unfortunate," former Republican National Committee chairman Michael Steele, who is African-American, said on MSNBC
"John Lewis has a walk that very few people in this country — least of all Donald Trump — have ever walked. So you have to respect that and pay attention to that in a real sense," Steele said.
One of Mr Lewis' Democratic colleagues, Rep Ted Lieu also declared he would skip Mr Trump's inauguration, in part to defend Mr Lewis.
"Trump — who lost the popular vote — has made a series of racist, sexist and bigoted statements. In addition, he has attacked Gold Star parents, veterans such as John McCain and now civil rights icon John Lewis," Mr Lieu said.
He added, "For me, the personal decision not to attend the Inauguration is quite simple: Do I stand with Donald Trump, or do I stand with John Lewis? I am standing with John Lewis."
Join our new commenting forum
Join thought-provoking conversations, follow other Independent readers and see their replies