Donald Trump still calls Alex Jones for advice, claims the InfoWars founder and far right conspiracy theorist
Leading US conspiracy theorist, who thinks Sandy Hook massacre of 20 young children was staged, has long-running links with President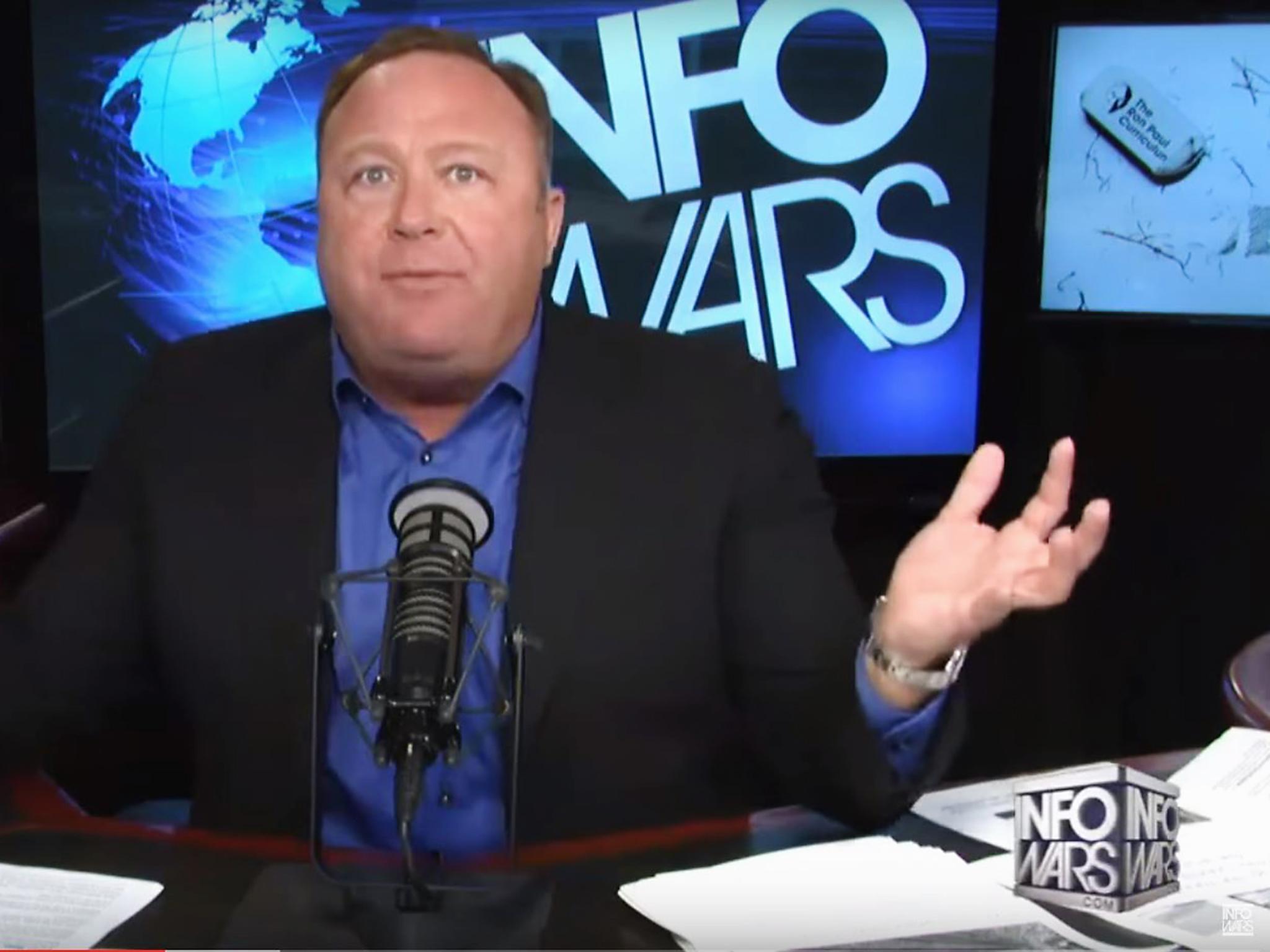 Donald Trump enjoys taking advice from those outside the political sphere. A leaked audio recently revealed the mogul-turned-politico invited wealthy members of his New Jersey golf club to help interview candidates for posts in his administration after he won.
But it turns out club guests might not be the only political outsiders pressed for their presidential advice, Mr Trump reportedly also picks up the phone to call far-right conspiracy theorist Alex Jones for his tutelage.
Jones is known for his far-fetched, outlandish conspiracy theories. He runs far-right site InfoWars, which Jones says is read by "millions of steadfast and loyal Trump supporters" and has widely been deemed to be a fake news site.
The radio show host, who has been dubbed America's leading conspiracy theorist and a prominent voice of the "alt-right" movement in the US, has suggested the Sandy Hook school shooting of 20 young children was staged, September 11 was an inside job and argued the baseless reports about Hillary Clinton being part of a Washington pizzeria child sex abuse ring warrants serious investigation. He has also claimed the government puts chemicals into the water supply to turn people gay so they are unable to have children.
But this does not mean Mr Trump, who has long-running links with InfoWars, is not reportedly leaning on Jones for advice. The internet personality, who is known for his nationalist, far-right views, told the New York Times he sometimes speaks to Mr Trump on the phone.
This would fit in with their previous reports the President retires to the White House residence in the evenings alone, with his wife Melania and son Barron in New York, and rings up former advisors.
The controversial orders Donald Trump has already issued
Show all 9
There are a number of clear, unmistakable parallels between the views espoused by Jones and Mr Trump. So much so that his former Democrat presidential rival, Ms Clinton, once released an advert linking Mr Trump to Jones.
To put this into context, on Friday, Mr Trump declared that a number of news outlets, ABC, CBS, CNN, NBC, The New York Times, were, "the enemy of the American people". Jones used the exact same phrase in 2014 as the conspiracy theorist relished in noting on Twitter on Sunday.
What's more, two weeks ago, Mr Trump's swiftly debunked claim the media is covering up terrorist attacks committed by Muslim fundamentalists mirrored a headline on Infowars which read: "Scandal: mass media covers up terrorism to protect Islam".
Going far further back, the former reality TV star insisted in May there was no drought in California, and claimed the government was "taking the water and shoving it out to sea" to "protect a three-inch fish". Jones, who has amassed 1.2 billion views on one of his 18 YouTube channels, claimed in a video that the government was "literally draining water into the sea all for the sake of a three-inch fish" thirteen months prior to Mr Trump's announcement.
These are by no means the first reports of Jones phone contact with Mr Trump. Immediately after the election, the radio host, who believes Ms Clinton is a genuine avatar of satan, said the President called him to thank him for his help in getting elected.
In a clip posted on his website, he said: "He said, 'Listen, Alex, I just talked to the kings and the queens of the world. I want to thank you, your audience."
The Republican billionaire has previously called Jones a "nice guy" and appeared on his Infowars show in December 2015. "Your reputation is amazing," Mr Trump said. "I will not let you down. You will be very, very impressed, I hope. And I think we'll be speaking a lot."
The Independent contacted a representative of Mr Trump for comment.
Join our commenting forum
Join thought-provoking conversations, follow other Independent readers and see their replies