Donald Trump picks 'sworn foe' of minimum wage as labour secretary
Andy Puzder, the fast food CEO, is a vocal opponent of Obamacare, the minimum wage and overtime pay – Trump voters are likely to miss out as a result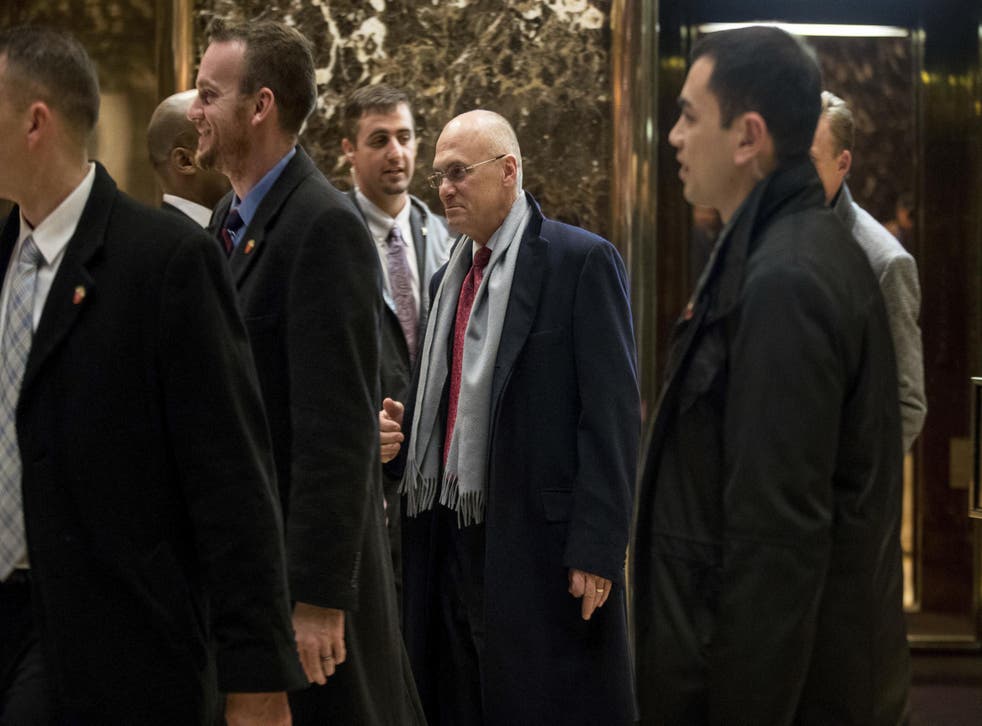 Donald Trump continues to fill his cabinet with corporate powers, and the latest is the appointment of a fast food chief executive officer as labour secretary.
Andy Puzder is CEO of CKE Restaurants Holdings Inc, which is the parent company of Carl's Jr and Hardee's burger chains. The fast food industry represents 10 per cent of American workers, in a country where more than 42 million Americans live in "food insecure" households.
Mr Puzder has consistently served as a voice of opposition to regulations. He has fought against Obamacare and argued against raising the federal minimum wage, which is $9 (£7.15) per hour. Mr Puzder's realm will focus on unemployement benefits, economic statistics and the minimum wage.
As reported by The Wall Street Journal, Mr Puzder is anticipated to call for an overhaul of the tax system. It is yet to be seen how his policies on tax would fit in with the President-elect, who has called for tariffs of 35 per cent on imported goods and "punishing" companies that threaten to outsource jobs overseas.
Robert Reich, who was labour secretary under President Bill Clinton, described Mr Puzder as a "sworn foe" of the minimum wage and has "championed right-wing, trickle-down economics".
"Having served as Secretary of Labor, I cannot imagine someone more unsuited to the job of advancing the cause of working people in America as Andy Puzder. Because of this nomination – as with almost all of the rest of Trump's nominations – the working people who voted for Trump will suffer," he wrote on Facebook.
Mr Trump has also spoken against consolidations of power, for example mergers of media corporations, in his Gettysburg address before the election.
Yet Mr Puzder is currently focused on consolidating his corporate headquarters in Nashville, Tennessee. Roark Capital, which owns CKE, purchased the company from Apollo Global Management in December 2013.
Donald Trump's controversial cabinet
The President-elect also promised to "drain the swamp" of Washington DC, where his government would not be beholden to big interests or lobbying powers.
Yet Mr Puzder is a pillar of big business. His company employs around 75,000 people and almost 100,000 worldwide across 44 states and 40 countries.
The company makes big money, too, at total sales of more than $4.3bn. He once made more than $17,000 in a single day, which is more than his average employee earns in a year.
Many of Mr Trump's supporters might be hurt by the likely scrapping of any raise to the minimum wage.
President Barack Obama's proposed overtime rule, which would have paid millions of Americans extra money for working overtime, was also scrapped. Mr Puzder's appointment is likely to ensure that a hike to the minimum wage is dead in the water. Even though Mr Trump said on the campaign trail that he did not understand how workers could survive on such low pay, he also said he would leave the matter in the states' hands.
Shortly before the election, Mr Puzder told a Fox News anchor that serving Mr Trump would be "the most fun you can have with your clothes on".
Yet Mr Puzder might have a tough job on his hands.
Mr Trump has already come under fire from big employers and their unions when he falsely claimed that he saved "more than 1,100 jobs" at Indiana-based air conditioner manufacturing firm Carrier, and also for saying that he saved jobs at Ford from being moved to Mexico. Mr Trump was also blamed for sending a false tweet about Boeing's "out of control" costs that instantly wiped around $1bn off its share price.
The anti-union stance, however, will be familiar territory for Mr Puzder. He is a member of the Jobs Creators Network, which is linked to a group of conservative CEOs and anti-union operative Richard Berman, a Republican lawyer and lobbyist.
Other Trump appointments include Jeff Sessions, a racially-biased man as the head of the justice department, Betsy DeVos, a woman with no teaching experience as head of education, and Scott Pruitt, a climate change-denier as head of the Environmental Protection Agency. Mr Trump's senior counsel, Stephen Bannon, is a white supremacist.
Register for free to continue reading
Registration is a free and easy way to support our truly independent journalism
By registering, you will also enjoy limited access to Premium articles, exclusive newsletters, commenting, and virtual events with our leading journalists
Already have an account? sign in
Register for free to continue reading
Registration is a free and easy way to support our truly independent journalism
By registering, you will also enjoy limited access to Premium articles, exclusive newsletters, commenting, and virtual events with our leading journalists
Already have an account? sign in
Join our new commenting forum
Join thought-provoking conversations, follow other Independent readers and see their replies