Angela Merkel postpones trip to meet Donald Trump as storm sweeps down US east coast
National Weather Service warns people to expect 'life threatening' conditions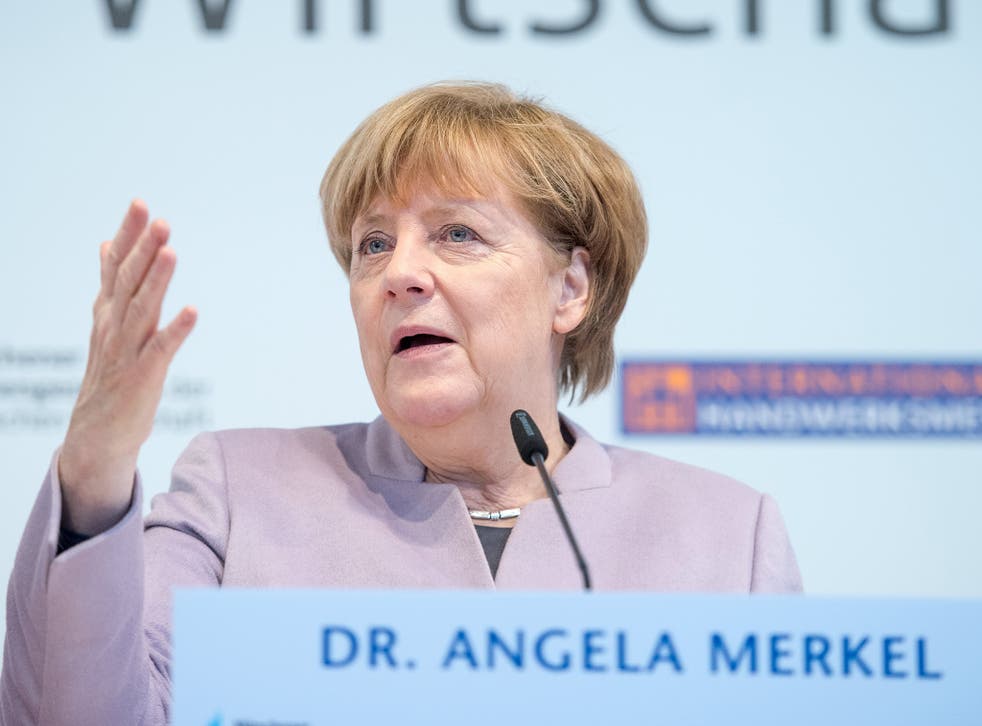 A powerful storm forecast to strike the north east of the US has delayed the first meeting between Donald Trump and German Chancellor Angela Merkel.
White House Press Secretary Sean Spicer said the meeting, which was originally scheduled for Tuesday, has been postponed until Friday due to the coming storm which is due to sweep down from the northern Atlantic.
Washington DC is bracing itself for up to eight inches of snow, which is due to start on Monday evening, while New York could see as much as 20 inches – breaking a record for this time of year.
The meeting was to be the first between the two leaders since Mr Trump was elected in November.
Their itinerary was set to include discussions on Nato, Isis and the Ukraine conflict and a joint press conference.
The National Weather Service issued blizzard warnings for parts of Pennsylvania, New Jersey, New York and Connecticut with several other states told to be on their guard.
The weather service's office near Philadelphia has called the storm "life-threatening" and warned people to "shelter in place".
In total 50 million people along the Eastern Seaboard are set to be affected by the storm and temperatures will be 15 to 30 degrees below normal for this time of year.
Massachusetts Governor Charlie Baker urged people to consider working from home if they could.
He said: "When this thing hits, it's going to hit hard and it's going to put a ton of snow on the ground in a hurry.
Blizzard hits US east coast - in pictures

Show all 10
"It's going to snow hard and fast for a long period of time. It will create whiteout conditions".
Irish Taoiseach Enda Kenny was also forced to cancel several speaking engagements in Washington DC which were the focal point of his week-long US tour.
He is now expected to wait out the storm in Boston.
Airlines have already cancelled more than 4,000 flights, according to tracking service FlightAware.com.
The airports with the most cancellations were Newark International Airport in New Jersey and Boston Logan International Airport.
Monster blizzard kills 10 in New York state
American Airlines cancelled all flights into New York's three metropolitan area airports, Newark, LaGuardia Airport and John F. Kennedy International Airport and JetBlue Airways reported extensive cancellations.
New York City and Providence, Rhode Island, cancelled public school sessions for Tuesday in anticipation of the storm.
The storm comes a week after the region saw temperatures climb past 15C in many places. Spring officially starts on 20 March.
It comes at the end of an unusually mild winter along the East Coast with below-normal snowfalls in cities such as New York and Washington DC.
Boston was braced for up to a foot (30 cm) of snow, which forecasters warned would fall quickly during the storm's expected peak on Tuesday, making travel dangerous.
"During its height we could see snowfall rates of 1 to 3 inches (2.5-7.6 cm), even up to 4 inches (10 cm) per hour," said Alan Dunham, a meteorologist with the National Weather Service in Taunton, Massachusetts.
Winds were forecast to gust up to 60 mph (100 km per hour) in places, with the potential to cause power outages and coastal flooding.
The Port Authority of New York and New Jersey prepared hundreds of pieces of snow equipment at the three major New York area airports. Thousands of tonnes of salt and sand were prepared for airport roads, parking lots, bridges and tunnels.
Despite this Mr Trump has insisted his government is fully prepared for the blizzard.
Additional reporting by agencies
Join our new commenting forum
Join thought-provoking conversations, follow other Independent readers and see their replies