Donald Trump's choice for US Attorney General was deemed too racist to be federal judge
Jeff Sessions, now a US senator, denied agreeing a lawyer was probably a 'race traitor', defending the Ku Klux Klan and refering to a black official as 'the n*****'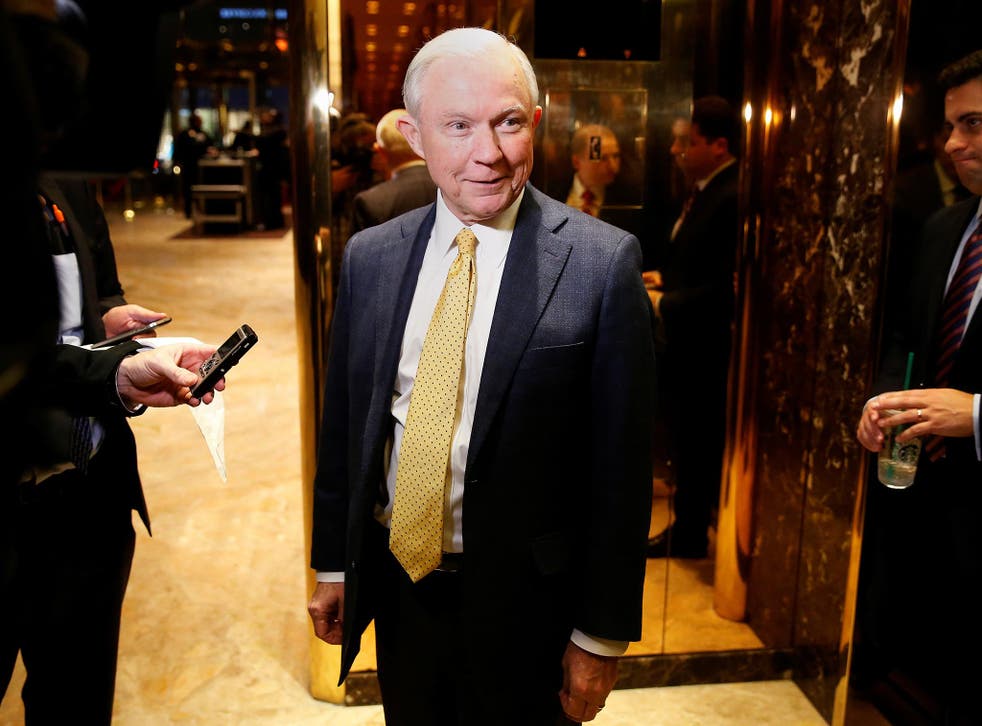 The man Donald Trump has chosen to be the next Attorney General of the United States was previously rejected as a judge because of alleged racism.
Jeff Sessions, currently a senator for Alabama, will be in charge of the US Department of Justice when the US President-elect takes office in January – if he takes the job.
Mr Sessions, a long-standing supporter of the billionaire, has denied expressing racist remarks.
The choice of Mr Sessions comes on the day a number of other appointments to Mr Trump's team. Congressman Mike Pompeo has been chosen as CIA chief and Lt Gen Michael Flynn is set to be nominated as national security advisor.
Neither are without controversy. General Flynn - a former military intelligence chief - is a vocal critic of the Obama administration and once tweeted that fear of Muslims was "rational". Mr Pompeo has become known for incendiary statements on national security issues and is both a vocal critic of the Iran nuclear deal and a supporter of bulk collection of data by the NSA.
As for Mr Sessions, a Trump spokesperson said after the two men met following the US election: "The President-elect has been unbelievably impressed with Senator Sessions and his phenomenal record as Alabama's Attorney General and US Attorney."
It is an incredible turnaround for a man deemed by the US Senate to be unsuited to being a judge.
Mr Sessions' nomination for a position as a federal judge was previously blocked by the Senate Judiciary Committee after it heard allegations he:
agreed a white lawyer working for black clients was probably "a race traitor";
claimed the only problem he had with the Ku Klux Klan (KKK) was their drug use;
called a black lawyer "boy" and told him to "be careful what you say to white folks";
referred to a black local government official as "the n*****";
and called US civil rights groups "un-American organisations teaching anti-American values" and "communist-inspired", accusing them of trying to "force civil rights down the throats of people".
The controversial comments allegedly made by Mr Sessions came to light during a Senate committee meeting in 1986.
Gerald Hebert, a former Justice Department lawyer who worked with Mr Sessions in the 1980s, said he had witnessed him make "deeply concerning" remarks.
He told The Huffingon Post: "Over the course of those months, I had a number of conversations with him, and in a number of those conversations he made remarks that were deeply concerning.
"He demonstrated gross insensitivity to black people.
"Just the thought of him overseeing the Justice Department's Civil Rights Division is frightening. He's a mean-spirited individual."
World reaction to President Trump: In pictures

Show all 29
It was Mr Hebert's testimony to the Senate Justice Committee that led to Mr Sessions being deemed inappropriate for a position as a judge.
He told the committee Mr Sessions has "a tendency to pop off" and was "not a very sensitive person when it comes to race relations".
As evidence of this, Mr Hebert claimed he had mentioned to Mr Sessions that a judge had reportedly referred to a lawyer working on civil rights cases as "either a traitor to his race of a disgrace to his race".
Mr Hebert said the now-senator replied: "He probably is."
Mr Sessions denied making the comment but admitted he may have said he had heard other people describe the lawyer "as a disgrace to his race".
In the same committee hearing, Mr Hebert claimed Mr Sessions had called US civil rights groups "un-American" and "communist-inspired", suggesting they "did more harm than good" when "trying to force civil rights down the throats of people who were trying to put problems behind them".
Mr Sessions told the hearing he did not recall using those words, but expressed his belief that, in 1980s America, "the fundamental legal barriers to minorities had been knocked down, and that in many areas blacks dominate the political area" and accused civil rights groups of "asking for the things beyond what they are justified in".
Another Justice Department lawyer, Thomas Figures, who also worked with Mr Sessions, backed up Mr Hebert's claims to the committee.
Mr Figures claimed Mr Sessions had told him to "be careful what you say to white folks" and referred to him as "boy" in the office.
Mr Sessions "categorically" denied the claim and said he had never used the word "boy" to "describe a black".
Mr Figures also claimed Mr Sessions said of the KKK that he "thoughts its members were OK until he learned that they smoked marijuana".
Mr Sessions admitted making the comment but claimed it was a joke, saying it was "ludicrous" that anyone might think he supported the KKK.
The Justice Committee also heard claims Mr Sessions had referred to a local government official as "the n*****". Mr Sessions said it was "an absolute false statement" and "not true".
Before his nomination was rejected, making him only the second man in 50 years to not be recommended for confirmation, Mr Sessions told the committee: "I deny as strongly as I can express it that I am insensitive to the concerns of blacks."
His "commitment to equality and justice is real", he added.
Mr Trump is currently in the process of choosing his presidential cabinet, with more appointments expected to be announced in the coming days.
Register for free to continue reading
Registration is a free and easy way to support our truly independent journalism
By registering, you will also enjoy limited access to Premium articles, exclusive newsletters, commenting, and virtual events with our leading journalists
Already have an account? sign in
Register for free to continue reading
Registration is a free and easy way to support our truly independent journalism
By registering, you will also enjoy limited access to Premium articles, exclusive newsletters, commenting, and virtual events with our leading journalists
Already have an account? sign in
Join our new commenting forum
Join thought-provoking conversations, follow other Independent readers and see their replies