Donald Trump performs U-turn on remarks about Vladimir Putin and election meddling
US president seeks to distance himself from saying he believes Russian president's claim there was no Russian meddling in presidential election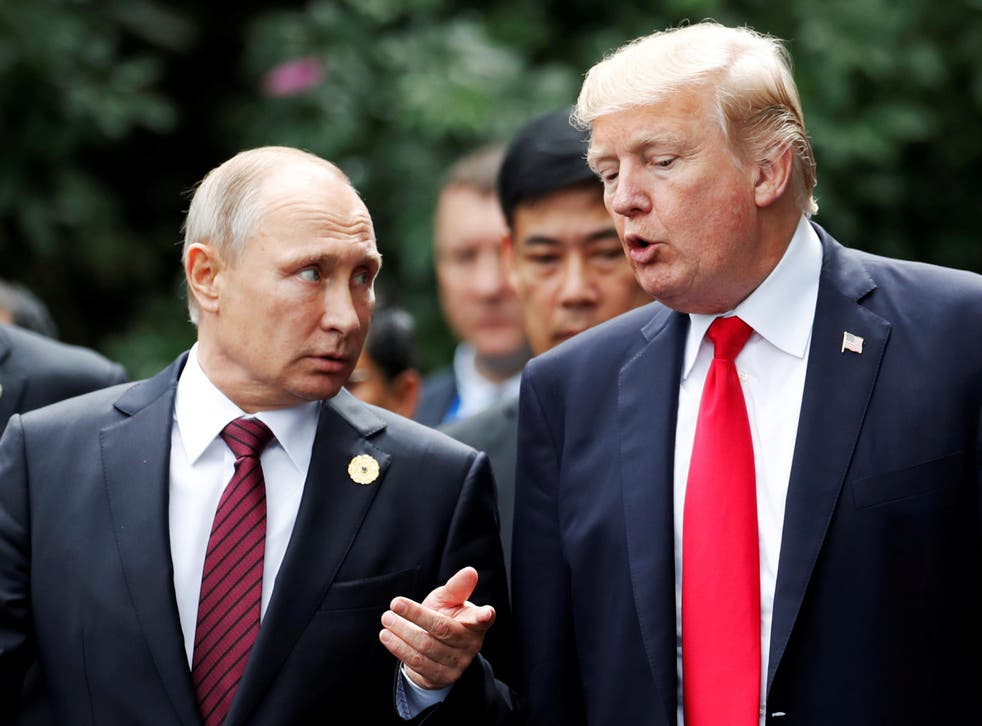 Donald Trump has performed a drastic U-turn after saying he believes Vladimir Putin's claim there was no Russian meddling in the 2016 presidential election.
The US president was forced to backtrack after he was fiercely criticised for saying he still believed the Russian President did not think Russian meddling had taken place.
"He said he didn't meddle," President Trump told reporters aboard Air Force One on Saturday. "I asked him again. You can only ask so many times... He said he absolutely did not meddle in our election. He did not do what they are saying he did."
He added: "And I believe, I really believe that, when he tells me that he means it."
Despite the fact multiple US intelligence agencies concluded Moscow interfered in the presidential election in the attempt to push the vote in the Republican's favour, President Trump also said the accusations had hurt Mr Putin's feelings.
But President Trump has now desperately sought to distance himself from his remarks in a news conference in Vietnam.
"As to whether I believe it or not, I'm with our agencies, especially as currently constituted," President Trump said at a news conference with Vietnamese President Tran Dai Quang.
"As currently led, by fine people, I believe very much in our intelligence agencies."
Protest in Manila against Donald Trump's visit to the Philippines

Show all 14
Difficult relations between the two world leaders were renewed after Mr Putin's spokesman initially said election meddling did not come up when they spoke despite President Trump saying it did.
During his five-nation Asia tour, the billionaire property developer spoke to Mr Putin three times on the sidelines of the summit where the topic of Russia meddling came up.
President Trump's initial remarks were condemned by senator John McCain who tweeted there was "nothing America First about taking the word of KGB colonel [Putin]" over the US intelligence community.
CIA chief Mike Pompeo also hit back at President Trump's remarks in a statement issued by the agency, saying: "The director stands by and has always stood by the January 2017 intelligence community assessment entitled: Assessing Russian Activities and Intentions in Recent US Elections. The intelligence assessment with regard to Russian election meddling has not changed."
American intelligence agencies have long concluded Russians interfered to push the presidential race in Mr Trump's advantage via hacking and releasing emails to humiliate his Democrat rival Hillary Clinton and disseminating propaganda on social media.
Investigations are also underway to discern whether Trump campaign officials colluded with the Russians.
Mr Trump's former campaign manager, Paul Manafort, has been indicted in the investigation along with his former deputy Rick Gates, on charges including conspiracy to defraud the US. His former foreign policy adviser George Papadopoulos was also charged and has admitted lying to the FBI.
On Saturday, the US leader claimed the allegations of election meddling were an "artificial Democratic hit job" that "gets in the way" of relations between Moscow and Washington, saying Mr Putin was "insulted" by the claims.
Join our new commenting forum
Join thought-provoking conversations, follow other Independent readers and see their replies