Donald Trump and Barack Obama hold 45-minute conversation, President-elect's spokeswoman reveals
It has been reported that Mr Obama intends to spend more time with his successor than is typical, because the politically inexperienced Mr Trump needs extra 'guidance'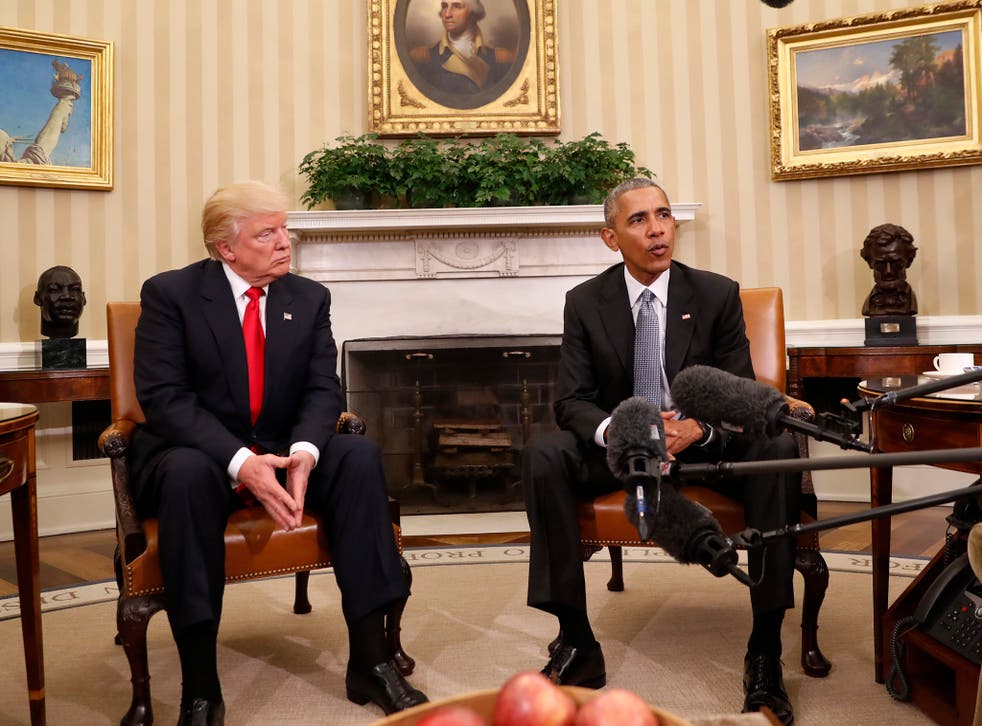 President-elect Donald Trump has spoken to President Barack Obama regularly in the weeks since his shock election victory, including a conversation this weekend that went on for around 45 minutes, Mr Trump's former campaign manager Kellyanne Conway has revealed.
Speaking to NBC's Meet the Press on Sunday, Ms Conway said the President-elect and Mr Obama "have been talking regularly on a number of issues," including the question of Mr Trump's Cuba policy, which has been lent urgency by the death of Fidel Castro.
On that particular matter, Ms Conway said, "nothing is definite," adding that Mr Trump would be consulting his advisers – including Mr Obama, whose administration is responsible for a historic thaw in relations between the two nations.
Mr Trump and Mr Obama have been political adversaries ever since Mr Trump raised questions, without a shred of evidence, over Mr Obama's birth and US citizenship during his first presidential term. Mr Obama was highly critical of Mr Trump's divisive presidential campaign.
But two days after the election, Mr Obama welcomed his successor to the White House for a first meeting subsequently characterised as cordial. The Wall Street Journal later reported that Mr Obama "plans to spend more time with his successor than presidents typically do" as it was clear Mr Trump "needs more guidance."
Ms Conway suggested as much in her interview with Meet the Press host Chuck Todd. "This country is not accustomed to having a successful businessman at the helm," she acknowledged. "It is different."
Register for free to continue reading
Registration is a free and easy way to support our truly independent journalism
By registering, you will also enjoy limited access to Premium articles, exclusive newsletters, commenting, and virtual events with our leading journalists
Already have an account? sign in
Register for free to continue reading
Registration is a free and easy way to support our truly independent journalism
By registering, you will also enjoy limited access to Premium articles, exclusive newsletters, commenting, and virtual events with our leading journalists
Already have an account? sign in
Join our new commenting forum
Join thought-provoking conversations, follow other Independent readers and see their replies