Donald Trump: US to 'build military so great that none will dare challenge it'
The President visited the Boeing hangar in South Carolina hours after it was reported he was considering using the National Guard to round up undocumented migrants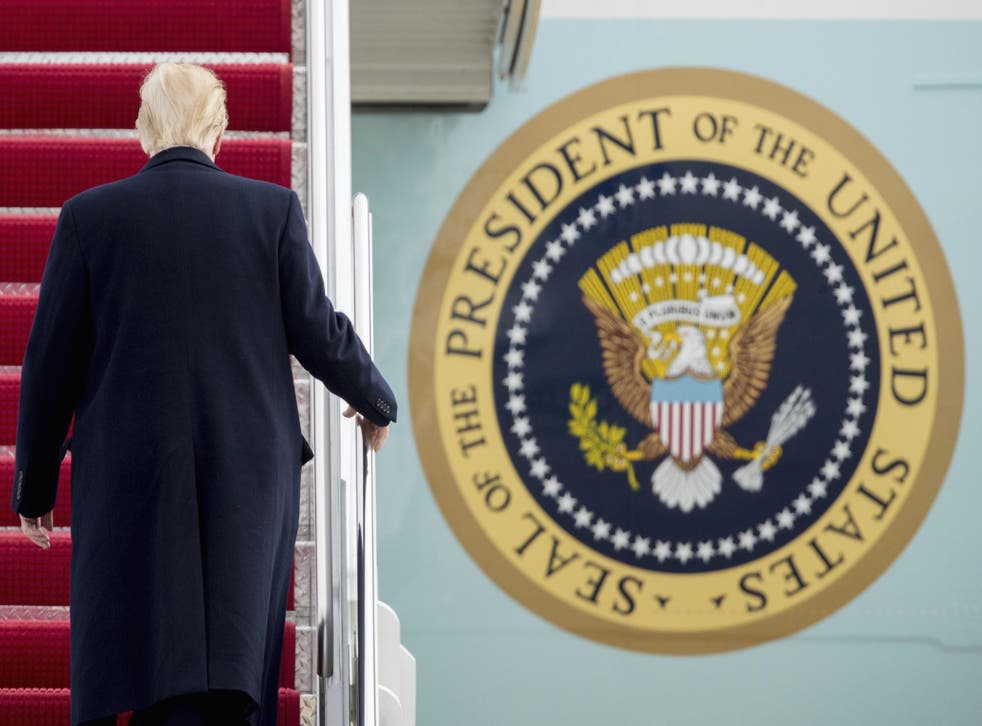 "That is one beautiful airplane," said Donald Trump.
The wall of the hangar had been rolled back, with his Boeing Air Force One plane serving as the impressive backdrop for the President's stage before a crowd in North Charleston.
"As your President I'm going to everything I can to unleash the power of the American spirit and put our great people back to work," he said. "This is our mantra. Buy American and hire American."
"We want products made in America, made by American hands," he added, vowing to tackle "foreign cheating" and that he wanted to see "four magic words - Made in the USA" on every product.
The speech, which included a promise "to build up our military", has a somewhat darker edge as it comes hours after the Associated Press revealed a draft 11-page memo which mandated 100,000 National Guard troops to round up undocumented immigrants.
"We are going to build up a military might so great that no one will dare to challenge it. None," he said.
He was in the hangar to celebrate the roll-out of the new new Boeing 787-10 aircraft, made in North Charleston, South Carolina.
Boeing shares slide after Donald Trump says costs are 'ridiculous'
He spoke of the new Dreamliner plane, how it was made of carbon fibre, 18 feet longer and seated more passengers than previous planes.
As a real estate developer, the President seemed to enjoy speaking about what was likely familiar territory.
The President's visit to Boeing, said White House Press Secretary Sean Spicer, was "months in the making".
It follows controversy with the company, however.
Watch Boeing Dreamliner's near-verticle take off
In December, Boeing CEO Dennis Muilenburg expressed concerns about the President's foreign trade plans in an article posted by the Chicago Tribune, Mr Trump sent out a tweet criticising the company's "out of control" government contract costs. He cited $4 billion worth of costs, but the company later disputed this number.
The President called Mr Muilenburg a "tough negotiator" at the roll-out event this week.
"We are currently under contract for $170 million to help determine the capabilities of these complex military aircraft that serve the unique requirements of the President of the United States," Boeing spokesman Todd Blecher said in a statement at the time.
"We look forward to working with the US Air Force on subsequent phases of the program allowing us to deliver the best planes for the President at the best value for the American taxpayer."
Investors had a knee-jerk reaction and Boeing plummeted around $1 billion in value within minutes of Mr Trump's tweet.
Boeing won a government contract initially worth $26 million in January 2016.
Join our new commenting forum
Join thought-provoking conversations, follow other Independent readers and see their replies