Donald Trump visits properties bearing his name for seven straight weekends
President's frequent trips to Trump-owned properties prompt concerns he is blurring the lines between his presidential duties and benefiting family business empire
May Bulman
Saturday 18 March 2017 22:09 Comments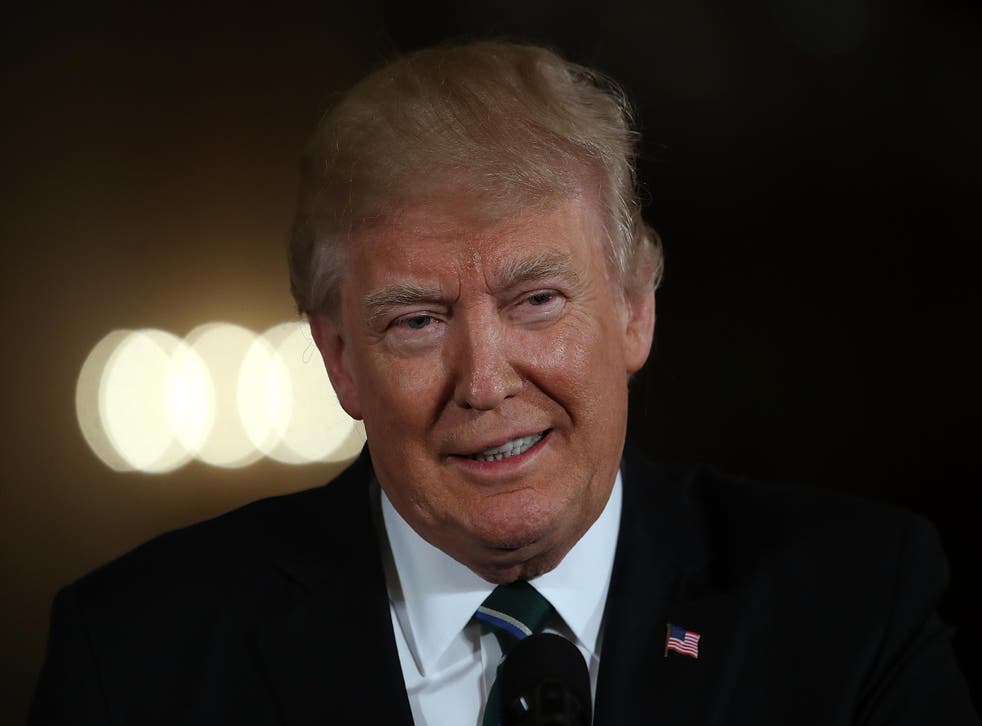 Donald Trump has spent seven consecutive weekends during his first two months in office at properties that bear his name, prompting concerns that he is blurring the lines between his presidential duties and his family's business empire.
Despite pledging during his campaign that he would "rarely leave the White House because there's so much work to be done", the President has spent every weekend of his presidency except the first in a Trump-owned property.
Mr Trump spent his second, third and fourth weekends in the job at his private Palm Beach estate Mar-a-Lago, while on the fifth he went for dinner at a Trump Hotel in Washington DC.
During the sixth weekend into his presidency, he went to Mar-a-Lago again, and the following week visited the Trump National Golf Club in Virginia.
Recent reports have confirmed that he is spending this weekend at Mar-a-Lago again — bringing the total weekends spent in Trump-owned property to seven in a row.
The President said before he took on the role of US president that he was passing the business onto his sons, and pledged he would not discuss it with them.
"My two sons, who are right here, Don and Eric, are going to be running the company," Mr Trump said at the time, referring to the sons now in control of the Trump Organisation.
"They are going to be running it in a very professional manner. They're not going to discuss it with me."
But his frequent jaunts to properties owned by his family business — while not a violation of the promises he made about not having a hand in the operation of his old business — have sparked concerns about him and his family seeking to make money from his position as President.
Walter Shaub, head of the Office of Government Ethics, recently said it was possible that while Mr Trump was splitting himself from his holdings, he would still be able to drive business.
"His sons are still running the businesses, and of course, he knows what he owns. Common sense dictates that a President can, of course, have very real conflicts of interest," he said, according to CNN.
It comes after calculations by The Independent showed the security and travel costs of the President's trips to Mar-a-Lago could reverse some of the cuts to arts, poor and elderly services in his proposed budget.
The controversial orders Donald Trump has already issued

Show all 9
The services amount to a total of $597m — just less than the $600m security arrangements for the Mr Trump's Mar-a-Lago visits are estimated to cost the taxpayer over the course of his term if he continues to make the visits.
Mr Trump's frequent trips to Mar-a-Lago contrast with his pledges during the campaign. He told a reporter in 2015: "I would rarely leave the White House because there's so much work to be done. I would not be a president who took vacations.
"I would not be a president that takes time off… You don't have time to take time off."
Register for free to continue reading
Registration is a free and easy way to support our truly independent journalism
By registering, you will also enjoy limited access to Premium articles, exclusive newsletters, commenting, and virtual events with our leading journalists
Already have an account? sign in
Join our new commenting forum
Join thought-provoking conversations, follow other Independent readers and see their replies