Donald Trump's administration kills funding for California's clean energy electric rail project
Despite promises of building up US infrastructure, the Federal Transit Administration put Caltrain electrification in limbo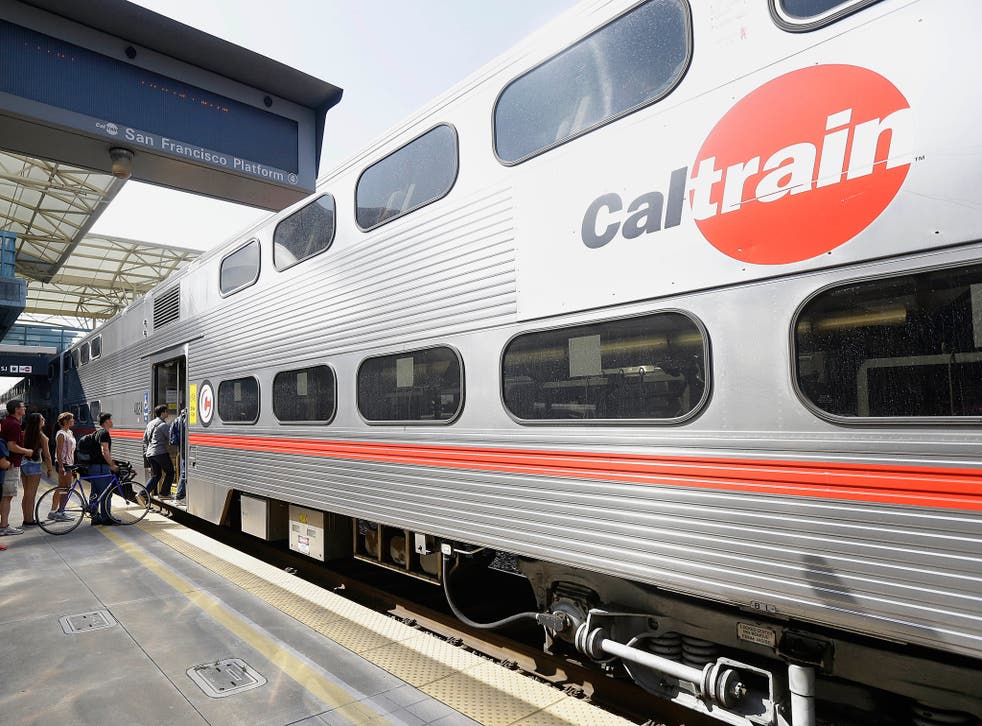 The Trump administration struck a major blow to the San Francisco Bay Area after scrapping a $647m plan to electrify the region's largest commuter rail system.
Late last week, the Federal Transit Administration – overseen by Transportation Secretary Elaine Chao – halted the federal grant needed for the Caltrain electrification project.
Electrifying Caltrain – the seventh largest commuter rail system in the country with 60,000 daily passengers from the South Bay to San Francisco – would have also given Gov Jerry Brown the final link he needed to link a long-desired high-speed rail system from Los Angeles to San Francisco.
Fourteen state Republicans saw the high-speed rail project as a pointless waste of money and sent a letter to Ms Chao late January. In it, they requested the Transit Administration put Caltrain funding on hold while officials conducted a full audit of the high-speed rail system.
"It puts the [electrification] project in serious jeopardy," Caltrain spokesperson Seamus Murphy told SFGate.
According to state transportation officials, electrification of Caltrain would increase ridership and lessen the cost of operation. The current trains operate on diesel, are slow, and expensive to run.
The controversial orders Donald Trump has already issued

Show all 9
The Transit Administration told Caltrain officials that he delay would be considered for President Donald Trump's fiscal year 2017-18 budget proposal. But Caltrain has a 1 March deadline to issue contracts for electrification.
Transit agency director Matthew Welbes said in his letter to Caltrain officials that they were aware of the upcoming deadline, but required "additional time to complete review of this significant commitment of federal resources".
The delay of federal funding would all but stop the project in its tracks, as Caltrain would need the grants to meet the budget necessary for the $1.98bn modernisation job.
Sean Spicer says President Trump sees transgender bathrooms is a states' rights issue
"I never imagined that the electrification of a train would be subjected to such brutal partisan politics," Democratic Rep Anna Eshoo said. "This is not a Democratic project, nor is it a Republican project.
"It is about the modernisation of an outdated commuter system that is the spine of the transportation system of the Peninsula and the Silicon Valley region."
Ms Eshoo, whose district includes Palo Alto, which contains numerous Caltrain stations, said that Caltrain electrification "is a shovel-ready project which would create thousands of jobs in the Bay Area and employ thousands in other states. It would be built by American workers and built with American products."
The halt of the project seems to contradict what President Trump's vow to improve American infrastructure, but is consistent with criticisms that he is friendly the oil and gas lobby.
But Mr Trump, who is know for his value of loyalty and recoils at criticism, has struck a major blow to Gov Jerry Brown, who has openly criticised the President on his controversial policies – including health care, immigration, and the environment.
"This morning, it's hard for me to keep my thoughts just on California," Mr Brown said during his State of the State address last month. "We've seen the bald assertion of 'alternative facts', whatever those are. We've heard the blatant attacks on science.
"Familiar signposts of our democracy – truth, civility, working together – have been obscured or even swept aside."
Register for free to continue reading
Registration is a free and easy way to support our truly independent journalism
By registering, you will also enjoy limited access to Premium articles, exclusive newsletters, commenting, and virtual events with our leading journalists
Already have an account? sign in