Donald Trump campaign aides repeatedly spoke with Russian officials in run-up to election
Law enforcement and intelligence agencies intercepted the communications in 2016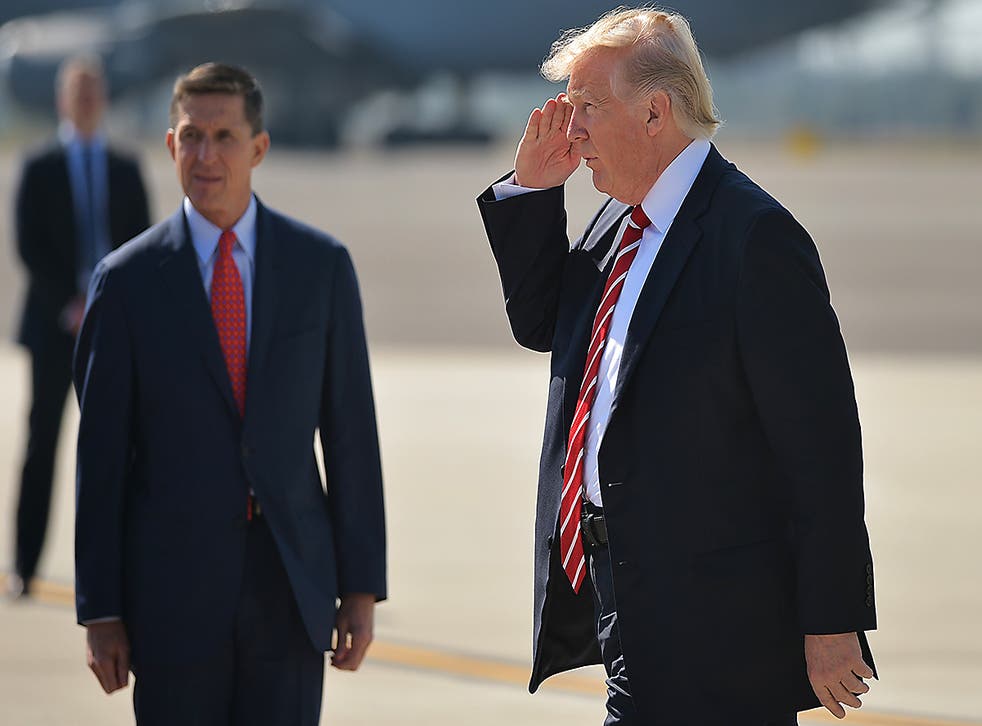 Law enforcement and intelligence agencies found that members of Donald Trump's campaign and other associates had repeated contact with Russian officials in the run-up to the election.
Four current and former US officials told the New York Times that they had intercepted phone records and phone calls and had found evidence of the repeated communications last year, around the same time they discovered that Russia had carried out a "campaign of influence" upon the election, posting fake news to sabotage Hillary Clinton's candidacy.
The officials did not conclude there was evidence of the Trump team colluding with the Russians to execute this campaign, but intelligence agencies had been worried by so much communication at a time when the future President was praising Vladimir Putin's leadership skills. Mr Trump also said Mr Putin had made a "great move" in December by not imposing retaliatory sanctions on the US .
Intelligence agencies were also concerned by Mr Trump's remarks last summer at a campaign event where he encouraged the Russians to hack into Ms Clinton's account. Mr Trump later said he was being "sarcastic".
The officials did not identify those within Mr Trump's circles who spoke with Russian officials, including government members. They only mentioned Paul Manafort, Mr Trump's former campaign manager who served a few months before he resigned due to revelations that he had worked as a political consultant in Russia and Ukraine.
The FBI has also looked closely at consultant Roger Stone and former foreign policy adviser Carter Page. All the men have strongly denied wrongdoing.
US intelligence officials also did not say how much of the communication with Russia was related to business.
The FBI's discovery is just part of its quest to discover the extent to which the Trump team communicated with Russian officials last year. It has obtained bank records, travel documents and has conducted interviews.
Michael Flynn resigns as national security adviser over Russia row
It comes the day after former national security adviser Michael Flynn was forced to resign after it was revealed he had failed to admit that he held calls with the Russian ambassador to the US last year, reassuring them that Russian sanctions would be overturned. Mr Trump knew for almost three weeks, and Vice President Mike Pence was told 11 days after his boss.
White House Press Secretary Sean Spicer said firing Mr Flynn was an issue of "trust" and not whether it was a legal problem.
"The irony is President Trump has been very tough on Russia," he told reporters on Tuesday.
The moment C-SPAN's online feed was interrupted by Russia Today
The FBI is also trying to determine the accuracy of the so-called dossier, compiled by a former British intelligence operative Christopher Steele, which allegedly contains salacious details about Mr Trump and evidence of his and his associates' links to Russia, which the White House has strongly denied.
The FBI investigation is now running parallel to similar undertakings on Capitol Hill, as lawmakers demand a thorough and transparent look into all ties with Russia. Republicans such as Arizona Senator John McCain and South Carolina Senator Lindsey Graham have also expressed concerns.
Senate Minority Leader Chuck Schumer has said the firing of Mr Flynn was "only the beginning" and that the American people "deserved the truth".
Mr Spicer said on Monday said "there is nothing that would conclude me that anything has changed during that time period", answering a question about whether any Trump campaign members had talked to Russian operatives during the campaign.
Register for free to continue reading
Registration is a free and easy way to support our truly independent journalism
By registering, you will also enjoy limited access to Premium articles, exclusive newsletters, commenting, and virtual events with our leading journalists
Already have an account? sign in
Register for free to continue reading
Registration is a free and easy way to support our truly independent journalism
By registering, you will also enjoy limited access to Premium articles, exclusive newsletters, commenting, and virtual events with our leading journalists
Already have an account? sign in
Join our new commenting forum
Join thought-provoking conversations, follow other Independent readers and see their replies