Donald Trump's turbulent presidential campaign may be keeping visitors away from his businesses, data shows
Visitor traffic to his eponymous businesses have dropped as much as 24 per cent over the past year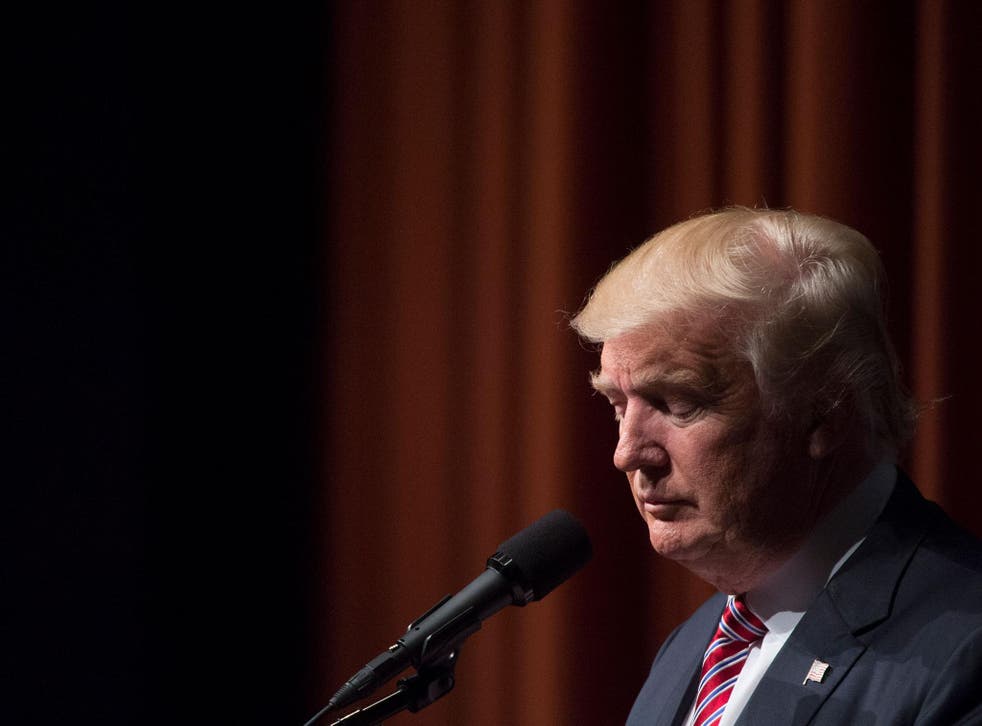 Speaking at the old post office in Washington DC in March, Donald Trump was keen to talk about his latest venture, the Trump International Hotel, opening in September this year.
"It will truly be one of the greatest hotels in the world," he said.
But the success of the eponymous venture is yet to be seen, after new data has found that Trump-branded businesses have seen a dip of at least 10 per cent in visitors since he ran for president.
The Republican's Trump-titled hotels, casinos and golf courses are down 14 per cent in visitor footfall year-over-year in July, about the same period of time Mr Trump has been campaigning, found research from mobile app company Foursquare, published on Medium.
Judging by the number of people that checked in to these properties via apps like Foursquare and Swarm, visitor numbers to these businesses were steady before Mr Trump announced his candidacy in June 2015.
"After he entered the race, his branded properties failed to get their usual summertime traffic gains," the research read.
The number of women visiting these properties is also down 20 per cent each month, and even 29 per cent in July, reflecting his low poll rankings among women voters. A Gallup poll in April found that seven in 10 women have an unfavourable opinion of the candidate.
Donald Trump's most controversial quotes

Show all 14
The Trump branded Taj Mahal casino, the Trump SoHo hotel in New York City and the Trump International Hotel & Tower have all seen dip of people traffic by as much as 24 per cent.
Mr Trump no longer owns the casinos in Atlantic City. It is closing after Labor Day, citing an ongoing employee strike, but the data found the problem was also the fall in visitors.
In July, Hillary Clinton stood on the abandoned boardwalk in Atlantic City and accused her rival of sinking the casinos in debt before he walked away.
"His businesses were failing long before the rest of the town was struggling," she said.
"In fact, other businesses here did worse because Donald Trump acted so irresponsibly. He calls himself the 'King of Debt,' and he earned that title right here in AC. His bad decisions hurt the whole city."
Properties which heavily rely on local customers in Democrat-leaning states, such as New York, New Jersey, Hawaii and Illinois, have suffered disproportionately compared to Republican swing states such as Florida and Nevada.
The research did not include Mr Trump's businesses that do not carry his name in the brand, such as the moneyed and lavish Mar-a-Lago resort in Florida, where the businessman handed out Trump-branded hand towels as he announced he had won the state primary against Marco Rubio.
Foursquare did not conclude whether the data shows that people are voting with their feet, or whether the cost of Mr Trump's campaign beliefs have hit his business profits. Either way, since Mr Trump owns a large stake in few of these properties, the economic impact on the real estate mogul is unlikely to be large, they said.
The Trump campaign could not be immediately reached for comment.
Join our new commenting forum
Join thought-provoking conversations, follow other Independent readers and see their replies