President Trump's official Christmas card wishes Americans 'Merry Christmas' rather than Obama's 'Happy Holidays'
US President has frequently denounced the greeting 'happy holidays' which he considers too politically correct
Maya Oppenheim
Tuesday 28 November 2017 13:59 Comments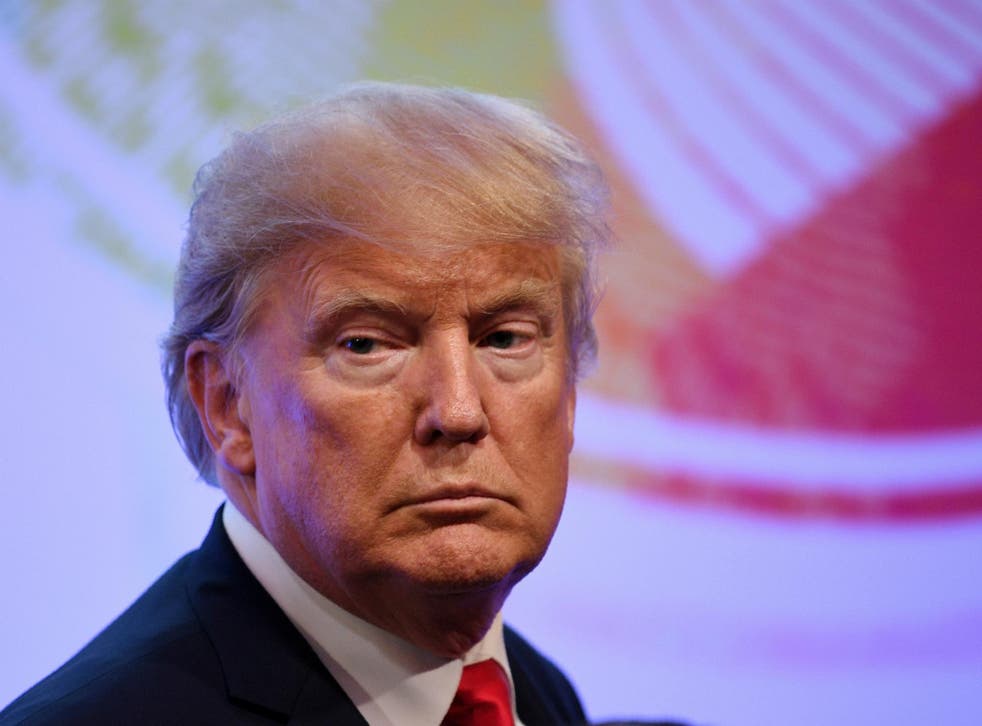 Donald Trump has routinely pledged to end the so-called "War on Christmas" and restore "Merry Christmas" to the national discourse. The US president has rallied against the phrase "happy holidays" which he deems excessively politically correct.
President Trump made sure his official Christmas card reflected this sentiment by wishing Americans a "Merry Christmas and a Happy New Year" instead of the more generic salutation of "happy holidays". The card is signed by Mr Trump, the First Lady and their 11-year-old son Barron.
The overridng colour scheme is an old-fashioned red, green and gold and the official hashtag is WHChristmas.
This year's card signals a significant break from the one former President Barack Obama sent last Christmas which wished Americans a "joyous holiday season" and included a family photo. Over the years, Obama made sure his cards offered more generic, less exclusively Christian messages such as season's greetings or happy holidays.
The Obama's final Christmas card included a photo of Barack, Michelle, Malia and Sasha Obama from a state dinner honouring Canadian Prime Minister Justin Trudeau and prompted an outpouring of supporters begging them not to leave the White House.
President Trump has repeatedly pledged to reintroduce the "Merry Christmas" greeting to America. During the presidential campaign, he claimed saying "Happy Holidays" instead of "Merry Christmas" was the equivalent of "chipping away at Christianity".
The billionaire property developer has arguably emphasised the need to say "merry Christmas" in order to court the evangelical vote and bolster his support among Christian conservatives. Despite chasing the Christian vote – 81 per cent of white evangelicals voted for Mr Trump – the President is not a regular church goer and his references to Christianity tend to be revolved around political issues and talking points.
President Trump used his speech at the Value Voters Summit, the annual conference of an anti-LGBT group which has been classified as a hate group, last month to bemoan the secular greeting "happy holidays".
Mr Trump, who was the first sitting president to address socially conservative activists and elected officials at the Washington conference, got his biggest applause from discussing Christmas rather than the economy or the border wall.
"We're getting near that beautiful Christmas season that people don't talk about anymore. They don't use the word Christmas because it's not politically correct," he said prompting heavy applause and cheers from the audience.
"You go to department stores and they will say 'Happy New Year,' or they will say other things and it will be red, they'll have it painted. But they don't say - well guess what? We're saying merry Christmas again."
He made similar comments in July at the Celebrate Freedom gathering at the Kennedy Center. "Our religious liberty is enshrined in the very first amendment in the Bill of Rights," the former reality TV star said.
"The American founders invoked our creator four times in the Declaration of Independence. Benjamin Franklin reminded his colleagues at the Constitutional Convention to begin by bowing their heads in prayer. I remind you that we're going to start saying 'Merry Christmas' again."
After his presidential victory and just 12 days before Christmas, President Trump made similar remarks in Wisonsin. During the "thank you" rally, he even made sure to do his speech in front of a row of Christmas trees.
"So when I started 18 months ago, I told my first crowd in Wisconsin that we are going to come back here someday and we are going to say 'Merry Christmas' again," he said. "Merry Christmas. So, merry Christmas, everyone. Happy New Year, but merry Christmas."
Protest in Manila against Donald Trump's visit to the Philippines

Show all 14
Despite the fact Christmas had passed less than a month before, President Trump underlined the importance of saying "Merry Christmas" at a speech at Liberty University in Virginia in January 2016.
"You go into a department store," he said. "When was the last time you saw 'Merry Christmas'? You don't see it anymore. They want to be politically correct. If I'm president, you will see 'Merry Christmas' in department stores, believe me, believe me. "
The "official Merry Christmas hat" the Trump Make America Great Again Committee is selling is embroidered with Christmas lights and has the words "Merry Christmas" emblazoned on the back and the trademark slogan "Make America Great Again" on the front.
Newsweek argued Jesus would not approve of President Trump selling the red Christmas baseball hat, which costs $45, for nearly double the price of the regular caps.
Register for free to continue reading
Registration is a free and easy way to support our truly independent journalism
By registering, you will also enjoy limited access to Premium articles, exclusive newsletters, commenting, and virtual events with our leading journalists
Already have an account? sign in
Join our new commenting forum
Join thought-provoking conversations, follow other Independent readers and see their replies