Donald Trump's CIA director nominee Mike Pompeo is open to waterboarding
Kansas congressman Mike Pompeo says he is open to reviewing ban on waterboarding if it impedes 'gathering of vital intelligence'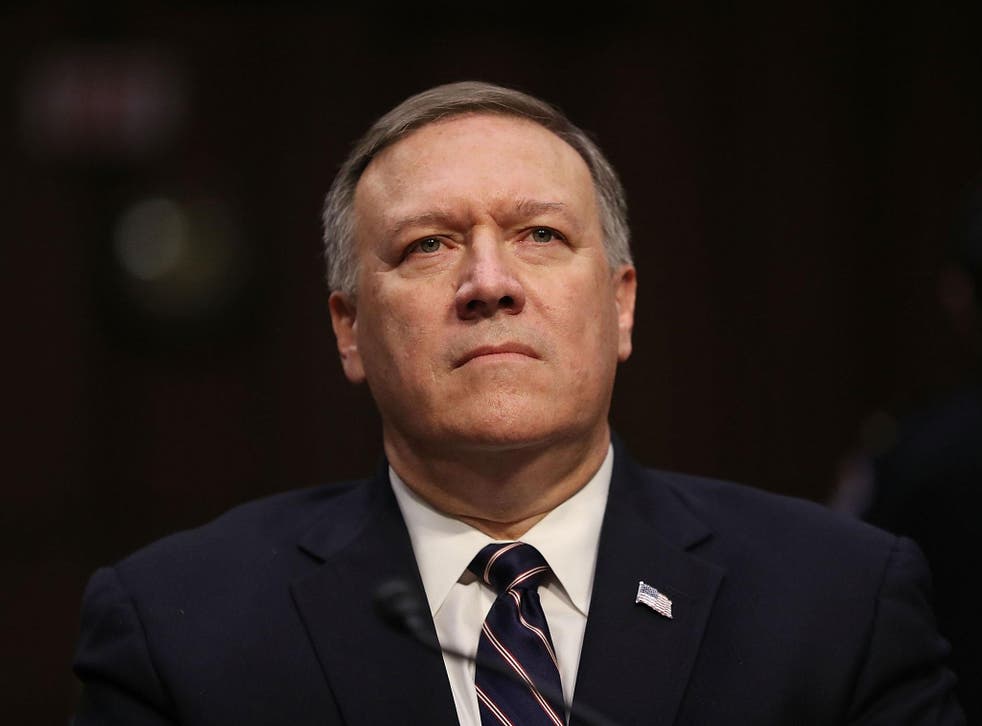 Rights groups are calling for the US Senate to reject President Donald Trump's selection to head the CIA, who has said he would consider bringing back waterboarding.
Human Rights Watch said there are "overriding concerns" Kansas congressman Mike Pompeo "would use the agency's surveillance and other powers in ways likely to violate rights on a broad scale."
During his confirmation hearings, Mr Pompeo said he would "absolutely not" bring back harsh interrogation techniques like waterboarding if asked to do so by Mr Trump.
"Moreover, I can't imagine that I would be asked that," he added.
However, in a series of written responses to questions from members of the Senate intelligence committee, he said he would back reviewing the ban on waterboarding if it was shown to impede the "gathering of vital intelligence".
Donald Trump performs U-turn by praising the CIA
"If confirmed, I will consult with experts at the Agency and at other organisations in the US government on whether the Army Field Manual uniform application is an impediment to gathering vital intelligence to protect the country," he wrote.
While agreeing that waterboarding and other former CIA "enhanced interrogation techniques" are unlawful, he said he remained open to changes.
"If experts believed current law was an impediment to gathering vital intelligence to protect the country," he wrote, "I would want to understand such impediments and whether any recommendations were appropriate for changing current law."
"Pompeo's responses to questions about torture and mass surveillance are dangerously ambiguous about whether he would endorse abusive practices and seek to subvert existing legal protections," Maria McFarland Sanchez-Moreno, US program co-director at Human Rights Watch, said.
"Pompeo's failure to unequivocally disavow torture and mass surveillance, coupled with his record of advocacy for surveillance of Americans and past endorsement of the shuttered CIA torture program, make clear that he should not be running the CIA."
In a statement posted on his website in September 2014, Mr Pompeo criticised Mr Obama from prohibiting the use of waterboarding and other harsh techniques after he assumed office in 2009.
"President Obama has continually refused to take the war on radical Islamic terrorism seriously — from ending our interrogation programme in 2009 to trying to close Guantanamo Bay, to even releasing top Taliban commanders back into the field in a prisoner exchange that violated American law," he wrote.
In pictures: Protests, pomp and Donald Trump

Show all 30
During his election campaign, Mr Trump said he approved of reintroducing waterboarding.
The method, widely considered torture by independent legal observers, involves placing a cloth over a shackled suspect's mouth and then pouring water over the cloth to simulate the sensation of drowning.
Speaking in South Carolina in February, Mr Trump said: "Don't tell me it doesn't work — torture works. Half these guys say 'Torture doesn't work'. Believe me, it works."
In November 2015, he said: "I think waterboarding is peanuts compared to what they do to us.
"What they're doing to us, what they did to James Foley when they chopped off his head, that's a whole different level and I would absolutely bring back interrogation and strong interrogation."
The United Nations Convention Against Torture, ratified by the US in 1990, describes torture as "any act by which severe pain or suffering, whether physical or mental, is intentionally inflicted on a person for such purposes as obtaining from him or a third person information or a confession."
Join our new commenting forum
Join thought-provoking conversations, follow other Independent readers and see their replies