Donald Trump condones supporter's request to fire Muslim women border security staff who wear 'hibi jabis'
He replied 'I understand that' and 'We're looking at that'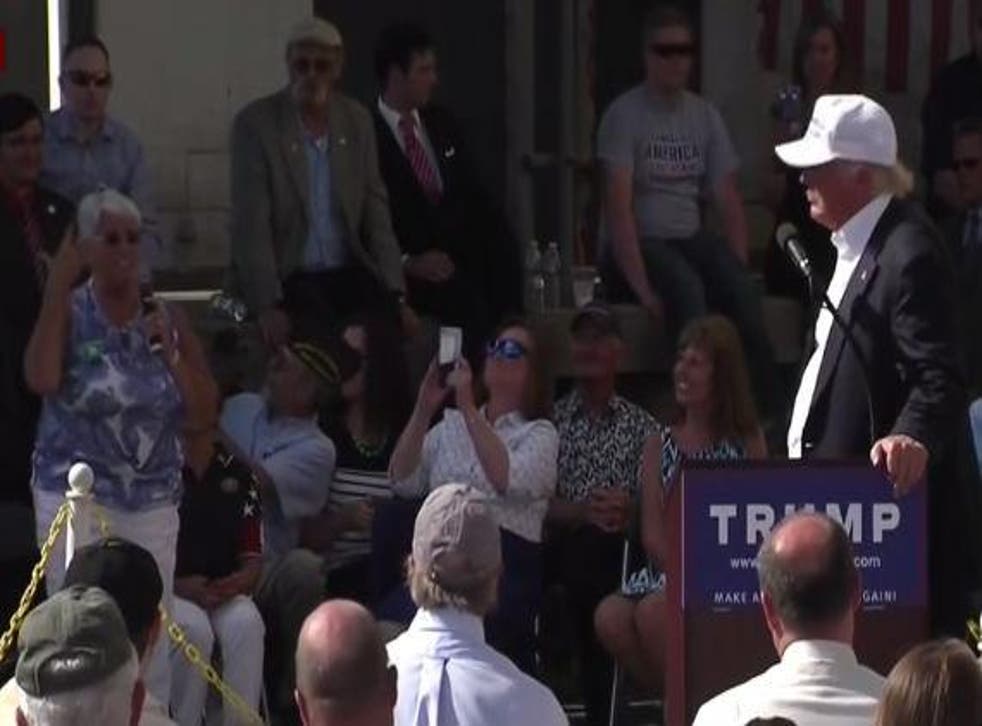 Donald Trump has appeared to condone a woman's racist comment that muslim women who work as border security staff and who wear "hibi jabis" should be fired.
During a question and answer session at a town hall event in New Hampshire, a woman asked him: "Why aren't we putting our military retirees on that border or in TSA? Get rid of all these hibi-jabis they wear at TSA? I've seen them myself."
"I understand that," Mr Trump responded.
The woman then proposed replacing the Muslim employees with military veterans who "fought and defended" the US.
"You know, we are looking at that," Mr Trump replied. "We're looking at a lot of things."
The Transport Security Administration were not immediatey available for comment.
The Republican nominee's failure to condemn his supporter's comment will do little to convince Americans that he supports the American Muslim community.
In November he called for a temporary ban of all Muslims entering the US, and has repeatedly talked of the need to act "tough" and "smart".
"By appearing to endorse the bigoted views of one of his supporters, Donald Trump is placing all American Muslim women who wear Islamic attire in danger," said Robert McCaw, the government affairs director of the Council on American-Islamic Relations.
CAIR has reported an "unprecedented spike" in anti-Muslim incidents since the terrorist attacks in November and the San Bernardino shootings in December 2015.
"American Muslims, and particularly Muslim women, are facing an unprecedented spike in discrimination and hate attacks, due in no small part to Donald Trump's Islamophobic rhetoric and policy proposals," he added.
Instead, Mr Trump has repeatedly pledged to help retired military veterans.
He skipped a Fox News presidential candidate television debate at the start of the year to attend a fundraising event for veterans, and later claimed he had raised millions of dollars.
He came under fire for taking more than six months to reveal which veteran charities he had donated to and how much money he had given.
Register for free to continue reading
Registration is a free and easy way to support our truly independent journalism
By registering, you will also enjoy limited access to Premium articles, exclusive newsletters, commenting, and virtual events with our leading journalists
Already have an account? sign in
Register for free to continue reading
Registration is a free and easy way to support our truly independent journalism
By registering, you will also enjoy limited access to Premium articles, exclusive newsletters, commenting, and virtual events with our leading journalists
Already have an account? sign in
Join our new commenting forum
Join thought-provoking conversations, follow other Independent readers and see their replies