Donald Trump's conflicts of interest are making the US government seem a 'kleptocracy', says former White House ethics chief
'We are truly in an ethics crisis right now, and something has got to be done about it'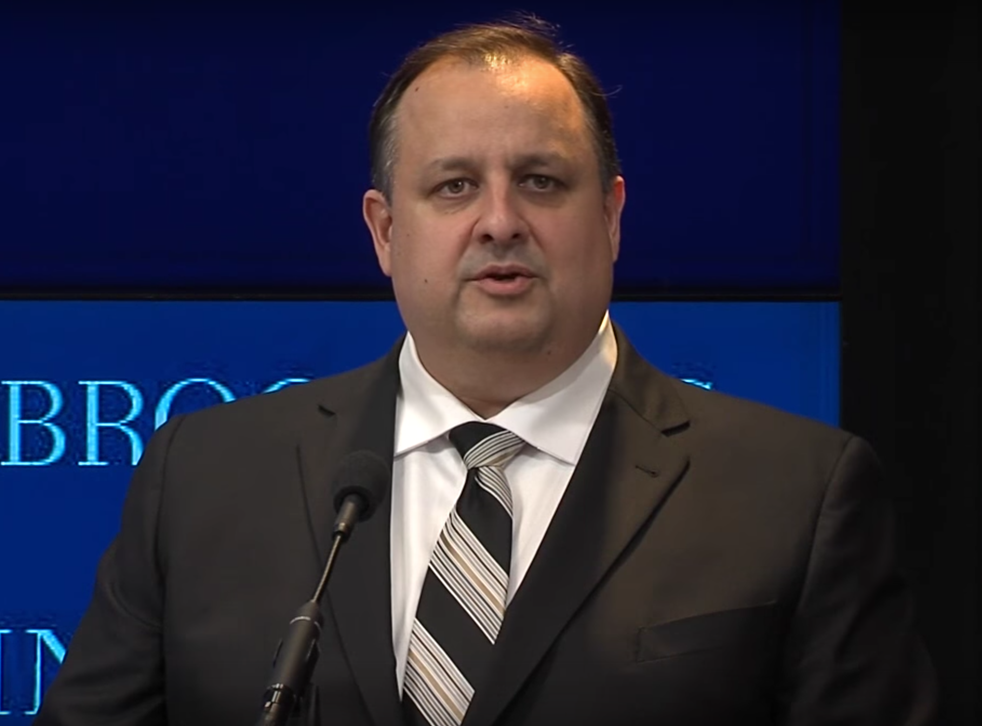 The former director of the US Office of Government Ethics said he was "embarrassed" by Donald Trump's alleged conflicts of interest and he was concerned that the White House could be seen as a "kleptocracy".
Walter Shaub, who worked at the Office of Government Ethics since 2001, has given a series of candid interviews after he resigned this month about what he describes as the threats to democracy, including the President's attacks on the press and judicial bodies.
Speaking to the Guardian, Mr Shaub described the President's use of his hotels to host diplomats and government business as "free advertising", and "risks people starting to refer to us as a kleptocracy".
"That's a term people throw around fairly freely when they're talking about Russia, fairly or unfairly, and we run the risk of getting branded the same way. America really should stand for more than that," he told the newspaper.
During a speech to the National Press Club last week, he said: "We are truly in an ethics crisis right now, and something has got to be done about it."
Mr Shaub, who questioned the President's motivations, left the White House six months before his five-year term was due to finish and became an unlikely star of the resistance movement, even inspiring a fan page on Facebook.
Kellyanne Conway: Ethics filings discourage potential government employees
He said he had frequent contact with former Presidents Barack Obama and George W Bush, but he had never met Mr Trump.
He is now senior director of ethics at not-for-profit Campaign Legal Center, where he advocates for reforms.
Mr Shaub said that although Mr Trump is not covered under the same laws as federal employees, the President had chosen not to follow similar conduct, which was "worrying".
US Ethics chief brands Donald Trump's plan to handle business interests as 'wholly inadequate'
Unlike other Presidents, who used a blind trust to avoid conflicts of interest while in the White House, Mr Trump placed his business assets in a trust that is managed by his oldest son and long-time business associate.
He has the power to revoke the trust at any time. He has also failed to release his tax returns, the first President in history to do so.
The President has business interests in at least 20 other countries, such as golf courses in Scotland and Ireland, and hotels in Canada and Dubai, as well as other business in Turkey, India and the Philippines.
Donald Trump's international Presidential trips

Show all 22
Mr Shaub pointed out that Mr Trump recently praised the Turkish and Philippine leaders, and he excluded certain Muslim-majority countries from his so-called Muslim travel ban without sufficient explanation.
His comments come shortly after Mr Trump's son, Donald Trump Jr, admitted to attending a meeting with a Russian government lawyer to find out potentially disparaging information on his father's former opponent, Hillary Clinton. Mr Trump and his communications director, Anthony Scaramucci, insisted the purpose of the meeting was legitimate. Mr Shaub said the claims were "shocking".
The 46-year-old also pointed to other "problems" and "abuses of power", including targeting so-called "leakers" in the administration, Mr Trump's encouraging of supporters to buy products from certain companies on Twitter, and Mr Scaramucci contacting the Department of Justice after his public financial information had been reported by Politico.
Mr Trump has come under frequent fire from other ethics advisers, including the former ethics counsels of Mr Obama and Mr Bush.
Join our new commenting forum
Join thought-provoking conversations, follow other Independent readers and see their replies