Donald Trump appoints creationist college president to lead higher education reform taskforce
Jerry Falwell Jr is president of the largest Christian university in the world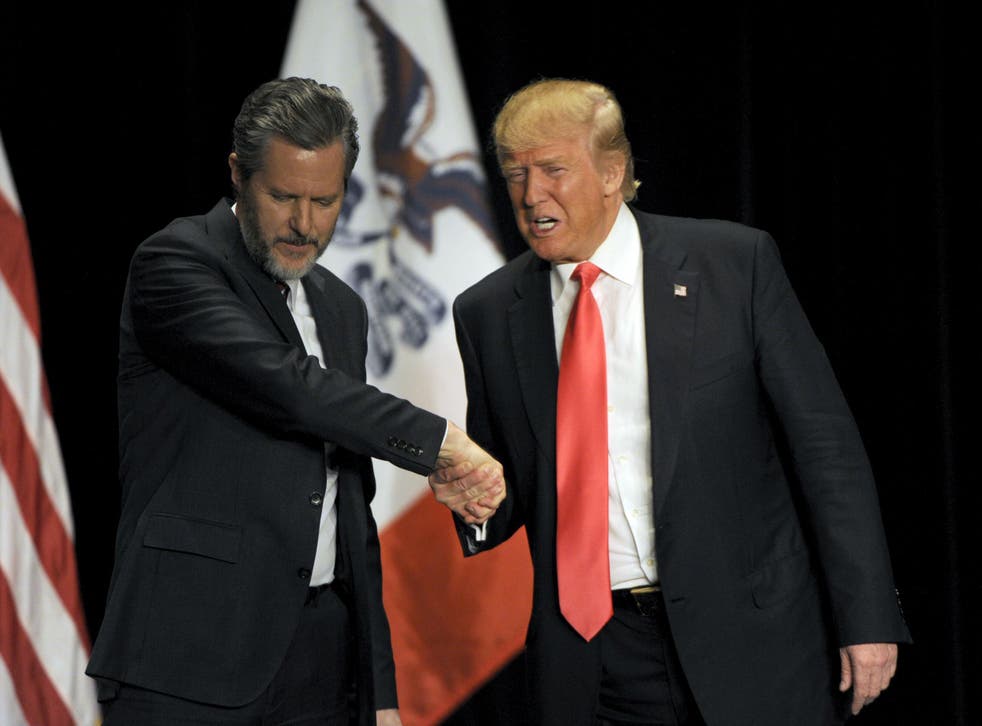 Jerry Falwell Jr, the head of the world's largest Christian college where biblical creationism is taught alongside the theory of evolution, is to lead Donald Trump's taskforce on higher education reform.
Mr Falwell, who was an early endorser of Mr Trump and whose backing helped secure the vital support of evangelical Christians, had been mentioned as a possible candidate as Education Secretary.
But while Mr Falwell did not feel able to take on that role, he has agreed to head Mr Trump's taskforce. He said that he had spoken with Steve Bannon, Mr Trump's controversial and powerful advisor, about the role.
While the precise details of the taskforce's mandate are still being worked out, he said, the aim would be to "to get the government off the backs of higher education".
"In the Department of Education, there's too much intrusion into the independent accreditation," Mr Falwell told the Washington Post.
"There's too much intrusion into the operation of universities and colleges. I've got a whole list of concerns. It mainly has to do with deregulation."
Donald Trump's closest advisor Steve Bannon thinks there will be war with China in the next few years
Liberty University did not immediately respond to enquiries on Wednesday.
Mr Falwell was quick to throw his support behind Mr Trump, and the New York tycoon travelled to his university in Virginia and spoke to students, somewhat mangling a bible reference.
At a campaign even in Davenport, during the Iowa caucuses, Mr Falwell said he had decided to back Mr Trump "because the country is at that point".
At Mr Falwell's Lynchburg campus, the science hall is reportedly stocked with the latest laboratory equipment, including a gene sequencer and a nuclear magnetic resonance spectrometer. However, faculty members teach evolution alongside biblical creationism.
David DeWitt, who holds a doctorate in neurosciences from Case Western Reserve University, chairs Liberty's biology and chemistry department. He is also director of its Centre for Creation Studies.
Last November, Mr Falwell met with Mr Trump and Mike Pence at Trump Tower in New York
"I let them know one of my passions is reforming higher education and education in general," Mr Falwell told the Richmond Times-Dispatch.
"I told them I'd be willing - I have a lot of responsibilities here - but I'd be willing to serve in some capacity that sort of brings education back to some form of sanity."
Mr Falwell is a lawyer and the son of the private evangelical college's founder, the Rev Jerry Falwell, co-founder of the Moral Majority and an architect of the conservative Christian political movement that helped propel Ronald Reagan to the presidency in 1980.
Liberty University did not immediately respond to enquiries on Wednesday.
Join our new commenting forum
Join thought-provoking conversations, follow other Independent readers and see their replies