Donald Trump faces nationwide dissent from US mayors vowing to protect immigrants
Democrat leaders in New York, Chicago and San Francisco among those promising to face down President-elect's threats against migrants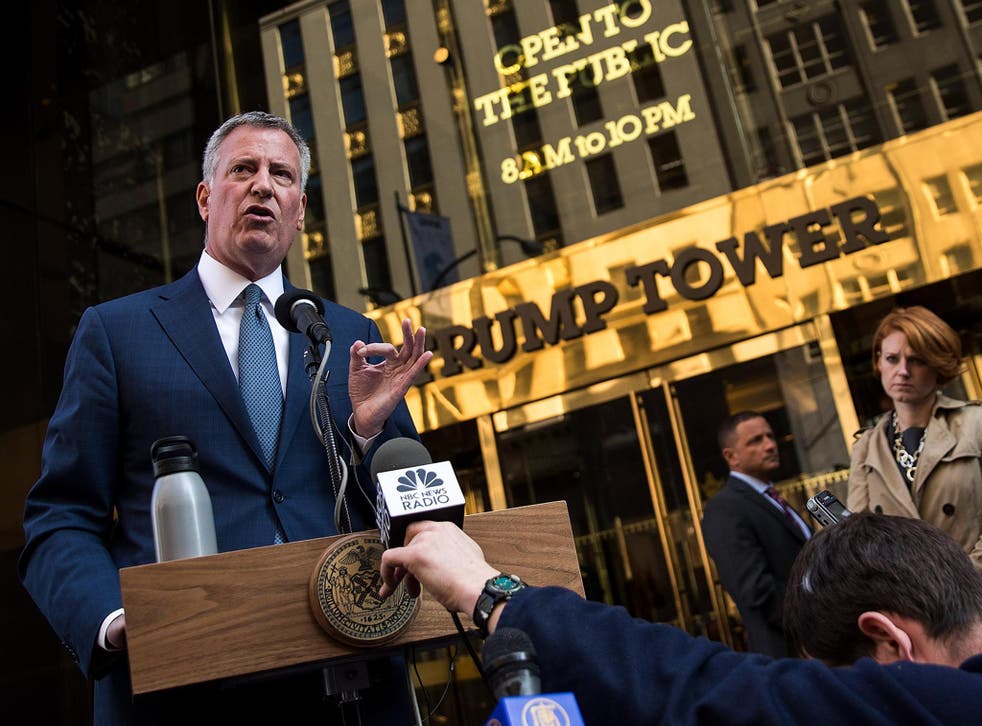 The mayors of a number of major US cities have promised to block Donald Trump's attempts to deport immigrants who are in the country illegally
The Democrat leaders of New York, Chicago, Seattle, San Francisco, Los Angeles, New Jersey, Philadelphia and Providence, which together are home to around 18.5 million people, or one in every 17 Americans – have all said they will protect residents from deportation.
All of the cities except Los Angeles confirmed they will be "sanctuary cities" for migrants. Eric Garcetti, the mayor of Los Angeles, stopped short of using the term, which he said was "ill-defined", but promised his city's police force would not help enforce the policy unless ordered to do so by a judge.
Bill de Blasio, the mayor of New York, called Mr Trump's threat "dangerous".
He said: "We are not going to sacrifice half a million people who live among us, who are part of our community. We are not going to tear families apart."
He promised New Yorkers he would "use all the power of this city to protect your rights. We will stand up for you".
Chicago's mayor, Rahm Emanuel, who was previously chief of staff to Barack Obama, said: "I want to assure all of our families that Chicago is and will remain a Sanctuary City.
"Chicago has been a city of immigrants since it was founded. We have always welcomed people of all faiths and backgrounds, and while the administration will change, our values and our commitment to inclusion will not."
Seattle's Ed Murray, meanwhile, said: "Seattle has always been a welcoming city. The last thing I want is for us to start turning on our neighbours."
President Trump protests

Show all 20
The term "sanctuary cities" generally refers to those that do not cooperate with US Immigration and Customs enforcement – for example, by not notifying immigration officials if an illegal immigrant is about to be released from custody. Around 300 US jurisdictions are believed to currently have sanctuary status.
However, critics say the term is misleading because people can still be deported from these jurisdictions by federal authorities.
Mr Trump promised during the election campaign to remove 11 million undocumented migrants from the US within the first two years of his presidency.
He said: "We have some bad hombres, and we're going to get them out".
The President-elect re-iterated the pledge after his victory against Hillary Clinton last week, although with a significantly lower estimate of how many people will be deported.
He told CBS News his administration would focus on border security and deporting "probably two million [or] even three million" undocumented migrants with criminal convictions.
Estimates suggest there are currently 820,000 undocumented migrants in the US with criminal records – including many whose only criminal conviction is entering the country illegally.
Mr Trump said during the campaign that he would "end the sanctuary cities" and vowed to withhold millions of dollars of taxpayers' money from cities and states that do not co-operate with authorities.
It is unclear whether this is legal, because US law states federal funding can only be withheld if a city or state refuses to do something directly related to the funding they are receiving. For example, money earmarked for education or economic investment could not be withheld if a city refused to comply with immigration enforcement.
Register for free to continue reading
Registration is a free and easy way to support our truly independent journalism
By registering, you will also enjoy limited access to Premium articles, exclusive newsletters, commenting, and virtual events with our leading journalists
Already have an account? sign in
Register for free to continue reading
Registration is a free and easy way to support our truly independent journalism
By registering, you will also enjoy limited access to Premium articles, exclusive newsletters, commenting, and virtual events with our leading journalists
Already have an account? sign in
Join our new commenting forum
Join thought-provoking conversations, follow other Independent readers and see their replies