Three people in Donald Trump's administration have been accused of domestic violence
Three men: one in charge of the country, his chief adviser and the man in charge of the US labour force, have all faced accusations of abuse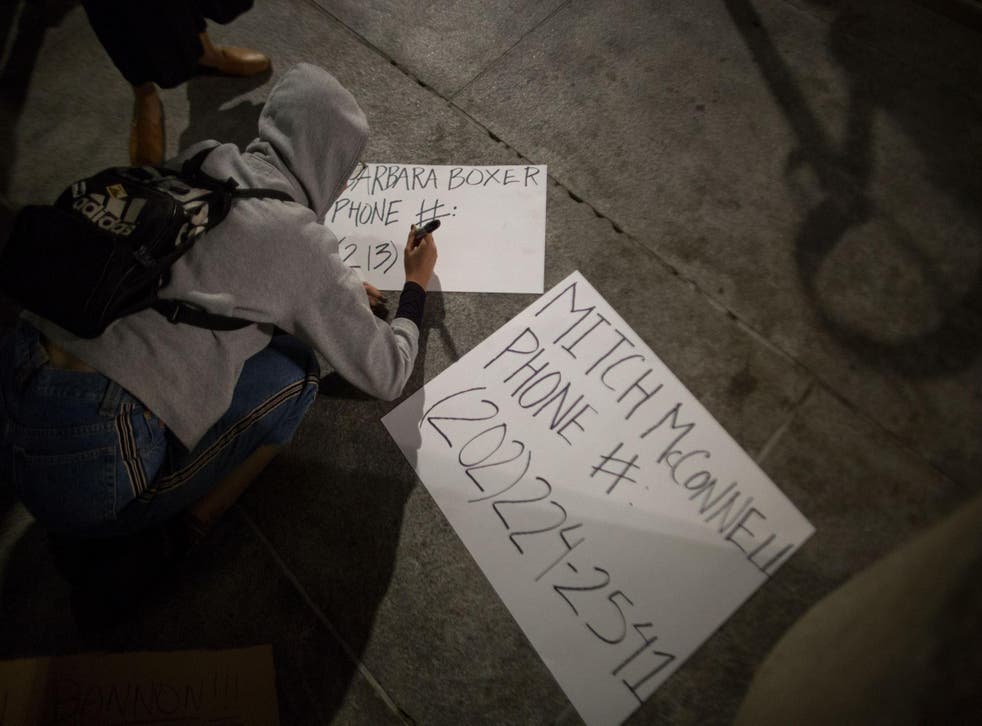 Three people appointed to the country's top team have been accused of domestic violence, including the president-elect himself.
Donald Trump was accused of marital rape by his first wife, Ivana Trump. He denied it, and Ms Trump later retracted the allegation and said the rape was "not in the criminal sense".
He was also accused of child rape, but the plaintiff dropped her lawsuit shortly after she decided not to reveal her identity to the media. He has also faced a string of sexual assault allegations from more than a dozen women over the past few decades, all of which he denied.
"They're sick," Mr Trump told the crowds at a rally before the election, referring to his accusers.
Mr Trump has surrounded himself with men who have a dubious record on gender equality.
His first appointment was Stephen Bannon, the founder of white supremacist platform Breitbart, as his senior counsel.
Mr Bannon was charged in February 1996 with domestic violence, battery and trying to dissuade a victim - his wife - from reporting a crime, but the case was dropped when she did not turn up to court. She later testified that she had been ordered by Mr Bannon to leave town.
Donald Trump's controversial cabinet
Andy Puzder, who was appointed this week as labour secretary, was also accused of domestic abuse by his first wife in the 1980s, as reported by the Riverfront Times, and police were twice called to their house. Mr Puzder denied allegations of abuse, to the Times and to the St Louis Post-Dispatch in 1989.
Mr Puzder, who is against the minimum wage, paid sick leave and overtime pay, has made no secret of the fact that he prefers advertising strategies that feature semi-clothed women. Women make up more than 60 per cent of at-or-below minimum wage jobs. Women also earn 80 cents on the dollar compared to men.
"I like our ads. I like beautiful women eating burgers in bikinis. I think it's very American," Mr Puzder told Entrepreneur in 2015.
"I used to hear, brands take on the personality of the CEO. And I rarely thought that was true, but I think this one, in this case, it kind of did take on my personality."
Mr Trump, who was advised by people like former Fox News chairman Roger Ailes, who himself has paid out at least $20 million to settle lawsuits accusing him of sexual harassment of his own employees, is unlikely to be phased by his cabinet members' personal histories.
The president-elect has been caught bragging about his right to grab women by the genitals because he was a "star", as shown in a leaked Access Hollywood video from 2005.
Former contestants in Mr Trump's beauty pageants, including teenagers, said they felt uncomfortable when he walked in on them, half-dressed, while they were getting ready.
"No one has more respect for women than I do," insisted the incoming president in October.
On a typical day, there are around 20,000 calls to domestic violence hotlines in the US, according to the National Coalition Against Domestic Violence.
Register for free to continue reading
Registration is a free and easy way to support our truly independent journalism
By registering, you will also enjoy limited access to Premium articles, exclusive newsletters, commenting, and virtual events with our leading journalists
Already have an account? sign in
Register for free to continue reading
Registration is a free and easy way to support our truly independent journalism
By registering, you will also enjoy limited access to Premium articles, exclusive newsletters, commenting, and virtual events with our leading journalists
Already have an account? sign in
Join our new commenting forum
Join thought-provoking conversations, follow other Independent readers and see their replies