Donald Trump's eclipse tweet makes no scientific sense, says Apollo 8 author
It is assumed the President did not mean to depict himself as a dark rock blocking out the light humanity depends on to survive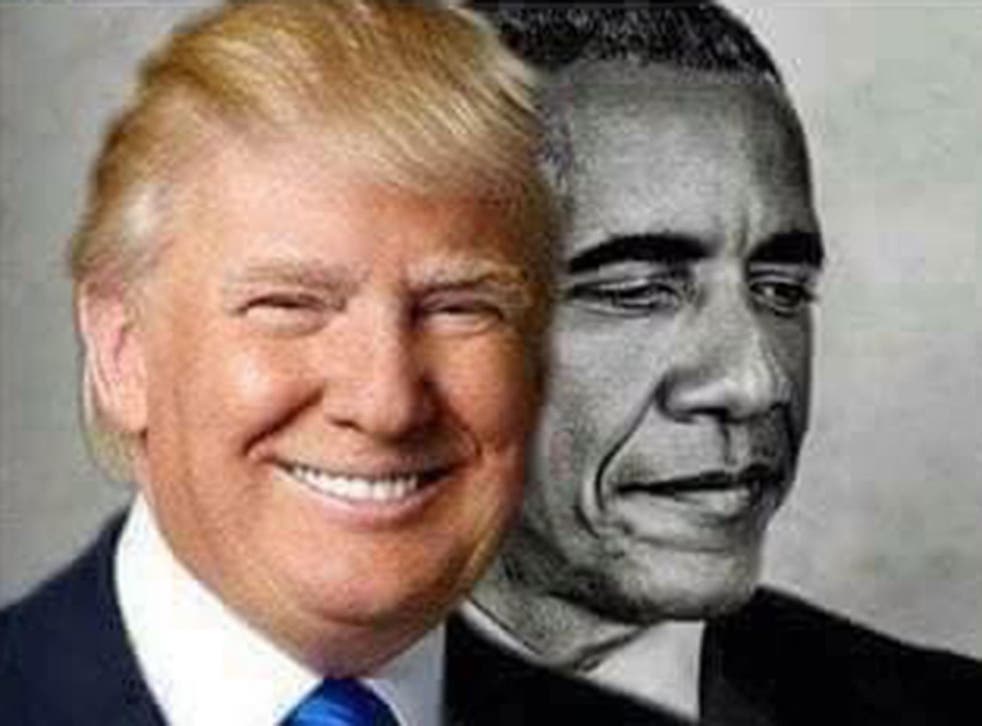 President Donald Trump's Twitter feed has never been known for its accuracy but one of his latest retweets has left many shaking their heads.
Among a flurry of tweets sent on Thursday morning, the Republican retweeted a meme from a supporter which showed a colour picture of him "eclipsing" a black and white image of Barack Obama in a series of stills.
Presumably Mr Trump had meant to suggest his legacy would outshine his predecessor's but others soon pointed out he was presenting himself as a dark object moving to block out the sun – which the planet depends on to live – for a short period of time.
It followed a total eclipse in some parts of the US on Monday when the moon moved into the path of the sun, temporarily blocking it from view on Earth.
Science journalist and Apollo 8 author Jeffrey Kluger has suggested that perhaps the President does not understand how eclipses work.
Writing in Time magazine, he said: "Eclipses happen because every now and then, in predictable but still unsettling cycles, a warm, bright, life-giving object is obscured by a dark, dead, insensible rock.
"The rock is tiny—400 times smaller than the big, bright thing. But it's also 400 times closer, so it appears much bigger than it is—its size and importance a mere illusion of proximity."
He says this "surely isn't where President Trump wanted to go" with the meme.
World news in pictures

Show all 50
The writer said that some of his critics were no better – making memes of Mr Obama's face blocking out Mr Trump's face.
But even this rather silly episode has "something to be learned from it".
He said: "Science is a slow, patient, iterative process, in which serious people work very hard to arrive at elusive truths and meaningful results—results that often make the world a much better place. Politics, done right, ought to be the same thing.
"In a White House that has become the governing equivalent of a basement lab, it might be time for a little of the rigour the real scientists apply every day."
Join our new commenting forum
Join thought-provoking conversations, follow other Independent readers and see their replies