Donald Trump's indifference to the election result made me 'really mad', says Republican campaign manager
'It's not okay! You can't say that! Your dry-cleaning bill is like the annual salaries of the people who came to your rallies, and they believe in you!'
Samuel Osborne
Tuesday 01 November 2016 09:58 Comments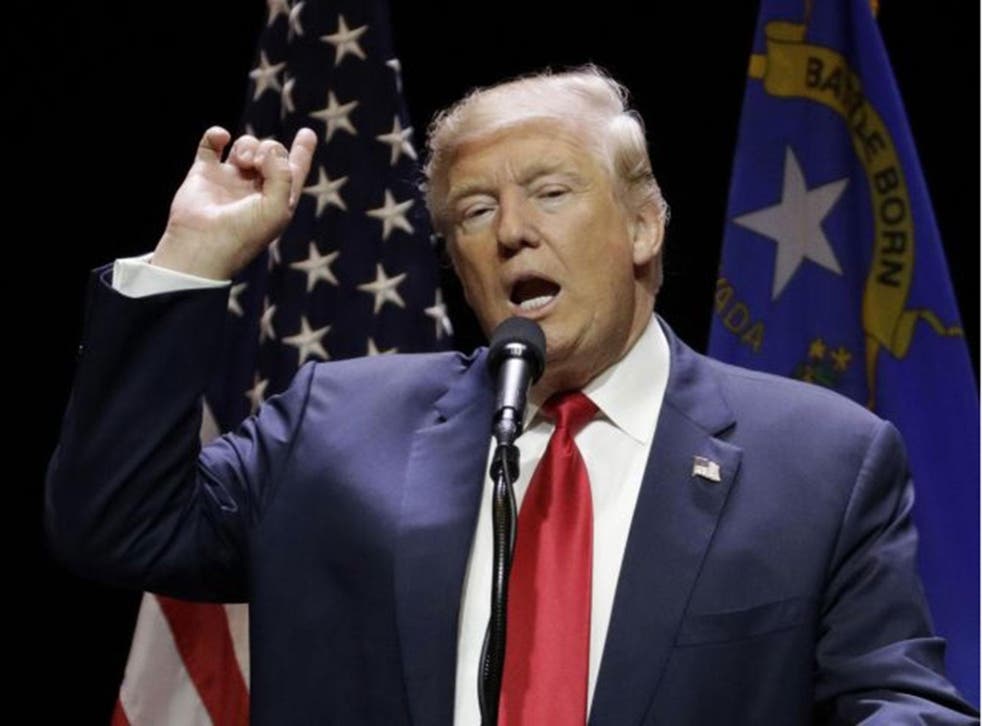 Despite telling his supporters he represents America's last chance to save itself, Donald Trump has reportedly admitted he thinks it is "okay" if he doesn't win the 2016 presidential election.
In an interview with New York Magazine, Mr Trump's campaign manager Kellyanne Conway admitted she got "really mad at him the other day" when he revealed his indifference to the result.
She told the magazine: "He said, 'I think we'll win, and if not, that's okay too. And I said, 'It's not okay! You can't say that! Your dry-cleaning bill is like the annual salaries of the people who came to your rallies, and they believe in you!'"
US election 2016: the race for the White House in pictures

Show all 12
Mr Trump has previously admitted he will "go back to a very good way of life" if he loses the election.
In August, he told CNBC: "If at the end of 90 days I've fallen short, it's okay. I go back to a very good way of life...
"At the end its either going to work or I'm going to, you know, I'm going to have a very nice long vacation."
Ms Conway said she confronted the Republican presidential nominee about his "nice long vacation" comments, she told the New Yorker: "I told him, 'You can't say that.'"
She added: "You've built a whole movement, and people feel like they're part of it. Mr. Trump, people have stood in the rain for three hours just to say they were there when you were there.
"They so believe in you that when you say, 'Eh, if it doesn't work out, I'll go back to the happy place,' they don't think that they will."
Swing states: how could they determine Trump or Clinton win?
Despite his previous comments, Mr Trump began a final-week sprint to election day by unleashing a new attack against Hillary Clinton in Michigan.
"Her election would mire our government and our country in a constitutional crisis that we cannot afford," Mr Trump declared in Grand Rapids, pointing to the FBI's renewed examination of Mrs Clinton's email practices as evidence the former secretary of state might face a criminal trial as president.
National polls show a tightening race but with more than 23 million ballots already cast through early voting, it is unclear whether Mr Trump has the time or capacity to dramatically improve his standing over the next week in states like Michigan, where few political professionals in either party expect a Republican victory on 8 November.
Mr Trump is sitting just one per centage point behind Ms Clinton, according to the latest Washington Post-ABC News Tracking Poll.
His odds of winning halved as a result of the impact of the FBI reopening its investigation into Ms Clinton's use of a private email server while Secretary of State.
Additional reporting by PA
Register for free to continue reading
Registration is a free and easy way to support our truly independent journalism
By registering, you will also enjoy limited access to Premium articles, exclusive newsletters, commenting, and virtual events with our leading journalists
Already have an account? sign in
Join our new commenting forum
Join thought-provoking conversations, follow other Independent readers and see their replies