Donald Trump set for one of the smallest Electoral College wins in history
Only 12 other elections since 1789 have seen presidents receive fewer delegate votes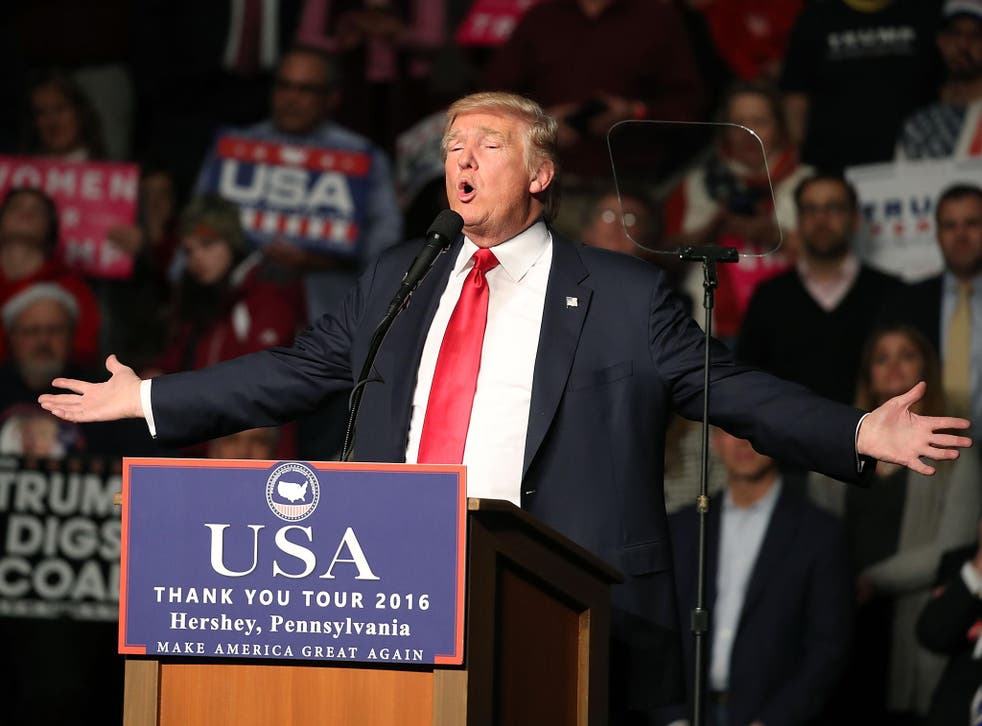 Donald Trump is on course to receive one of the lowest vote totals in history when the US Electoral College meets today to formally elect the next President.
Although the Republican is almost certain to overcome the last democratic barrier to becoming President, he is likely to rank 46th out of 58 on the list of Electoral College votes secured by US Presidents since George Washingon in 1789.
Mr Trump won 30 states in the 8 November election, securing 306 of the 538 Electoral College votes – 56.9 per cent of the total. Only 12 other elections have seen a president receive a lower proportion of Electoral College votes, according to the New York Times. These include George W Bush in 2000 and 2004, and John F. Kennedy in 1960.
The historic data appears to contradict Mr Trump's claim he won a "landslide" election.
Addressing supporters at a rally in Hershey, Pennsylvania last week, he said: "We won in a landslide. This was a landslide victory. This was a landslide."
The businessman had earlier told Fox News: "We had a massive landslide victory, as you know, in the Electoral College".
Mr Trump currently trails Hillary Clinton by 2.8 million votes in the popular vote – the biggest numerical losing margin of any US President in history and, at 2.1 per cent, the third lowest deficit in proportion of the overall vote.
Despite this, the billionaire businessman won the presidency after victory in the Electoral College. This assigns each US state a number of votes loosely proportionate to its population. The candidate who wins the public vote in each state picks up that state's College votes.
Mr Trump's 306 votes give him a sizeable margin over Hillary Clinton's 232 but the gap is smaller than that secured by most other US Presidents.
Women go on strike against Donald Trump

Show all 7
Following his shock victory over his Democrat rival, the President-elect described the Electoral College as "genius".
In 2012, however, he called it "a disaster for democracy" after mistakenly predicting it would allow Barack Obama to lose the popular vote but still retain the White House.
There have been repeated calls for Electoral College electors to ignore the public vote in their state and instead vote against Mr Trump.
A petition signed by 4.9 million people calls on delegates to "protect the Constitution from Donald Trump, and to support the national popular vote winner".
It states: "Mr. Trump is unfit to serve. His scapegoating of so many Americans, and his impulsivity, bullying, lying, admitted history of sexual assault, and utter lack of experience make him a danger to the Republic."
Very few delegates have said they will ignore the instructions given to them by the electorate in the state they represent, suggesting the College vote is likely to be a formality for the President-elect. Some states also have laws mandating Electoral College members to follow the popular vote in their state.
Mr Trump is set to take office on 20 January.
Join our new commenting forum
Join thought-provoking conversations, follow other Independent readers and see their replies