Donald Trump considering deportation of welfare-reliant immigrants
Receipt of means-tested benefits is proposed as grounds for removal from the country
Jon Sharman
Wednesday 01 February 2017 17:30 Comments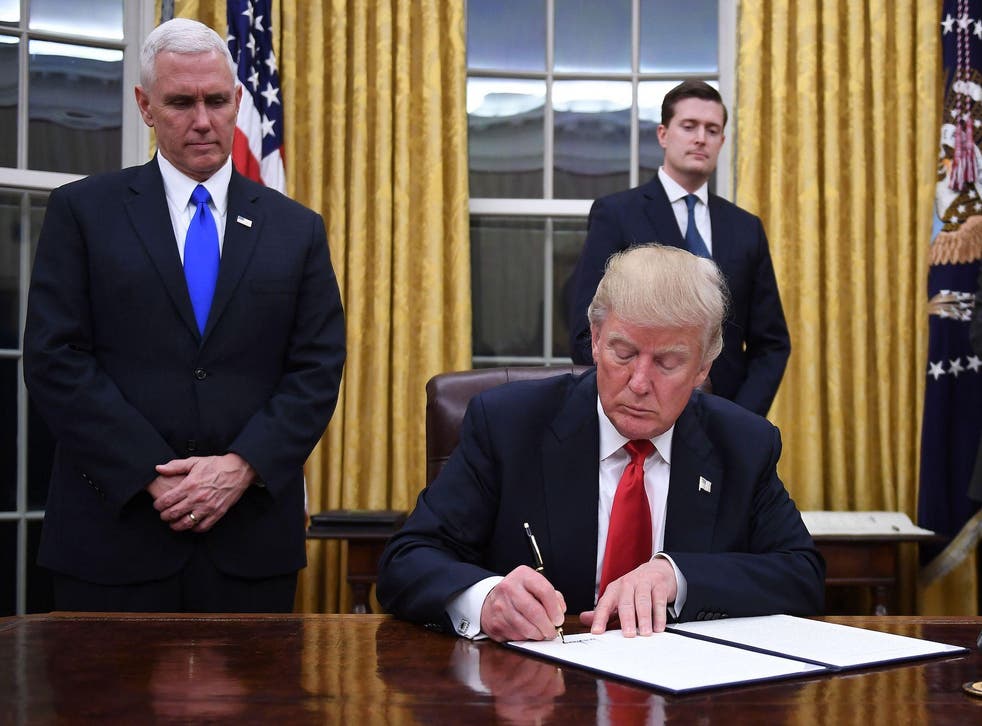 Donald Trump's administration is considering a plan to deport immigrants who rely on welfare programmes like food stamps, according to a leaked draft of a new executive order.
It would follow the new President's decision to place a temporary US travel ban on citizens of seven predominantly Muslim countries and the suspension of America's refugee programme.
Reportedly circulated among senior US government officials, it is unclear whether the new US President has decided to sign the draft order, which was obtained by the Washington Post.
Dated 23 January, it sets out how the the country would use potential reliance on welfare programmes as a factor in the decision on whether to admit people into the country.
The controversial orders Donald Trump has already issued

Show all 9
The White House has yet to confirm the draft order's authenticity, but a memo for Mr Trump attached to it, read: "Our country's immigration laws are designed to protect American taxpayers and promote immigrant self-sufficiency.
"Yet, households headed by aliens (legal and illegal) are much more likely than households headed by native-born citizens to use federal means-tested public benefits. Our immigration laws must be enforced in a manner that achieves the goal of protecting our taxpayers and promoting self-sufficiency."
The draft order said that past administrations have failed to enforce a US policy of denying entry to "foreigners who are likely to become a public charge" - meaning they would be supported by the state.
Under the plan, Homeland Security Secretary John Kelly would be asked to propose "a rule that provides standards for determining which aliens are inadmissible or deportable on public-charge grounds, and that specifies that an alien is inadmissible as a public charge if he is likely to receive, and is deportable as a public charge if he does receive, public benefits for which eligibility or amount is determined in any way on the basis of income, resources, or financial need".
The matter of whether immigrants rely on welfare at a higher rate than those born in the US has been hotly contested in the past.
A 2015 report by the Centre for Immigration Studies (CIS) concluded they did.
Researcher Steven Camarota claimed that in 2012 "51 per cent of households headed by an immigrant (legal or illegal) reported that they used at least one" welfare programme compared to 30 per cent of "native households".
The study added: "Many immigrants struggle to support their children, and a large share of welfare is received on behalf of US-born children."
The language in the new draft order appears to reflect that used by the CIS paper.
But the libertarian Cato Institute think tank has disputed the CIS claims.
They said they had compared "apples to elephants", adding that the household metric was "ambiguous" and "poorly defined". The CIS study did not correct for household size and had focused on individual welfare use, they added.
Its own 2013 research suggested that "poor immigrants are less likely to use welfare than poor natives."
In 1996, President Bill Clinton signed the Personal Responsibility and Work Opportunity Reconciliation Act, which significantly restricted access to welfare for immigrants.
Illegal migrants are barred from most federal programmes designed for the poor, while those in the US legally must live there for at least five years to become eligible for a limited set of social aid schemes.
"The overwhelming consensus in the economics academic literature is that immigrants add more to the economy than they take, they create more jobs for Americans, and they are a net benefit to the American economy," said Alex Nowrasteh, an immigration policy analyst at the Cato Institute.
Were it signed in its current form, Mr Kelly would be tasked with identifying any immigration regulations that contravene US law—"or are otherwise not in the national interest and should be rescinded"—and putting forward a rule for scrapping or modifying them.
The Labour Secretary would also be charged with running an 18-month "investigation of the extent of any injury to US workers caused by the employment in the United States of foreign workers admitted under nonimmigrant visa programmes or by the receipt of services from such foreign workers by American employers".
The review would include the H-1B visa programme, which allows skilled foreigners to work in the US. CNN reported that India's technology industry suffered a "panic attack" at the news the scheme would be included.
"I think with respect to H-1Bs and other visas, it's part of a larger immigration reform effort that the president will continue to talk about," Mr Trump's press secretary Sean Spicer told reporters.
Meanwhile, a second leaked draft also suggested the Trump administration was mulling a shake-up of the work visa system. The unannounced order claims to protect the jobs and wages of American workers by "strengthening the integrity of foreign worker visa programmes".
An accompanying memo stated: "A primary factor driving illegal immigration to the United States is the availability of jobs and benefits. Eliminating this jobs magnet will reduce the flow of illegal entries and visa overstays.
"The unlawful employment of aliens has had a devastating impact on the wages and jobs of American workers, especially low-skilled, teenage, and African-American and Hispanic workers."
The reforms could change the way companies like Microsoft, Amazon and Apple recruit staff.
According to the draft order, "visa programmes for foreign workers ... should be administered in a manner that protects the civil rights of American workers and current lawful residents, and that prioritises the protection of American workers, our forgotten working people, and the jobs they hold."
Register for free to continue reading
Registration is a free and easy way to support our truly independent journalism
By registering, you will also enjoy limited access to Premium articles, exclusive newsletters, commenting, and virtual events with our leading journalists
Already have an account? sign in
Join our new commenting forum
Join thought-provoking conversations, follow other Independent readers and see their replies