Donald Trump doesn't exercise: US President eats Big Macs, steaks and crisps on silver plates
The president has said he would like to lose up to 20 pounds
Andrew Buncombe
New York
Monday 06 February 2017 15:43 Comments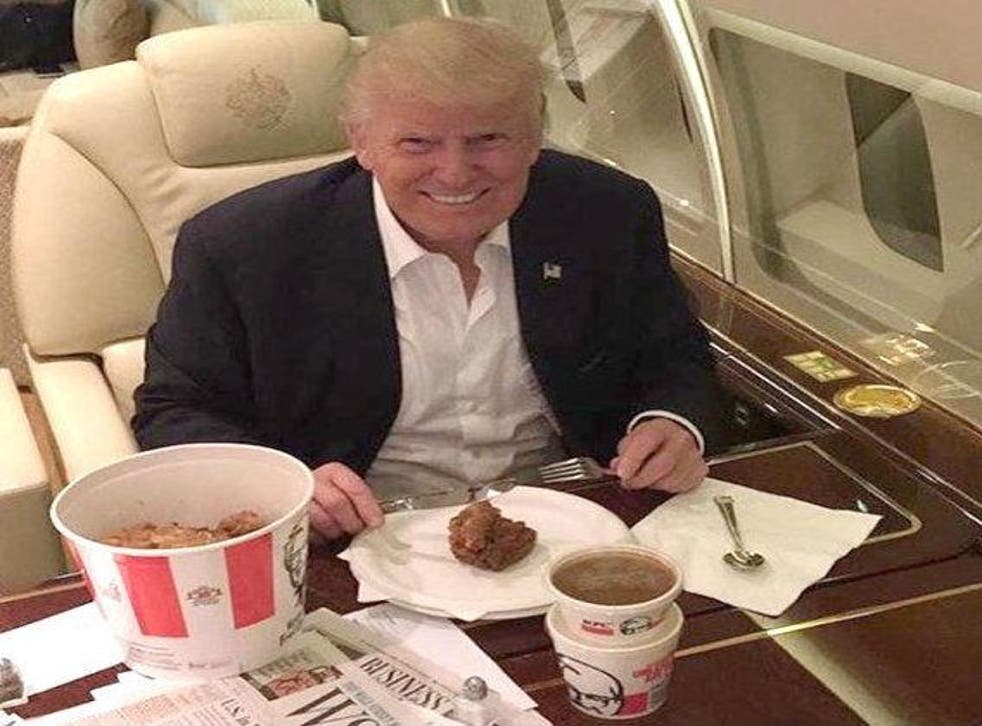 Donald Trump may be the oldest man to reach the Oval Office, but there is no evidence that he pays any special regard to his diet, or has an exercise regime to counter the stresses of the job.
Indeed, according to a report on Axios, Mr Trump continues to survive off chocolate, chips, steaks and Diet Coke, the things that fuelled him during the presidential campaign.
Mr Trump does not smoke, or drink alcohol. But, adding to the worries of those concerned about Mr Trump's health, the report says that the president sleeps just a few hours a night - something underscored by his late night and early morning tweeting - and takes no exercise, other than an occasional round of golf.
The only concession to having arrived in the White House, is that he has recently cut back on fast food During the election campaign, he was frequently served Big Macs on silver trays on his plane.
Judge James Robart blocks Trump's travel ban
The article said Mr Trump, who remains obsessed with his appearance, his hair and his overall brand, remains a believer in the "steak-and-potatoes narrative".
He rarely eats fruit or nuts, though he may eat a salad to accompany a steak. He snacks on original-flavoured Lay's potato chips and vanilla-flavoured Keebler Vienna Fingers. Those two items are stocked on his plane.
Mr Trump does not drink, but reportedly enjoys a virgin Bloody Mary. "It's like his version of a cocktail," said an aide.
The reason Mr Trump appears to have few concerns about the need to take greater steps to guard against the stresses of an exhausting, relentless job, is that he thinks his DNA is special.
"He really believes in genetic gifts," Mr Trump's biographer, Michael D'Antonio, told the website.
"He wants to assume that he can do something that others can't do simply because of who he is."
Mr Trump last year appeared on an episode of Dr Oz. The show's host, Dr Mehmet Oz, said that Mr Trump, was "slightly overweight" at 236 pounds. It also emerged that Mr Trump took statin, a type of drug that lowers cholesterol.
Mr Trump said he wanted to lose "15 to 20 pounds".
Register for free to continue reading
Registration is a free and easy way to support our truly independent journalism
By registering, you will also enjoy limited access to Premium articles, exclusive newsletters, commenting, and virtual events with our leading journalists
Already have an account? sign in
Join our new commenting forum
Join thought-provoking conversations, follow other Independent readers and see their replies