Donald Trump impeachment rallies will take place across US on 'President's Day' national holiday
'Donald Trump is literally our President, but figuratively he has attacked every value Californians embody and does not represent our interests'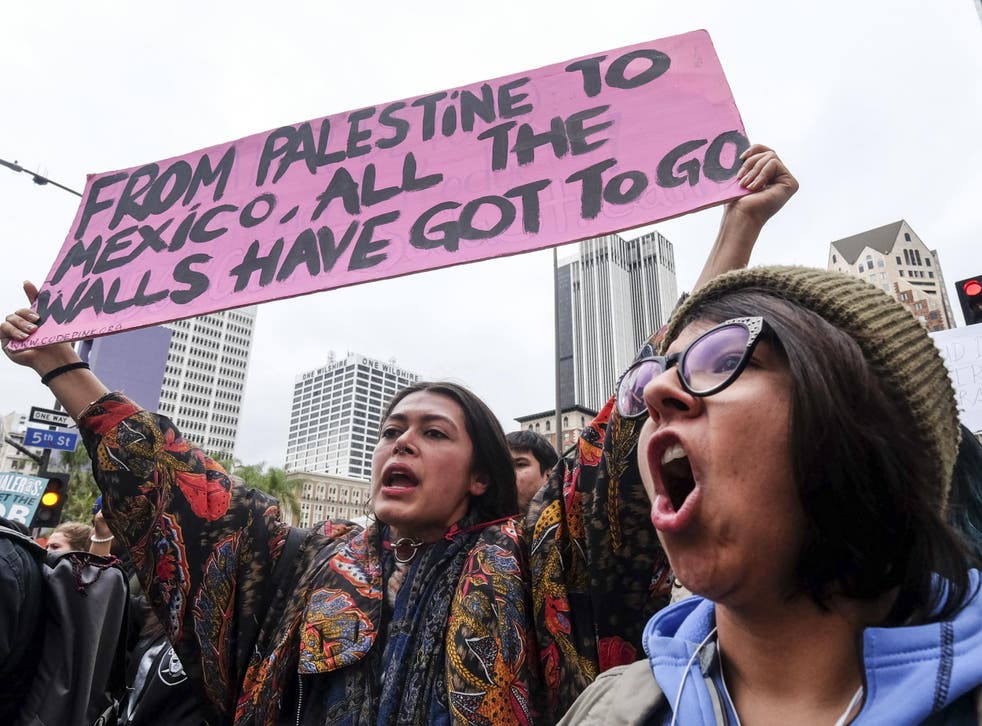 Donald Trump's young presidency is being challenged by impeachment rallies across the United States, parodying the annual President's Day vacation with the slogan 'Not My President's Day'.
At least 25 cities across the country have rallies scheduled across the weekend. On Saturday, thousands demonstrated in Los Angeles, the site of the largest anti-Trump Women's March.
Another 3800 residents of the southern Californian city have signed up to attend a rally on President's Day itself this Monday. Thousands have also protested in Dallas, while 12,000 New Yorkers are signed up to the NYC Not My President's Day protest.
Other protests on President's Day, which commemorates the birth of George Washington alongside other American statesmen, will take place in Atlanta, Milwaukee and Denver.
At a separate demo in New York, protesters clad in black gathered for a mock funeral, singing a parodic version of a well-known hymn with the lyrics "Amazing Disgrace".
A protester in Dallas told NBC: "My parents are immigrants, they came here in the late '80s, and I can't allow their memory of what they've done and I can't let their sacrifices be impugned by people wanting to scapegoat brown people and black people for all the problems America has.
"We're not the problem, we're the solution."
The Los Angeles 'Not My President's Day' organisers write: "Donald Trump is literally our President, but figuratively he has attacked every value Californians embody and does not represent our interests."
They list criticisms from federal funding cuts hitting the state's large immigrant population to Trump's "outrageous and Islamophobic religion ban".
Thousands of residents of Washington D.C., meanwhile, will "stand in support of our brothers and sisters of different nationalities, backgrounds, races, religions, ability and sexual identity," to show that "Donald Trump's hate does not have a mandate anywhere, especially not in our District."
Thousands attend Women's March on Washington

Show all 18
No US President has ever been removed from office through impeachment. Bill Clinton was the most recent President to be threatened with impeachment in 1999 but he was acquitted by the Senate.
In the wake of the Watergate scandal, Richard Nixon stepped down at the point when articles of impeachment were being recommended to the House of Representatives.
An impeachment of Trump would have to pass through a Republican-led Senate and a Supreme Court which will soon have a Republican majority, making it an unlikely prospect at present.
Register for free to continue reading
Registration is a free and easy way to support our truly independent journalism
By registering, you will also enjoy limited access to Premium articles, exclusive newsletters, commenting, and virtual events with our leading journalists
Already have an account? sign in
Register for free to continue reading
Registration is a free and easy way to support our truly independent journalism
By registering, you will also enjoy limited access to Premium articles, exclusive newsletters, commenting, and virtual events with our leading journalists
Already have an account? sign in
Join our new commenting forum
Join thought-provoking conversations, follow other Independent readers and see their replies