Donald Trump's 'spiritual adviser' claims God elevated him to presidency
'Our president 100 per cent is a Christian who understands receiving faith by the grace of the lord, Jesus', says Paula White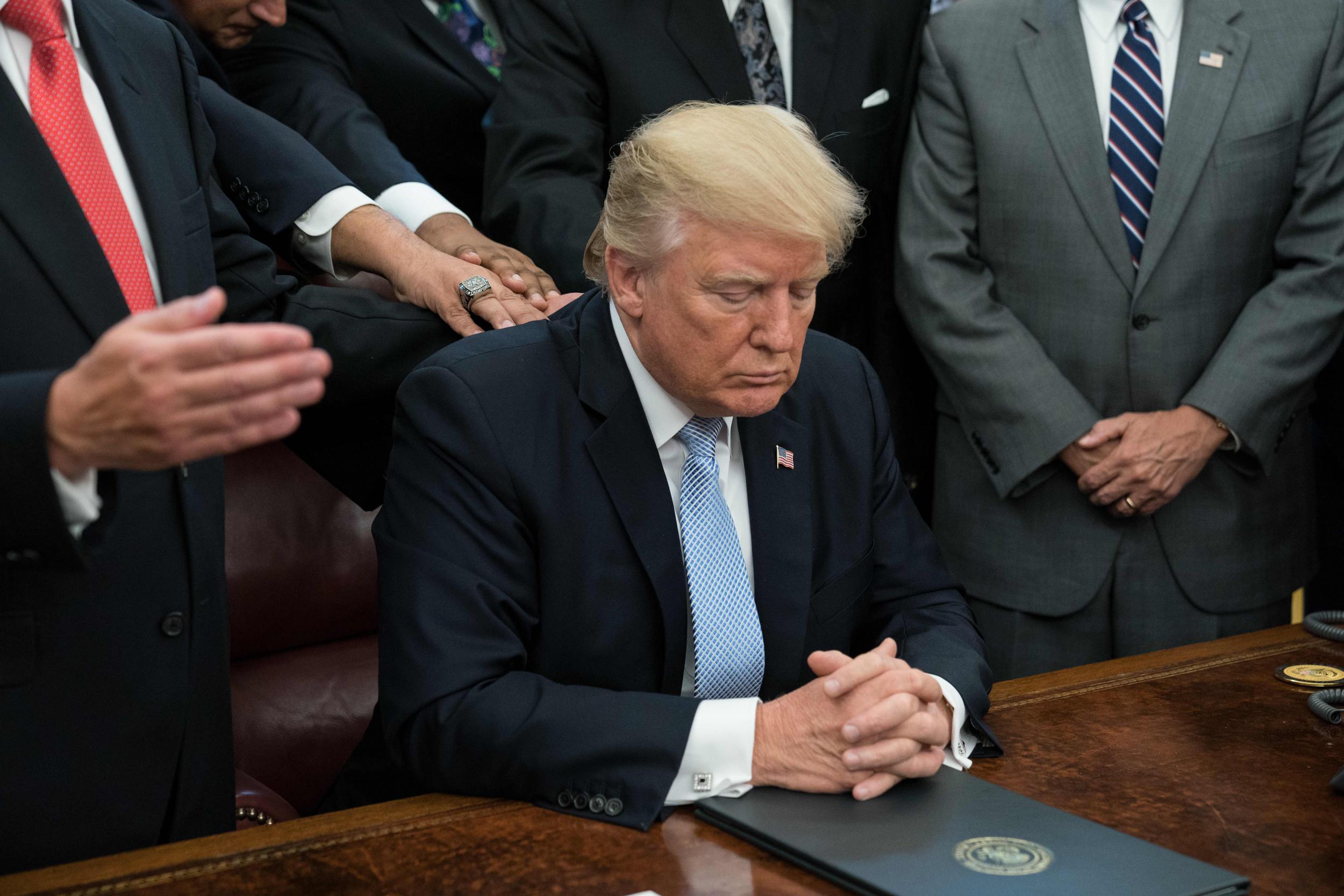 Paula White, the closest thing President Trump appears to have to a spiritual adviser, gave her lengthiest public statements Saturday about the president, saying she's seen him "on many occasions" show repentance and that her belief that God elevated Trump extends to all leaders — including former president Barack Obama and Trump's presidential election opponent, Hillary Clinton.
White, 51, is leader of the New Destiny Christian Centre, a huge Pentecostal church near Orlando. Her luxurious lifestyle and celebrity adherents — including Michael Jackson, Tyra Banks and now Trump — has made her both beloved and controversial.
White has been a counsellor and friend to Trump for more than 16 years, she said Saturday at the annual meeting of the Religion News Association, a convention for religion journalism. White is the chair of Trump's informal evangelical advisory board. She was speaking on a panel about the rise of Pentecostal and charismatic Christians like herself.
While speaking about the way Christians impact politics — and how she and her board impact Trump — White began speaking about Trump's spiritual character. The president stirred controversy during the campaign by saying he has never sought God's forgiveness and doesn't like to have to ask for it.
"Our president 100 per cent is a Christian who understands receiving faith by the grace of the lord, Jesus. He understands repentance, and I've seen him on many occasions in private and even in public," she said. Trump is "a person of repentance."
"I've also watched a man grow just like we are all growing," she added.
Asked by a reporter to be more specific about what the president has repented for, White said that was private.
"That's a very personal conversation that, as a pastor, I wouldn't feel comfortable sharing that about someone's individual life. But I can say again, things that we all would face in life," she said.
Then she appeared to reference the leak during the campaign of an audiotape of Trump bragging about being able, as a celebrity, to sexually assault women.
"I think we all know there was a challenging time he faced during the campaign," White said, noting she was one of three people he reached out to then. "He said, 'I have become a better man.' If he says 'I'm a changed man,' he knows like all of us, prayerfully, I'm better tomorrow than I am today."
Religion reporters followed up, asking her what it means to be a good person — in private, and not to show repentance in public?
"I don't agree all his actions are completely contrary to that. That's a very strong statement," White said. ". . . I don't know if I would agree with that. I know on a very private level this is a man of repentance. Not just with me, but with other pastors," she said.
White was also asked about comments she made on the "Jim Bakker Show" about Trump being anointed by God. The show was aired last month.
"Because God says that he raises up and places all people in places of authority it is God who raises up a king. It is God that sets one down," she said on the show.
World news in pictures
Show all 50
She was asked Saturday if God selects all people in authority — including Obama, of whom Trump was a constant critic during Obama's presidency — and if opponents of Trump are fighting the plan of God.
"Thanks for bringing up the elephant" in the room, she said to laughs.
"I'm a preacher, and I got a little fired up," she said of her comments during the Bakker show. "And I said some things invariably I wish I would not have said. Some things that could most definitely and have been taken out of context. Do I believe God raises up authority? Do I believe he sets one up and puts one down? . . . I don't believe that just for Trump, I believe that had Hillary been in. I believe that for Obama.
"If I believe authority is raised by God — I understand I don't understand all things. And what those purposes are. He's a sovereign God."
White was asked a couple times to clarify what was taken out of context and what she regretted saying. She did not give specific answers. She said the full conversation on the Bakker show was about different types of prayer and how all people in their personal lives fight "against the hand of God . . . the headlines were quite different than what it was really being said."
White is one of a few dozen evangelical leaders who meet regularly — and informally — as an advisory board to Trump. White goes to Washington at least every couple weeks to visit with him. Unlike previous faith advisory councils to past presidents, this one is unofficial, and its influence and priorities have not been public. However, last week members made news when some said they have focused with Trump on advocating for a solution for "the dreamers," or underage immigrants brought to the United States by adults and whose legal status is unsafe. Trump last week said the Obama-era program protecting them temporarily, called DACA, would expire within six months.
Members of the board said it was their advocacy for the young people that led to the six-month window.
White was asked what she advocates with Trump. She didn't offer any specific policies but said she was a presence for "the faith community."
"The community needs, the things that are concerning to us in the faith community, to make sure that door and that access continues for people of faith," she said.
A reporter asked White about the concern that has been voiced since Trump's campaign by some religious minorities and people of colour, including after a deadly protest in Charlottesville after which Trump presented as equal white-supremacist marchers and counter protesters. He later condemned the white supremacists. White is the pastor of a majority African American congregation.
"I know this will open up a lot, but our president is not a racist," she said. White went on to detail her own work on racial bridge-building through her life. "This is not new for me. But I can tell you right now, as a white person, I don't think any of us who are white can fully understand what it is to be a black person in America today. What I do know is our nation has such work to do, and I believe it has to start with the community of faith."
The Washington Post
Join our commenting forum
Join thought-provoking conversations, follow other Independent readers and see their replies