Gary Cohn: Donald Trump expected to pick Goldman Sachs president as National Economic Council director
Mr Trump repeatedly criticised Wall Street banks during the presidential campaign
Rachael Revesz
New York
Friday 09 December 2016 17:00 Comments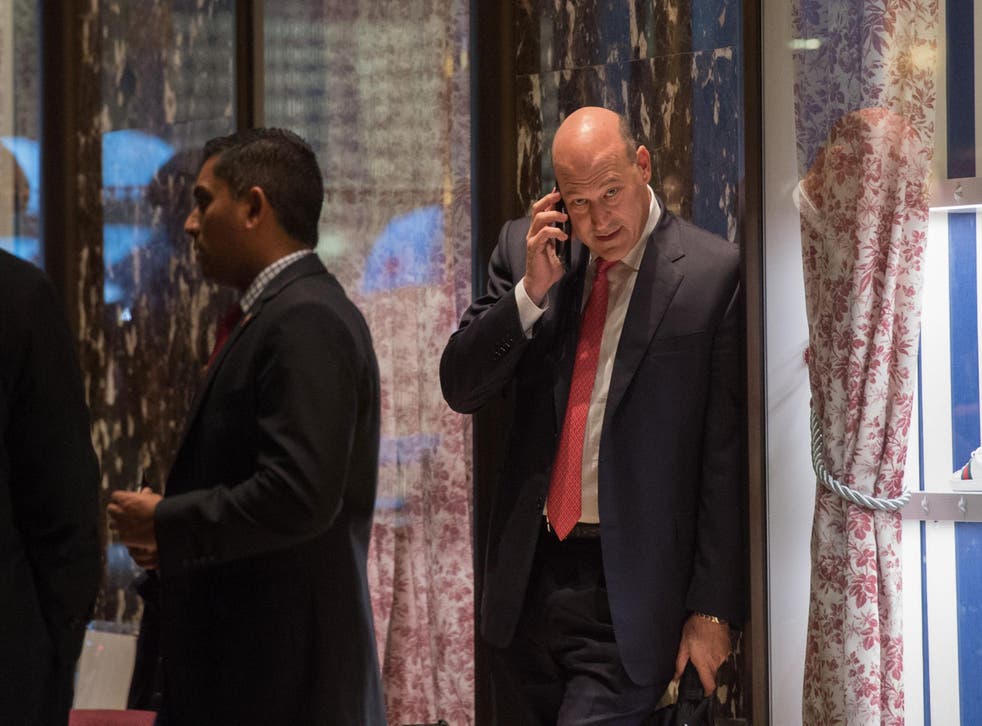 Donald Trump has reportedly chosen Goldman Sachs president Gary Cohn as his pick for director of the National Economic Council.
While the President-elect has promised to "drain the swamp" of bureaucracy and lobbying powers in Washington DC, Americans may question Mr Trump's choice of the leader of one of the largest banks in the US to lead a government agency. Mr Trump repeatedly criticised Wall Street banks during the presidential campaign, and called for Hillary Clinton to release the transcripts of her paid speeches at Goldman.
Also on Friday, Mr Trump said he would name Andrew Liveris, chairman and chief executive of Dow Chemical Co, to head the Manufacturing Council, a private sector group that advises the US secretary of commerce.
Mr Trump made the announcement during a rally in Battle Creek, Michigan, where he introduced Mr Liveris, 62, a dual US-Australian citizen who said he had accepted the appointment.
As for Mr Trump's other apparent latest pick, Mr Cohn is a registered Democrat and donated thousands of dollars to Hillary Clinton and Barack Obama's democratic primary campaigns in 2008.
In 2015, however, he donated to Marco Rubio's Republican presidential campaign.
Mr Trump's chief adviser, Stephen Bannon, as well as his pick for treasury secretary, Steven Mnuchin, both worked for Goldman Sachs.
Bloomberg reported in 2011 that some of his employees described him as intimidating.
Donald Trump's controversial cabinet
Mr Cohn, who is 6ft 3in tall, used to "hike up one leg, plant a foot on a trader's desk, his thigh close to employee's face, and ask how markets were doing".
His appointment to the number one spot several years ago was not a sure bet, due to his abrasive style and his appetite for risk, Bloomberg reported.
The executive was born in Ohio, the son of an electrician, who later became a real estate developer.
After earning a bachelor's degree at the American University's Kogod School of Business in 1982, he got a day job selling windows and aluminium steel frames before jumping into his career trading commodities. He started at Goldman Sachs' commodities section, J Aron, in 1990.
By 2003, he had become co-head of the bank's global securities business, and reportedly pushed to expand its trading business and take more risks, including in the mortgage bond market.
Goldman Sachs lost $1.2bn in the residential mortgage bond market business during the financial crisis, and Mr Cohn cited this fact in his 2010 testimony, to "prove" his bank did not bet against its clients or reap rewards while the high street suffered.
"Every day you are competing, and every day you are playing to win," Mr Cohn said in a 2009 speech at the American University. "So remember, wake up every morning and figure out how to win."
In a 2015 speech at the Jack Welch College of Business, he said it felt like he was in Congress every other week, trying to convince them to repeal regulations.
He said that banks were "unequivocally safer" than pre-2008, but that regulations on banks had simply shifted the risks to another area in the economy. He argued that banks holding more capital buffers came at the expense of growing the US economy as banks had to "hoard" the cash rather than lend it out to consumers and households.
The champion of trickle-down economics added that banks should be allowed to get bigger and grow their balance sheets.
He thought he was a great leader as he was "willing to learn every day of [his] life" and that he was "really good at making mistakes".
In advice that he may provide to the President-elect, he talked to students about what made commodity traders unsuccessful.
"99 per cent of the people aren't willing to admit that they just made a mistake and go the other direction. That's when risk becomes risky, is when you keep getting the same feedback and you're not acknowledging what the feedback is."
Register for free to continue reading
Registration is a free and easy way to support our truly independent journalism
By registering, you will also enjoy limited access to Premium articles, exclusive newsletters, commenting, and virtual events with our leading journalists
Already have an account? sign in
Join our new commenting forum
Join thought-provoking conversations, follow other Independent readers and see their replies