Trump posts golf photo amid coronavirus crisis despite condemning Obama for golfing amid Ebola outbreak
He hit the fairway as an eighth case is confirmed in the US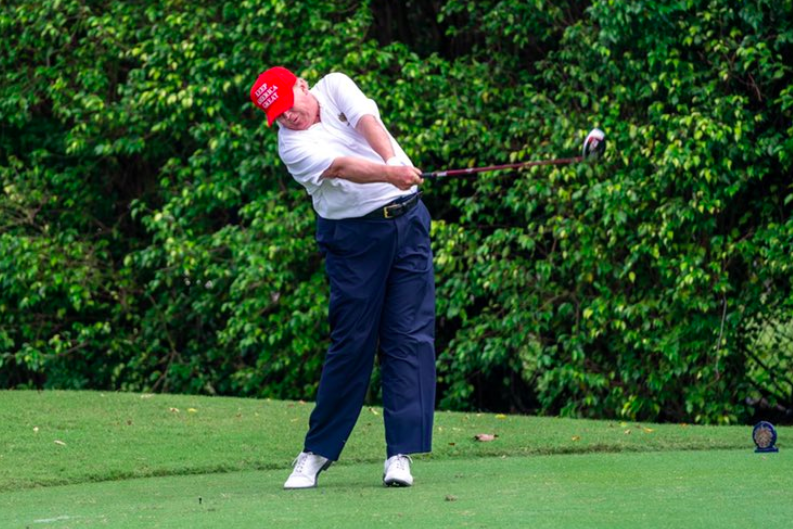 Donald Trump posted a photo of himself "getting a little exercise" on the golf course this morning as the US grapples with the spread of coronavirus - despite criticising Barack Obama for doing the same thing during the Ebola outbreak.
Mr Trump teed off at the weekend shortly after the United States declared a national public health emergency over the coronavirus outbreak, with the US Centres for Disease Control and Prevention quarantining 195 Americans who were evacuated from Wuhan, China.
Those 195 people were quarantined following a rare mandatory order for Americans that has not been issued in more than 50 years.
It came as an eighth person in the US was diagnosed with the virus in Massachusetts.
Despite fears over how the illness could spread, Mr Trump found time to hit the fairway, clad in white polo shirt, blue slacks, and a red Keep America Great baseball cap.
As with so many of Mr Trump's actions in office, there was an old tweet from Mr Trump's feed that showed him taking an entirely conflicting position in the past.
The 20 most beautiful golf courses in the world
Show all 20
In October 2014, at the height of the Ebola crisis, he criticised his predecessor for playing golf.
"President Obama has a major meeting on the N.Y.C. Ebola outbreak, with people flying in from all over the country, but decided to play golf!"
According to Factbase, a website which publishes and tracks Mr Trump's schedule, he has spent 259 of his 916 days in office on the golf course.
The president, who is currently at Mar-a-Lago, has no events on his public schedule for today.
Massachusetts public health officials said the first case recorded in the state is a man who returned from Wuhan. He is in his 20s and lives in Boston.
"We are grateful that this young man is recovering and sought medical attention immediately,'' said Massachusetts public health commissioner Monica Bharel."
Join our commenting forum
Join thought-provoking conversations, follow other Independent readers and see their replies