GOP denies comparing Donald Trump to Jesus Christ with 'new King' statement
RNC spokesman says even asking the question is 'offensive'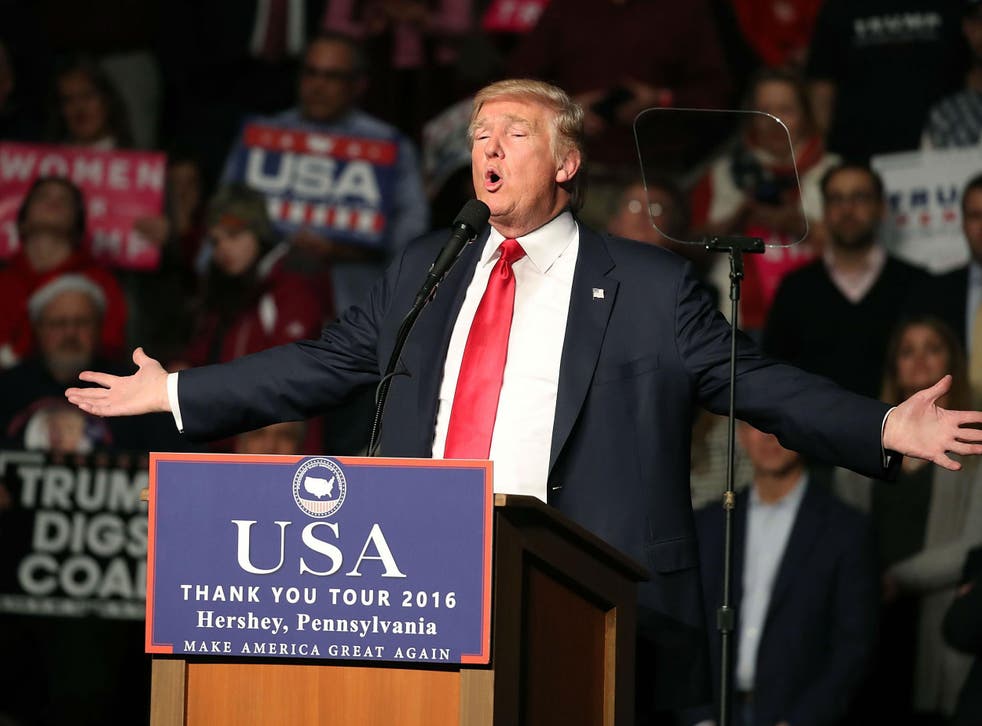 A Christmas message issued by the organising body of the Republican party sparked controversy on Sunday night after some said it compared the election of Donald Trump to the birth of Jesus Christ.
The statement was released by the Republican National Committee's co-chairs Reince Priebus, who has been named as Mr Trump's chief of staff, and Sharon Day, who is also set to join the new administration.
And its reference to a "new king", though ambiguous, has provoked outrage among left-leaning commentators and Twitter users.
The message reads: "Merry Christmas to all! Over two millennia ago, a new hope was born into the world, a Savior who would offer the promise of salvation to all mankind.
"Just as the three wise men did on that night, this Christmas heralds a time to celebrate the good news of a new King."
Political journalists and even an aide to Republican John Kasich, John Weaver, were among the first to spot the apparent connection being made between Jesus and the President-elect.
The RNC's spokesman Sean Spicer lashed out at those who even questioned whether there was a link, calling a BuzzFeed News article about the statement and subsequent reaction an "attack on Christ".
Mr Spicer, who has been named as Mr Trump's White House press secretary, told CNN simply: "Christ is the King in the Christian faith."
But he was more effusive on Twitter, tweeting in response to one journalist who commented on the RNC statement: "Christ is the King. He was born today so we could be saved. It's sad & disappointing you are politicizing such a holy day."
"On this holy day of Christmas @CNN @greggbirnbaum mock @gop 4 acknowledging that Christ is the King of Christians," he wrote in another.
And to MSNBC and Business Insider's Josh Barro, who wrote it was "great" that both sides of the argument could "pretend to be outraged", Mr Spicer said: "No Josh, there is nothing great about this. Today Christians celebrate the birth of our Savior & the idea u don't the recognize this is sad."
BuzzFeed News also published Reince Priebus's Christmas statement from last year for comparison, noting that it included no references to "this Christmas" or "the good news of a new King".
The equivalent paragraph read: "Each Christmas brings a chance to rejoice at the humble birth of the Child who brings a new hope. Over two thousand years ago in Bethlehem a Savior was born whose message is love and peace. As we gather with friends and loved ones, I want to wish a very Merry Christmas to all those who are celebrating."
The RNC's 2016 statement follows with a message urging people to "remember those among us who are less fortunate", and be "mindful of our men and women in uniform".
Join our new commenting forum
Join thought-provoking conversations, follow other Independent readers and see their replies