Donald Trump 'using Hamilton controversy to distract from $25m fraud settlement and other scandals'
Former White House aides accuse Mr Trump of playing a 'game' to distract from 'scandals' surrounding his imminent presidency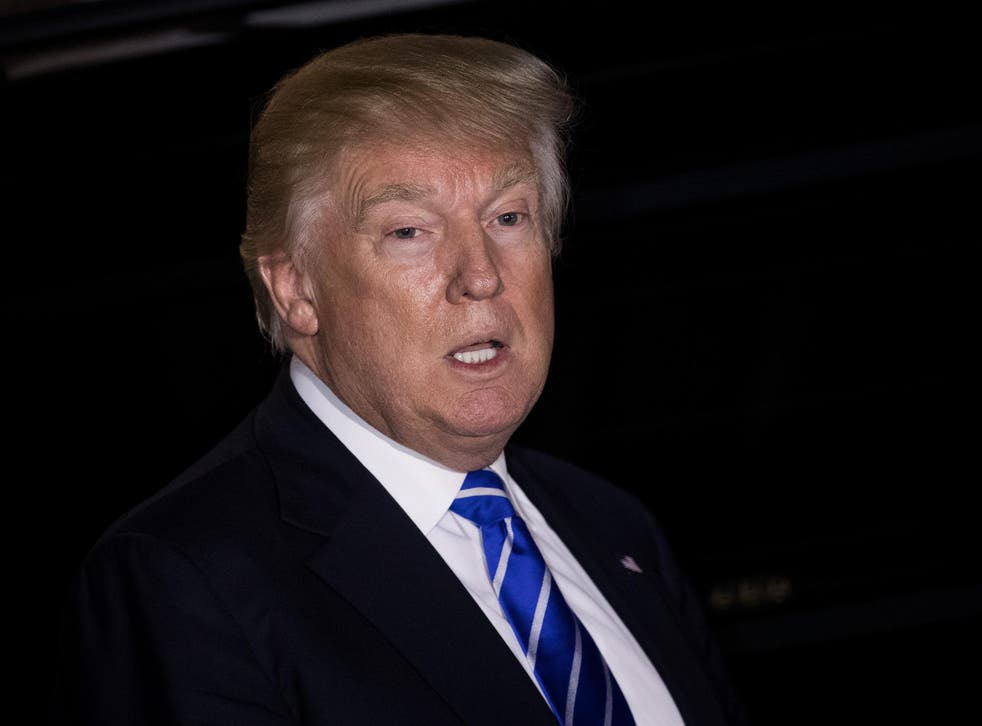 Donald Trump has been accused of launching an online attack on the cast of Hamilton as a way to distract the media and the public from other scandals during the appointment of his transition team.
Several White House veterans said the President-elect's widely-covered Twitter tirade against the Broadway production over the weekend was a deliberate attempt to distract from his $25 million (£20 million) fraud settlement and his at times contentious transition team appointments.
Mr Trump lashed out at the Hamilton cast on Saturday after one of the actors read an open letter following a production to vice president-elect Mike Pence, who was in the audience, pleading with him to represent "diverse America".
In a series of tweets the billionaire businessman claimed Mr Pence was "harassed" by the "very rude" cast, before calling on the actors to apologise, adding that he had heard Hamilton was "highly overrated".
He also mocked the actor who made the statement, Brandon Dixon, for reading it from a prepared card, saying: "Couldn't even memorize lines!" - before subsequently deleting the tweet.
The incident was widely covered by the American media over the weekend, prompting a number of former White House aides to accuse the President-elect of playing a "game" in a bid to distract from more serious issues surrounding his imminent presidency.
David Frum, a former speechwriter to George W Bush, warned on Twitter: "The controversies will divert you from the scandals", while Dan Pfeiffer, a former senior aide to Barack Obama, tweeted: "If your media outlet is focused on Trump v Hamilton instead of Trump's $25m fraud settlement, you are a sad pawn in Trump's game."
Other Twitter users warned others not to let the Hamilton debacle distract from Mr Trump's shortcomings, with one writing: "Trump is making noise about Hamilton to distract y'all from the fact that his brand scammed over 5,000 hopeful students. Do not forget", and another tweeting: "Don't let Hamilton distract from Trump's $25M fraud lawsuit (or Bannon's appointment/Muslim surveillance/etc.) That's exactly what he wants."
On Saturday it emerged Mr Trump had agreed to a $25 million (£20 million) settlement to resolve three lawsuits over Trump University, his former school for real estate investors, that alleged it had lured students to pay up to $35,000 (£28,331) to learn business and real estate tips from "handpicked" instructors, and called itself a university when it wasn't an accredited school.
Donald Trump's most controversial quotes

Show all 14
Over the weekend Mr Trump was also urged by top law professors to divest from his new hotel in Washington DC after it was used to entertain and give a sales pitch to foreign diplomats, meaning he risks breaching the US constitution the moment he enters office.
In recent days the President-elect has also made several controversial appointments to his transition team. On Friday he offered the job of Attroney General to Senator Jeff Sessions, who has been criticised for his litany of past racist comments and Mr Flynn has called Islam a "cancer", and today (Monday) Mr Trump suggested retired general James Mattis, who has previously said "It's fun to shoot some people", was a likely pick for the top job of secretary of defence.
Despite the wide specualtion that the Hamilton saga was a clever "game" by the President-elect, others have disagreed, saying he is simply "thin-skinned", with one Twitter user claiming: "Donald Trump is not a brilliant strategist using Hamilton to distract us from his other debacles: he's congenitally thin-skinned."
Join our new commenting forum
Join thought-provoking conversations, follow other Independent readers and see their replies