Donald Trump forced to cancel Harley-Davidson factory visit over large planned protests
White House official says the company decided it was not comfortable hosting him with protests planned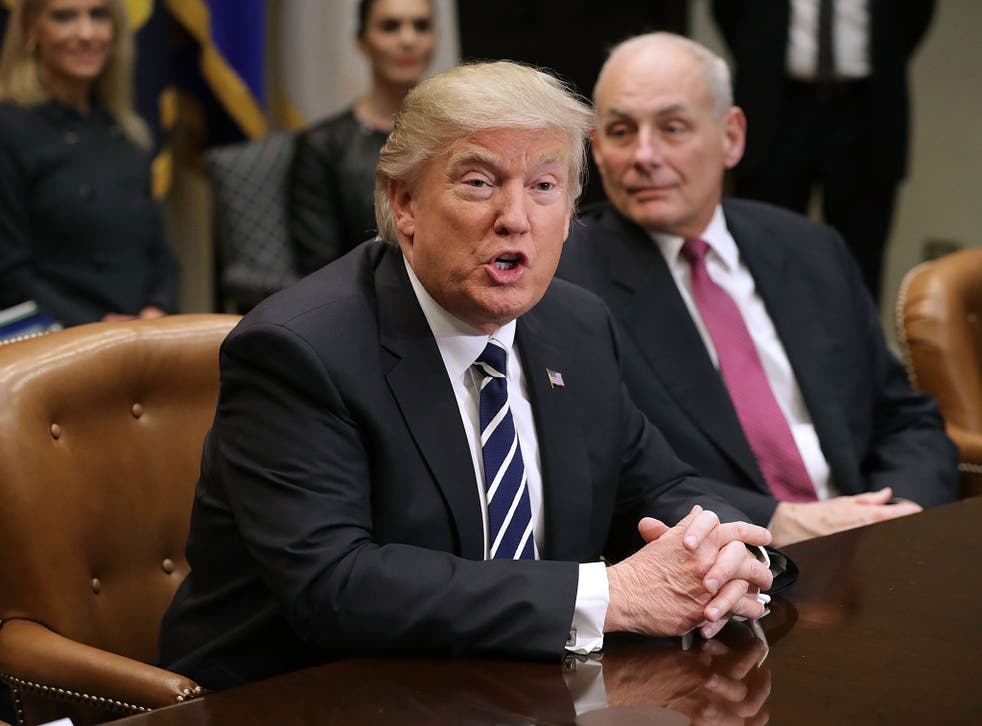 Donald Trump has been forced to cancel a trip to a Harley-Davidson factory due to planned protests.
The President was planning to go to Milwaukee on Thursday to do a tour of the factory and sign executive orders relating to US manufacturing. While the trip had not been publicly announced, White House staffers had gone to the Midwestern city, which he won at the election, to prepare for the visit.
A White House official told CNN the company had decided it was not comfortable hosting him with protests planned and Mr Trump was no longer expected to travel to the city.
Harley-Davidson issued a statement saying they "don't have, nor did we have, a scheduled visit from the President this week at any of our facilities".
Massive protests were in the pipeline for the event in the wake of the billionaire property developer's hardline immigration ban which has sparked chaos and outrage around the world.
Mr Trump's plan to sign an executive order about manufacturing in a quintessentially American factory in a key battleground state, which has a large population of white-working class Democrats, would have served a symbolic purpose.
The Milwaukee Coalition Against Trump applauded the decision to call off the visit which was set to be one of the President's first press events outside of Washington.
"Fearing a massive protest, Trump was forced to cancel his event after a massive backlash from the community over his scheduled appearance at Harley-Davidson," their statement read. "The location of Trump's event, which was supposed to remain secret, was leaked by activists and a rally was planned outside the Harley-Davidson plant in Menomonee Falls."
The controversial orders Donald Trump has already issued

Show all 9
"Thousands of people from all walks of life were prepared to protest Trump's visit and condemn his hateful speech and policies. The Milwaukee Coalition Against Trump organised a call-in protest to Harley-Davidson that resulted in a denial from Harley-Davidson, followed by an announcement from the White House that the trip was cancelled. Trump's unpopular policies have ignited an unprecedented resistance movement that will block his every move. We hope our success in Milwaukee sets the tone for the rest of Trump's Presidency, wherever he goes, there will be resistance!"
Mr Trump was last in Wisconsin in December when he had a stop in the city as part of his "thank you" tour through key swing states he won. The former reality TV star was the first Republican presidential candidate to win the popular vote in Wisconsin since 1984.
The eleventh hour decision to cancel the trip is an example of the logistical difficulties the Trump team confronts in the face of mounting protests in an increasingly polarised country. Mr Trump was also forced to cancel a campaign event in Chicago last year due to violent clashes erupting between protesters.
Protests have erupted across the US over Mr Trump's "Muslim ban" which has blocked people from boarding US-bound flights and led to them being detained in American airports. Last week, the President signed an executive order suspending the entire US refugee admissions system for 120 days, halting the Syrian refugee programme indefinitely, and banning entry for people from seven majority-Muslim countries.
Join our new commenting forum
Join thought-provoking conversations, follow other Independent readers and see their replies